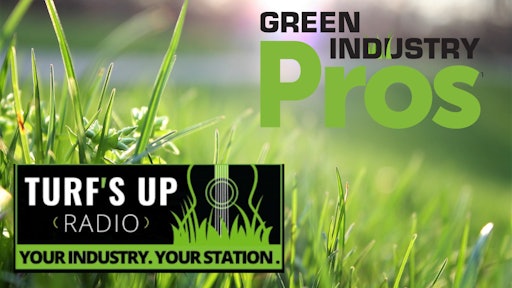 Green Industry Pros and Turf's Up Radio will enter into a partnership to provide top-notch content to landscape professionals around the country. Green Industry Pros and Turf's Up Radio will go live with a kickoff podcast at Equip Expo in Louisville, Ky., at the Green Industry Pros booth (No. 9048) on Oct. 18 at 9 a.m. ET. Be sure to stop by the Green Industry Pros booth at that time.
"We're thrilled about Green Industry Pros' partnership with Turf's Up Radio," says Jason DeSarle, corporate director of sales for AC Business Media, Green Industry Pros' parent company. "With Green Industry Pros and Turf's Up Radio representing two powerhouse forces in the green industry, we couldn't think of a better way to provide landscape professionals with the resources they need."
A radio station dedicated to the green industry, Turf's Up Radio covers live industry news and events all across the country to bring its audience the latest industry products, services and technology in landscaping, hardscaping and much more.
Through the partnership, Green Industry Pros and Turf's Up Radio will collaborate on industry news, hot topics, latest technology and feel-good stories about industry professionals. Additionally, Green Industry Pros Editor Sarah Webb will appear monthly on The Turn, Turf's Up Radio's news radio broadcast that brings listeners up to date on the latest news, products and technology all around the world.
Darren Gruner, CEO and founder Turf's Up Radio, created the podcast to help elevate and educate the green industry and to share his many years of experience with those who were eager to get help.
"We are extremely proud to be partnering with Green Industry Pros to help further educate contractors in the green industry with news about new products, services and classes," Gruner says. "Having the ability to enhance our combined offerings will allow for an experience unparalleled in the industry."
From its official rollout in February 2019 Turf's Up Radio strives to build relationships and bring like-minded professionals together to connect the industry. To listen to daily live news reports, be sure to download the Turf's Up Radio app or visit Turfsupradio.com.