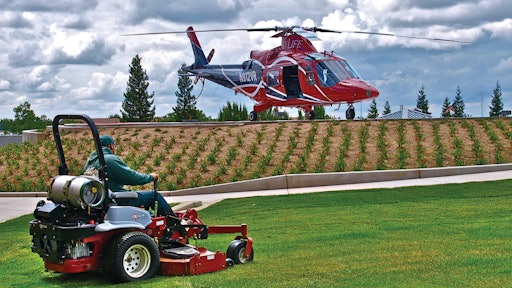 ACLS Inc. in Fresno, CA, is nearly two years into its rebranding effort, and thus far the management team has been very pleased with the results. Sales are beginning to grow in certain areas while profits are beginning to emerge in others. "We'll take it wherever it's coming these days," says co-owner and CEO Tom Delany. "I'm kind of like a gorilla running through the jungle saying, 'Oh, here are some bananas.'"
There are thousands of other gorillas looking for those same bananas, though, which is why ACLS has put such an emphasis on branding and business development.
"We had several different companies all under one umbrella, but it got too confusing in the marketplace," Delany says. "We started the process of re-lettering our trucks in July, so everything is coming together and working very smoothly."
ACLS Inc. is an amalgamation of the following companies owned by Delany and partners Jack Murray and Carol Osborn:
All Commercial Landscape Service (commercial maintenance)
All Custom Landscape Service (design/build)
Fresno Tree Service
Certified Water Consulting (irrigation)
Tractor Service (disking and flailing services on everything from 1-acre lots to hundreds of acres of open land)
"The design/build business went off a cliff a couple of years ago," Delany says. "Now we have six people in that division who are mainly going around with our maintenance crews looking for opportunities to do small landscape upgrades. It's become job to job, though."
ACLS's tree division is another story. A second crew was put together in early fall due to a growing backlog of work. Delany has been somewhat surprised by the average consumer's willingness to continue investing in tree services—but he's certainly not going to pass these bananas by. The company's maintenance and irrigation divisions are also doing well.
Cleaning up the bottom line
The company's bottom line is doing spectacularly, thanks to measures put in place a couple of years ago. "When the recession hit in 2009, our profit had dwindled down to around 2%," Delany recalls. "I knew something needed to be done."
ACLS brought in a business consultant from Chicago to spend 10 weeks scrutinizing the company. At $17,000 a week, this was going to be a hefty expense. But Delany felt good about it because the consultant guaranteed 3:1 on the bottom line.
"The first thing he did was plop an inch of paper on my desk and ask me if I was an idiot," Delany says with a chuckle. "It was over $40,000 in unbilled irrigation work. We'd grown very quickly and didn't have enough controls in place. Crews were coming back from the field, but their work orders weren't always getting into the flow of paperwork, and, ultimately, were never billed to the client."
Delany has since hired a CFO (chief financial officer) who works three days a week. Her salary has been a sizable addition to overhead, but has proven to be a good investment. "She's amazing with systems," Delany says. "She's refined job descriptions and developed all kinds of checklists. For example, when time cards come in, red flags are raised so the labor and materials are immediately billed out."
The consultant had also helped expose how "fat in the field" ACLS was. The company has since downsized the majority of its crews, letting about 20 people go. "We've also created some systems and put all kinds of metrics in place to start tracking who is doing what, where equipment is going, and how much material is being put down," Delany says.
Separating the pros from average joes
With these controls now in place, and the bottom line back to an impressive 17%, Delany says the company has been able to direct more money toward marketing and new business development. "Where a lot of other companies have hid under a rock, we've drawn our swords and said, 'here we are,'" Delany says.
Traditional media has been a big part of the effort. ACLS is using a combination of TV and print. "We spent $40,000 by July," Delany points out, "and will end up spending around $100,000 by the end of the year." That last $60,000 will focus on the tree service division, along with some new water management programs the company will be rolling out over the next several months.
"Traditional media marketing is very effective for tree care and water management," Delany says. "It's important to build awareness and be seen as the go-to company. This type of advertising also helps separate our company from the competition—especially all of the cash guys in the tree business."
The cash economy is a big problem in California, Delany says, which is why he and a few other Fresno-area members of the California Landscape Contractors Association (CLCA) are collaborating on a way to circumvent it. A potential solution is simple: a sticker.
A blue sticker on your truck means you are a licensed and insured sole operator, so you don't need to carry worker's comp insurance. A red sticker means you do. If you don't have a sticker, are you legit?
"Consumers need to know who they're dealing with," Delany says. "If there's a contractor with a blue sticker who's running a three-man crew, that's a problem. If there's a contractor with no sticker at all, that's an even bigger problem. Anyone could call the California State Licensing Board to report him. We have to bring these cash economy guys into the light of day."
Certified water consulting
ACLS's Certified Water Consulting division is another way the company has created some separation. It's actually helped secure several new maintenance contracts—to the tune of roughly $125,000 a month over the past two years.
"We go into client presentations with graphs showing how we've helped other clients save 80% on their outside water usage," Delany relates. "When we show this data, prospects look on in amazement. They don't get this from the average mowing contractor."
ACLS recently retrofitted 6,500 irrigation heads at an area hospital. The new-style head (Toro Precision Nozzle) helps reduce water consumption by 30%. "Then, the web-based ET controllers we use from ET Water Systems helps clients save even more," says Jamie Rust, general manager of ACLS. "In all, the client is saving roughly 22 million gallons of water a year. Plus, since they are on a well, they are using a lot less electricity because they're not wasting it to pump unneeded water."
"Now we're moving toward a model of managing sites from right here in our office,'" Delany adds. "The web-based flow sensors and controllers make this possible; it's amazing. We'll soon be able to dispatch technicians to repair valves, etc. before the client even realizes there is a problem."
Making propane pay off
Another sustainability measure ACLS has recently adopted is the use of propane-powered mowers. They worked with a company called Metro Lawn to convert their gas-powered mowers. Another company called Heritage Propane helps manage the refueling program.
ACLS now runs 12 propane-powered mowers; one 72-inch mid-mount was propane-ready, while six 21-inch walk mowers and five 48-inch mid-mounts required conversion kits. "Each kit was about $800," Rust points out. "Each conversion also required six to eight hours of technician time to install the kit and fabricate brackets to hold the tanks in place."
The total cost to convert the 11 mowers was more than $10,000. However, ACLS was able to take advantage of a rebate from the Western States Propane Council worth 20% of the cost of each conversion kit. More importantly, the potential cost savings over time have both Rust and Delany very excited.
The company expects to save at least $100,000 over the next five years. "Much of that has to do with the simple cost of fuel, since propane is generally 30% lower than gasoline," Delany says. "Then we factor in things like reduced oil consumption and longer engine life. Finally, once we back out technician cost as a result of the reduced maintenance needs, the money starts to really add up."
"We've also found that it's pretty much gallon to gallon," Rust adds. "By that I mean we aren't burning anymore propane than we would be burning gas. So we're not losing productivity or consuming more fuel. My initial fear was that we might lose a little power, but that hasn't been the case at all."
ACLS has had such success with its mowers that it's now looking at its trucks. The goal is to convert all 42 of its trucks over to propane in the next two years.
Thinking back, Delany and Rust concur that the main reason they looked at switching over to propane was the rapidly climbing gas prices. They've also realized that propane is another competitive differentiator, particularly when bidding on commercial contracts. In fact, their switch to propane mowers helped them secure one contract earlier this year.
"I mentioned to a public works employee that we were switching all of our mowers over to propane," Delany recalls. "The phone went dead. I asked, 'Are you still there?' The guy said he was taken aback because their department was looking at converting all of their trucks over to propane. They were surprised a landscape contractor would be thinking about this. He said, 'So you guys can put propane mowers on our parks right now?' I said, 'Absolutely.' We got the job—and we were by no means the lowest bidder. Municipalities are pretty hip, and more and more want to be seen as green these days."
Delany says the typical commercial property manager is not quite there yet, but that day is coming. In fact, Rust adds, it's already becoming a big deal down in the Bay Area where they have clean air days. "When something like that makes its way to the Fresno area, we're going to be ready," Rust assures.