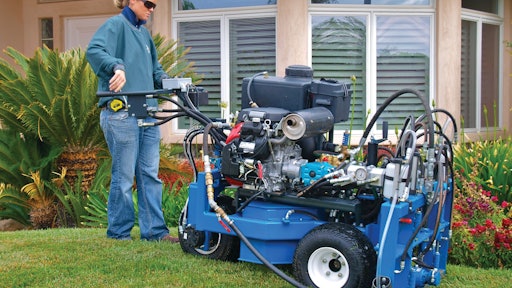 Aqua Cents Water Management, based in Fresno, CA, has been selected for funding from the Metropolitan Water District (MWD) of Southern California through its Innovative Conservation Program (ICP), which is designed to help identify and advance reliable water-saving technologies and strategies. The MWD is joined by the Southern Nevada Water Authority, Central Arizona Project, and U.S. Bureau of Reclamation in the selection of ICP recipients.
How the product works. Aqua Cents is reportedly capable of helping save up to 50% on landscape water use for sustained periods of several years. It is a patented technology that delivers organic hydrogels directly below the root zone of turf. Aqua Cents hydrogels are specifically formulated to absorb up to 400 times their weight in water and beneficial nutrients. This absorption and holding capacity—allowing up to 96% utilization of water "as needed" by the root zone—significantly reduces the amount and frequency needed for water and fertilizers. The innovative storage and delivery process also improves aeration, water infiltration and distribution uniformity. Aqua Cents hydrogels are biodegradable and environmentally safe; they naturally degrade without negative or toxic effects on the soil or microorganisms.
Field testing results. Aqua Cents Water Management recently concluded three years of field testing, with methodology validated by the Center for Irrigation Technology (CIT) at Fresno State. Results have shown consistent water savings in the 48-56% range, as compared to ETc (evapotranspiration), in trial turf vs. control turf. These tests were conducted in the growing season (April-October), and with extreme summertime temperatures, in the Central Valley, CA.
"The Innovation Conservation Grant funding will allow Aqua Cents Water Management to work with CIT to conduct additional independent testing in 2014," says Tom DeLany, founder and inventor of Aqua Cents technology and proprietary water management systems. "We have been commercially installing Aqua Cents in the Central Valley for the past two years. Installations include several commercial sites, hospital complexes and residential sites. Aqua Cents has been commercially installed at the softball field site, in the Peace Garden, and in a two-acre mall that hosts large events on the Fresno State campus. We are working with proactive property management firms, such as Manco-Abbott, who are interested in sustainable water-savings solutions that protect their clients' assets, and will meet growing requirements for Californians to reduce overall water use by a minimum of 20%."
It's a matter of "teaching our lawns to drink differently," commented Bob Boyd, associate vice president for facilities management at California State University Fresno, after seeing initial demonstrations of Aqua Cents Water Management. "Our students value the aesthetics, recreational opportunities and social environment that lawns provide, but we must balance those benefits with increasing water costs."
CSUF has embraced Aqua Cents technology and water savings, utilizing it on three campus sites over the past 12 months. Boyd has also noted that although Fresno State University pumps and maintains its own water system, the University is committed to preserving natural resources.
Aqua Cents Water Management is provided exclusively through ACLS (All Commercial Landscape Service) in the Central Valley, CA. ACLS has been a recognized Central Valley landscape contractor for 30-plus years, offering a broad range of commercial maintenance, custom installation, water management and tree services. Aqua Cents Water Management is focused on developing an expanded reach, either through direct contracts with facilities, sub-contracting to other landscape contractors, or licensing agreements with contractors interested in being the exclusive provider of Aqua Cents Water Management in their markets.