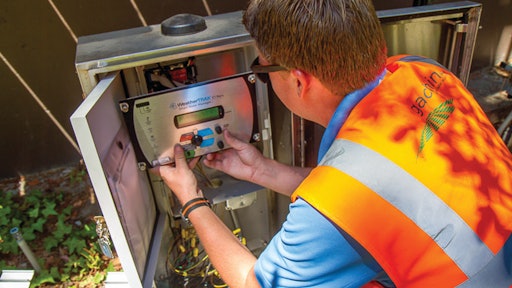 Getting rain from a cloud? What's so different about that, one may ask. The only difference is this cloud is computer-based, and it allows users to monitor and adjust several different controllers from a single location.
"Smart-irrigation solutions are leading technological advances in irrigation," said Kurt Thompson, a Florida-based service contractor that focuses on sustainable water use in the landscape. "Internet-based programs give contractors a cost-effective way to manage water usage for even their small customers, without the expense of a traditional on-site weather station. Working through the cloud, using a system such as Weathermatic's SmartLink, means water managers can be virtually anywhere and monitor a controller's performance, adjust as needed, and be alerted to problems in the irrigation system. Many utilize the popular, off-the-shelf, handheld devices such as smartphones and tablets."
The other major advance, Thompson added, is in hardware, or more specifically sprinkler performance as seen by advancements in both rotating and fixed nozzles. "The new rotating and fixed nozzles can reduce a water flow of 1.50 inches to 1.75 inches an hour from traditional spray sprinklers to between 0.40 inches and 0.80 inches an hour. The new nozzles are more efficient and uniform. They also can allow for more sprinklers to be controlled by a single valve, reducing the total number of valves required on a system."
Thompson noted that these high-efficiency, lower-volume nozzles are made to have matched precipitation rates (MPR) so it takes the guesswork out of getting the right nozzle on the right sprinkler. Because they apply water at a slower rate, these nozzles can sometimes be used on the same valve with rotors. This mixing and matching of different nozzles on the same circuit would never be allowed using traditional spray nozzles.
First Steps
"The trend today is to go with smart controllers, either weather- or sensor-based," related Mike Underwood, branch manager for California-based Gachina Landscape Management. "But that doesn't mean that a smart controller is the answer to increasing an irrigation system's efficiency. Most irrigation specialists will tell you that upgrading the distribution system should take precedence over installing a smart controller.
"All is not lost if an irrigation specialist attempts a system fix with a smart controller exclusively. He or she will quickly find out where the distribution system needs upgrading."
Water Audits
Another good starting point is offering a water audit. In addition to isolating potential problems in a system, the audit creates awareness about how much water is actually being used for irrigation.
Two years ago, Connecticut-based Eastern Land Management hired irrigation specialist Jose Igartua to provide water audits for customers. "Audits are very comprehensive," explained Igartua. "We run the entire system looking for leaks. After we fix any breaks and ensure sprinklers/sprays and nozzles are in working order, we check zones. We do this with catch cans to determine their precipitation rate uniformity. The client then receives a description of what we have done, along with a list of recommendations.
"Depending on how big an irrigation system is, an audit can be very costly. We recently conducted an audit on a 50-zone system. Two employees spent three days doing the field work, and I spent another three days in the office analyzing the data and preparing a report.
"Clients will not want to spend the several thousand dollars an audit might cost unless they know how much water they're already using and how much money it's costing them. That's where having a water meter installed in an irrigation system can be helpful. As water prices continue to go up, water audits become more attractive."
Cost and Water Savings
Incorporating smart controllers and sensors along with new nozzles is advantageous for both the contractor and customer, according to Todd Polderman, product marketing manager at Hunter Industries. "Daily adjustment of irrigation provides the most efficient application of water. Smart controllers allow for automatic adjustment of irrigation based on weather or site conditions. Many of the newest sensors also provide for rain and freeze shut off, ensuring irrigation does not occur when nature is providing the water or it is unsafe to irrigate.
"On the sprinkler side, the introduction of multi-stream, multi-trajectory nozzles offers dramatically better coverage while providing water savings that can approach 30% or more."
"By adding the 'smart' option like Hunter's Solar Sync, the contractor is increasing sales while passing on reduced utility expenditures in the form of water and power savings to the customers. The same holds true for the contractor who installs or retrofits a system to Hunter's MP Rotator nozzles in place of spray nozzles.
"The contractor is able to offer a water-saving solution to the customer. Because the nozzles flow less water than standard nozzles, a project can be installed with few valves, and with less piping and in less time."
Down the Road
Thompson pointed out that companies like Weathermatic, Toro, Hunter, and Rain Bird, among others, understand how important it is for contractors to learn how to incorporate this new technology. The fact that this technology is fast-changing adds to the challenge.
Polderman agreed: "Hunter is adding several layers of training programs to assist the contractor with everything from spray head installation to programming a large two-wire commercial controller. On the maintenance side, the challenge is even greater as the contractor must decide what new technology is best applied to an older system."
Polderman noted that down the road the focus will continue to be on developing products in all categories that maximize the efficiency of irrigation systems. "This is especially true for the control side. All manufacturers will continue to explore ways to water to plant demands. Low-volume or drip irrigation will continue to be a more important part of the water offering as water becomes scarcer. Finally, advances in communication technology are allowing us to provide end users with information at their fingertips."
Companies in this article