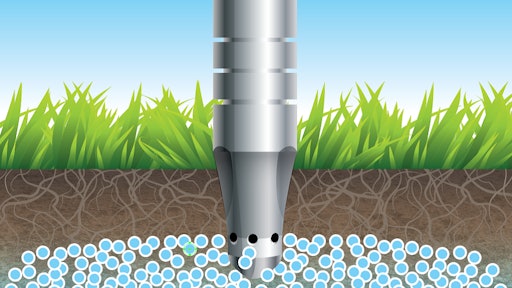 Aqua Cents Water Management has been recognized by the SBDC-UC Merced Network, representing 14 counties in California's Central Region. The Technology Business of the Year Award was presented during Small Business Week, and recognized Aqua Cents' innovative technology providing water savings in urban landscapes (turf) of up to 50% for sustained periods of five to seven years.
The UC Merced Central California SBDC Network provides entrepreneurs and small businesses with high-quality education, consulting, support for innovation, access to information, and the tools necessary to build successful sustainable businesses.
"Aqua Cents Water Management receives the Technology Business of the Year Award for their innovation and creativity in adapting the established water-savings benefits of hydrogels to a new patented technology application," says Mysty Rusk, assistant regional director, program innovation and technology commercialization.
"The entrepreneurial spirit behind Aqua Cents Water Management demonstrates vision, courage and persistence that are a valuable contribution to the health of our nation's economy, as two of every three net new jobs come from small business," added Donna Davis, regional administrator, U.S. Small Business Administration.
What is Aqua Cents? Aqua Cents is a patented technology that delivers organic hydrogels directly below the root zone of turf. Aqua Cents hydrogels are specifically formulated to absorb up to 400 times their weight in water and beneficial nutrients. This absorption and holding capacity – allowing up to 96% utilization of water "as needed" by the root zone – significantly reduces the amount and frequency needed for water and fertilizers. The innovative storage and delivery process also improves aeration, water infiltration and distribution uniformity. Aqua Cents hydrogels are biodegradable and environmentally safe. They naturally degrade without negative or toxic effects on the soil or microorganisms.
Aqua Cents Water Management is provided exclusively through ACLS (All Commercial Landscape Service) in the Central Valley, CA. The company is focused on developing an expanded reach, either through direct contracts with facilities, sub-contracting to other Landscape Contractors, or licensing agreements with Contractors interested in being the exclusive provider of Aqua Cents Water Management in their markets.