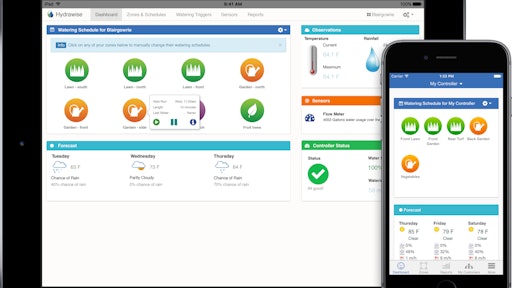 There has been heightened focus, largely driven by drought-stricken California, on the role of living landscapes and their requirement for various inputs, namely water. As this scrutiny has been ratcheted up over the past year, California-based Hunter Industries has been elevating itself as a leader in landscape irrigation through a series of strategic acquisitions.
The moves have come under the leadership of Greg Hunter, the third generation of Hunters who took over as CEO three years ago. Greg aims to continue the legacy his father, Richard, and grandfather, Edwin, have built since the early 1980s. Greg is also looking at opportunities to break into other markets that allow Hunter to leverage its core competencies. An example is landscape lighting, which the company has successfully branched into after acquiring FX Luminaire in 2009. "Our mission is to deliver valued products and services to our customers, grow the company conscientiously, and remain true to the culture that makes our employees proud to work at Hunter," Greg says.
Make no mistake, though, the company's greatest of core competencies is irrigation. The latest trio of acquisitions, which dates back to June 2015, helps fuel this key segment of Hunter's business.
Why Wi-Fi?
Hunter Industries acquired a company called Hydrawise a few months ago. Hydrawise is a manufacturer of Wi-Fi-based controllers and web-based software. Hydrawise's system relies on internet-based weather stations to automatically adjust watering schedules. Then, web interfaces and mobile-device apps allow operation of the system from anywhere.
"There has been an increased focus on the use of communication over Wi-Fi networks which has allowed manufacturers to bring this capability to a wider range of users," says Jeff Kremicki, business development manager for Hunter Industries. "Actually, Hunter has been providing the ability to remotely 'connect' to control systems for many years. Wi-Fi is different, though. Instead of putting a modem in the controller so you can call the controller up, users can now use a Wi-Fi network. So what this technology really does is bring this capability to more of a residential level."
That is precisely why there has been a spurt of "tech" companies breaking into the irrigation space. They have primarily been focused on the homeowner looking to manage their own systems on their smartphones and tablets.
But professional irrigation contractors love it too. "We'll continue to see more residential applications using this technology," Kremicki says. "For contractors managing homeowner sites, Wi-Fi is a powerful tool. The contractor can remotely access a customer's controller to see what's going on from a scheduling standpoint, make changes and receive alerts. The contractor doesn't have to automatically make a trip out to a customer's site to make those changes. That's a powerful management tool that results in significant labor savings."
The acquisition of Hydrawise will allow Hunter to leverage the Wi-Fi platform and expand its remotely accessible controller product offering. An Australian-based company, Hydrawise launched its first controller in 2011. It broke into the U.S. market in 2013. "We love their platform," Kremicki says. "They've done a great job of providing a lot more capabilities to end-users than many of the new products out there. Plus, they understand the professional contractor. They have developed capability to help contractors manage multiple sites. That is important to us because we remain focused on the professional user."
Cutting-edge components and controllers
A few months prior to the Hydrawise acquisition, Hunter had acquired Senninger Irrigation, a Florida-based manufacturer of sprinklers, spray nozzles, pressure regulators and other irrigation tools. The move allows Hunter to aggressively penetrate the agriculture market, which it had not yet targeted.
Hunter and Senninger have actually been strategic partners since 2004, working together on joint product development projects. One such project was the development of an innovative approach to pressure regulation. Kremicki explains, "We saw a need for pressure regulation in the landscape industry, which Senninger was very good at on the ag side. We jointly developed a filter/regulator combination product that offered contractors the ability to filter and regulate in a single device that saved space and was much easier to install."
After more than a decade of working together on new products such as this, the timing seemed right to make an acquisition back in January. "Senninger is a leader in delivering efficient irrigation solutions to their agriculture customers. This is very similar to Hunter's focus in the landscape market. We mutually respected and admired each other as reputable companies and felt that if we came together, we could learn from each other, realize economies of scale, and be stronger than if we operated separately."
No operational changes are planned at this time, though numerous synergies are expected to benefit both companies and their respective distributors and customers. "Combining companies brings synergies in manufacturing, engineering, sales and customer support to the industries we serve," Kremicki says. "We can offer a wider range of products and support to our distributors and their customers in both the landscape and agriculture markets."
Similarly, roughly seven months earlier in June 2015, Hunter acquired part of another California-based company, Alex-Tronix. And this time, Hunter would only be acquiring the landscape side of the business.
"Like Senninger, Alex-Tronix is primarily focused on the ag market," Kremicki explains. "What we have acquired is Alex-Tronix's landscape control products. We did not acquire the entire company. The owner, George Alexanian, has great expertise in irrigation control design. He has spent a lot of time developing weather-based control technology in a very unique way. We can now incorporate some of that innovative technology in new product initiatives going forward."
A smart opportunity
As more legislators, communities and consumers ponder the amount of water used to irrigate lawns and landscapes, now is the ideal time to be focusing on new products and technologies that not only help property owners save water, but also help contractors manage that water use.
"Hunter Industries and the irrigation industry in general have a great opportunity," Kremicki says in reference to the potential widespread adoption of "smart" irrigation products by the marketplace. He agrees with the notion that only 5% or so of the irrigation systems in operation today are "smart" systems.
"Smart controllers have been around for many, many years," Kremicki continues. "Although these products meet a great need and provide great capability, it has been a challenge to educate end-users as to the benefits. Cost really isn't an issue anymore, though. We're working with legislators on this. Some places, like California, offer rebates to use these types of products. Some communities are even crafting legislation requiring the use of smart irrigation products. It has been slow to come about, but it is gaining traction and we're doing all we can to support it."
Companies in this article