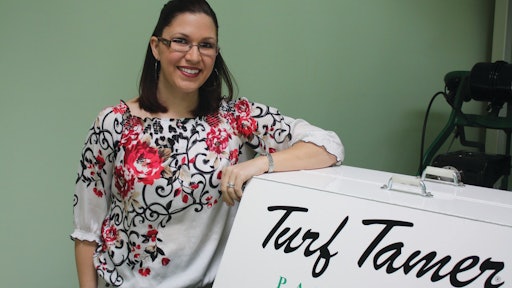 How They're Doing It
Develop a detailed financial plan that is sales-, profit- and goal-oriented
Become an educator
Be realistic with expectations
Offer "natural" services so you don't miss out on this growing market
Use promotions to develop a solid base of business early in the year
Reach out to past clients to win them back
Provide consistent, reliable service
Be attentive and responsive
Become a valuable member of the community you serve
As the owner, remain the face of your company
Women have assumed a more prominent role as business leaders over the past few years. In fact, U.S. Census Bureau data suggests that nearly one-third of small businesses are now owned by women. Furthermore, the growth rate of women-owned small businesses is much higher than the national average.
Though not nearly as dramatic, positive trends are also being seen in the Green Industry. For example, Green Industry PRO's March/April issue featured contractor Julie Copps, a female horticulturalist who has built a thriving multi-service landscape business in Montana.
Over the past year, three ambitious women have abandoned successful white-collar careers to become Lawn Doctor franchisees. Their unique perspectives on sales, customer service and environmental stewardship have helped them to quickly build strong foundations for businesses that can continue to grow and profit. Here are their stories.
Kim Toth
Western Chicago Suburbs
Started in August 2011
Previously in education
Kim Toth has never considered herself a landscaping aficionado. But in 2011, her inability to find a lawn care contractor that offered a "natural" program piqued her interest in the business.
"My husband and I were concerned with our son's health issues," Toth says. "We were looking for someone who offered environmentally friendly fertilizer and weed control, but didn't have much luck."
At the same time, the Toths were looking for a franchise business they could buy into. They found Lawn Doctor online. In August 2011 they opened up a brand new territory. Then, in March of this year, they purchased an existing territory from a franchisee that was moving to another state.
"We went from 40 customers to 540, and quickly grew that to 670 by the end of April," Toth says.
Toth now makes "natural lawn care" an important part of her service offering, though it only represents roughly 10% of revenue. However, even her regular program incorporates fertilizer blends of synthetic with natural and organic nutrient sources. Then, her natural program utilizes Milorganite or poultry manure-based fertilizer.
Toth's previous career as a high school biology teacher gives her an edge when it comes to sales. "I think it's important to educate consumers," Toth says. "It's also important to be realistic about expectations; you can't be weed-free after a single application. We work hard to inform our customers about what's going on and how the products are going to work."
Toth is also a big believer in the age-old rule: Treat others as you'd want to be treated. It sounds cliché, but many contractors do not get it. "We think that this presents a tremendous opportunity for growth," Toth points out. "When we talk to prospects, the thing we hear over and over is that they are not happy with their current contractor's attentiveness. Having someone local who genuinely cares about their yard is very important."
Speaking of unhappy customers, Toth has had success in reclaiming clients who had cancelled on the previous owner. "Continuing to talk to past customers is important, but listening to them is even more important," Toth says. "Sometimes people just want to be heard—and to be reassured that you truly care about them. They need to be able to reach you when there's a problem—and need to know that you're going to be there to help them."
Jodi Lewis
Edmond, OK
Started in January 2012
Previously in city and economic development
Jodi Lewis grew up on a farm, so she's no stranger to hard, outdoor work. She earned a bachelor's degree in agribusiness, and then spent the next five years in community and economic development. She even served a term on the Piedmont, OK, city council.
Lewis put her career on hold in 2009 to raise her newborn son. But she was "going stir crazy" after a couple of years, and began thinking about a new career that would allow her to still be somewhat of a stay-at-home mom, but also satisfy her entrepreneurial spirit. Lewis liked the franchise idea, knowing that she also had to find something she had some level of expertise in. "I couldn't open up a hairdressing franchise or anything," Lewis jokes.
Lawn care, on the other hand, made perfect sense. After talking it over with her husband, she decided to get in touch with Lawn Doctor.
Lewis opened her business just this past January. "We put a lot of money into marketing right off the bat," Lewis says. "We had to, because we wanted to get a lot of customers in a short amount of time." The marketing plan included plenty of direct mailers to targeted households, which Lawn Doctor assisted with, in addition to a group-coupon promotion called Living Social.
Lewis got a little help from Mother Nature. "Oklahoma didn't have much of a winter, so the grassy and broadleaf leaves really popped up early this spring," Lewis relates. "We thought this new career would mean taking care of lawns in the evenings and on weekends. Not the case. Our phone has been ringing off of the hook."
Lewis spearheads all administrative, sales and marketing duties. Her husband manages operations. A third employee has been hired to help service customers.
Things are going very well, to say the least. "But you'll never hear me say we're satisfied," Lewis says. "We're looking to buy another territory by next year. There are a half dozen to a dozen zip codes we think we can target.
"People find it refreshing to see a woman in this business," Lewis continues. "To some consumers, women just seem less threatening. Anyway, I can go head to head in sales with any man. Plus, consumers respond very well to the fact that the person they are talking to every day is the owner, me. They don't feel like they're just a number in a database. That's pretty rare, at least here in central Oklahoma."
Odalys Berrens
Chicagoland market
Started in June 2011
Previously in accounting, finance and real estate
Up until 2009, Odalys Berrens never really had a lawn to take care of. That's when she and her family moved to the Chicago suburb of Volo. Their new home included a quarter-acre yard she now had to tend to. "I couldn't believe how competitive our neighbors were when it came to their lawns," Berrens recalls.
Berrens quickly took a liking to yard care and threw herself into the friendly competition. She was also itching for a change from her current career in finance. Her husband's tool and die manufacturing company was getting battered by the recession, so they started looking at businesses they could buy.
A broker turned them onto Lawn Doctor. An area franchisee was contemplating retirement. After a productive meeting, it was decided that Berrens would buy the business. "I wanted an existing business in a service industry with strong ties to the community," Berrens says. "I also wanted to see some healthy financial statements, given my background." This definitely fit the bill.
Over the past year, Berrens has taken an already stable company and continued to grow it. "Right now we have 15 employees and eight trucks," she points out. "Going forward, it's going to be very important to remain organized from a financials standpoint. We also need to be sales- and goal-oriented. Consistent, reliable service is definitely a big goal to maintaining our foundation. As a female business owner in a male-dominated industry, I'm just excited and blessed to be given the opportunity to prove that we can do a good job for our community."