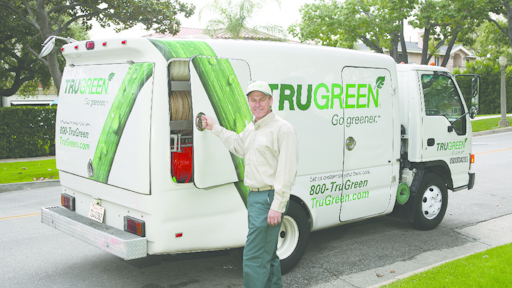 Back in January, TruGreen broke away from ServiceMaster to become its own company (greenindustrypros.com/11232994). David Alexander, TruGreen president and CEO, made it very clear what needed to be done to get the company back on track after a challenging few years. Now well into the 2014 lawn care season, Alexander offers an update on how things are developing for the Green Industry giant.
Q: Customer churn was a big reason for TruGreen's struggles over the past few years. What led to that accelerated churn, and what are you now doing to make sure it stops?
A: We suffered from self-inflicted wounds over the past couple of years, mainly due to an inadequate rollout of a new operating system. Throughout that time, however, the passion and commitment to excellent service never changed, and I now believe that as a result of all that has been achieved, our systems have become a key competitive advantage.
We have also assembled an extremely talented senior management team from a diversity of backgrounds, with 10 of our top 14 executives either being new to TruGreen or promoted from within but new to their role. As a result, our service levels have improved, and we have seen significant reduction in customer cancelations. Customer count is growing again for the first time in years, and our customer satisfaction ratings are rapidly climbing.
Q: Lost customers/sales wasn't the only reason TruGreen profits had eroded since 2011. What else was going on in the company to stifle profit during the 2011-13 time period, and what are you now doing to correct that?
A: Our productivity also suffered over the past couple of years. However, as a result of 18 months of hard work, our productivity has rebounded strongly and we believe we are now on a path to continuous improvement.
Q: What are you doing to improve the quality and consistency of service your customers receive?
A: We have what I consider to be the best training in the industry for our lawn specialists, designed by agronomic Ph.D.s and provided to every new and returning specialist in the company. Our lawn, tree and shrub specialists are a source of pride for our company, and we believe they represent the best in the industry. I'm confident our consistency in training and process will equate to a consistency of service for our customers.
Q: It sounds like "quality" had varied greatly from branch to branch. What are you focusing on to try and fix this problem?
A: Our rigorous approach to training and the capabilities we're achieving through technology ensure we deliver a tailored approach to every customer with a consistently high level of efficiency and customer service. We are already seeing the benefits of this consistency through higher customer satisfaction scores across the board, and a significant reduction in cancelled customers.
Q: TruGreen had issues with adding new properties/clients to existing routes. How do you fix that problem so TruGreen can start growing again without losing existing customers out the back door?
A: Again, what you are describing was the result of ineffective systems. We suffered with poor route quality and major challenges inserting new customers into routes. The good news is that these issues are no longer preventing us from serving our customers effectively. We have rolled out new tools and capabilities that we have never had before such as sales and service mobility, real-time productivity tracking, and new planning tools. These tools are all designed from a customer viewpoint and will help ensure we have the most effective and efficient routing and scheduling possible.
Q: Finding good labor is a big issue for most lawn care and landscape companies. How is TruGreen going to deal with this under your leadership?
A: The best way for us to attract and retain top talent is to invest in our associates. Our training program is a great example of how we do that.
Our associates are also excited about being an independent company again. There is a renewed sense of pride and optimism that comes with forging our own way.
We have also increased our support of and involvement with charitable organizations, as one of several steps to increase our associates' pride in working for TruGreen. In the end, our associates are happiest if we're succeeding, and I feel confident that our success will allow us to recruit and retain the best talent the lawn care industry has to offer.
Q: Who are your preferred vendors, and is this changing at all now?
A: Our status as a standalone company does not change our process for evaluating suppliers. Like any good business, we are constantly evaluating our vendors to ensure we are providing our customers with the best service in the industry.
Q: Service as a subcontractor to other landscaping and/or lawn maintenance contractors appears to be an important part of TruGreen's business model going forward. How important?
A: Our commercial business is a very important growth area for TruGreen. We partner with national, regional and local landscape and lawn maintenance companies to meet their lawn care needs however we can.
Q: There has also been talk of the need for sales process improvement. Anything to report here?
A: We are growing our customer count by focusing on the quality of sales rather than just the number of sales. We are trying to sell in a way that creates customers who stay with us year over year. To do this we have emphasized features and benefits rather than "deals," and we are ensuring that we set proper expectations from the start. We have also set high expectations for integrity from our sales force.
We've equipped our neighborhood sales associates with sales mobility devices that allow sales managers to build optimal routes, and track progress by keeping in touch with individual sales reps throughout the day. The results are paying off with strong sales and very significant improvements in first-year retention.
Q: Do you think the TruGreen brand has been damaged in recent years? If so, how do you fix it, and what do you want the brand to stand for?
A: The short answer is "no". Our customer count and customer satisfaction rates are climbing again. TruGreen is the largest lawn care company in America, with a history of more than 40 years in the lawn care business. Fortunately, we have a strong identity as a standalone brand, and our position as America's #1 lawn care company has begun to play a more prominent role in our marketing. In addition, we have been driving home the role that lawn care plays in kicking off the spring season through our Official Sponsor of Spring direct mail and social media campaigns.
Q: How does TruGreen benefit from being separate from ServiceMaster now?
A: Based on U.S. market share studies, TruGreen is America's #1 lawn care company. We have a 40-year history in the lawn care business with much of that time spent as an independent company. The change in our status doesn't change our objective. We will give our customers a lawn they love from a company they trust. We will continue to be valued community partners and will continue promoting the human health and environmental benefits of healthy turf, and of spending time outdoors.