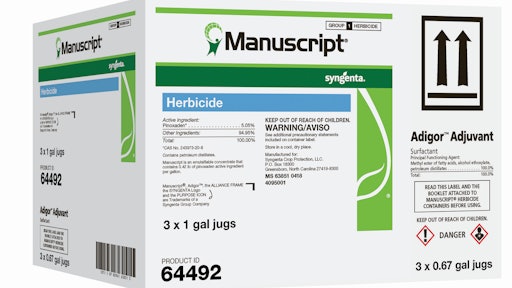 Manuscript herbicide is a highly active, post-emergence herbicide that controls mature, grassy weeds in certain warm-season grasses on golf courses, residential and commercial lawns, sod farms and sports turf. With Manuscript, you can get application flexibility you need to treat mature weed.  
Formulated with a built-in, proprietary safener to enhance performance and turf safety.
Consistent control on mature, grassy weeds
Applications recommended during the summer between end of May and beginning of September when Desirable turf is actively growing and fills in voids after weeds are controlled.
May be applied as a broadcast treatment for control of bull/thin paspalum.
Spot treatments recommended for difficult-to-control weeds like tropical signalgrass and crabgrass breakouts.
Active ingredient is pinoxaden, which is rapidly absorbed and translocated to the growing points of weed foliage for improved safety and resistance management.
Request More Information
Fill out the form below to request more information about
Syngenta Manuscript Herbicide