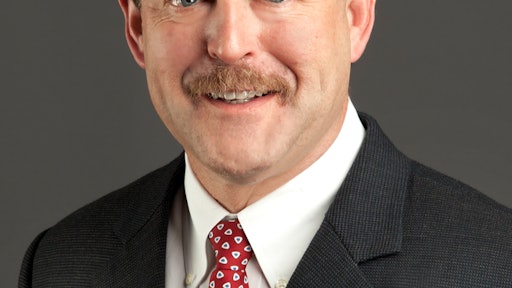 As reported on December 11, Scotts Miracle-Gro has reached a deal for its Scotts LawnService business to enter a joint venture with TruGreen. Scotts Miracle-Gro will receive roughly $200 million in cash and take a 30% equity stake in the new, combined company. CD&R (private equity firm Clayton, Dubilier & Rice), will hold the controlling interest.
David Alexander, the president and CEO of TruGreen since December 2012, will lead the combined Memphis-based company, which will operate under the TruGreen brand. Jim Gimeson, president of Scotts LawnService, will serve as chief operating officer. John Compton, a CD&R operating partner and former PepsiCo president, will continue to serve as TruGreen's chairman.
Alexander spoke with Green Industry Pros about this news.
"The easiest way to describe this is a merger," Alexander says. "Ideally we would like to close the deal by late-February or early-March. "There are a lot of things that have to happen, so it's somewhat fluid. But that's our goal.
"CD&R had done work with Scotts before—they actually helped put Scotts Miracle-Gro together—so there's a long relationship there," Alexander continues. "CD&R is a fairly unique private equity firm in that they run an operating-partner model, meaning that roughly half of their partners are actual operators. Many private equity firms are financial only; they are bankers and financial experts. CD&R is half and half. They are creative in doing these types of deals, and they are very good at supporting them."
Two green giants now one
The new, combined company will generate roughly $1.3 billion in annual revenue. A little more than $1 billion of that can be attributed to TruGreen. The merger also adds 500,000 customers for TruGreen, bringing the grand total to roughly 2.3 million customers.
"So it's not like we don't have tons and tons of needs," Alexander points out. "The reality is that we need every front-line specialist and salesperson. There are also many branches that will ultimately become TruGreen branches, but the branches will remain where they are in a lot of cases. Simply put, there will be a lot of people from SLS that come over to this new company."
Merging two large companies like this, regardless of how similar they might be, is an enormous undertaking that does take time. "We've hired a consulting firm out of Atlanta by the name of KSA, Kurt Salmon Associates," Alexander tells. "One of their specialties is network integration. They are looking at every customer from both companies, not sharing names yet but just looking at the nine-digit zip codes. Then they are looking at branch costs vs. service delivery costs. They are helping us understand that there are probably places where we could take two branches and make one, capacity-wise. But there may also be places where there would be a significant logistics cost to do that, in terms of drive time. We're looking market by market because every market will be an individual decision. We'll likely begin to do some integration of branches in the spring, but we just don't know what that is going to look like just yet."
There are other questions the new company leadership is working through. "We had our first integration meeting the week of December 14," Alexander relates. "We assembled a team of SLS leaders and TruGreen leaders. We spent a couple days looking at all of the questions we need to address. Two of those questions are: How do we deliver service, and how do we sell? We may decide that, for example, we want to deliver service to a Scotts customer in a way that looks the same, but sell more of a TruGreen type of product. Those are all questions we're trying to work through right now."
Synergy and improvement
As pointed out, the president of Scotts LawnService, Jim Gimeson, is assuming the role of chief operating officer of the new, combined company. Logic would suggest that there are operational best practices from Scotts that can be implemented at TruGreen, and vice versa.
"We are looking at every report and practice from each company, determining which is better," Alexander says. "We may even take both and modify each of them to create a new best practice, in some instances. It's complex. This is why we think integration is a multi-month process."
This is one advantage of a merger, Alexander points out. With an acquisition, leaders tend to go in with a mindset that everything the acquirer does is right, and everything the company being acquired does is wrong. "With a merger, the mindset is to determine the best practices of each company, and then make sure the new company adopts those best practices," Alexander says. "There is going to be a lot of discussion and analysis around that."
Alexander assumed the role of TruGreen president three years ago. He took over at a time when TruGreen was struggling to retain customers and maintain profitability. Then, roughly one year later, TruGreen was spun off as its own company by parent ServiceMaster. Over the past couple of years, Alexander says much progress has been made.
"Today I can say that TruGreen is a very successful company, but in 2013 we were a struggling company," Alexander relates. Every TruGreen associate has done a phenomenal job. We are now at an all-time high in terms of customer retention and how our associates rate working here. If you look at our 2013 revenue, we were at $885 million, and this year we're back to around $1 billion. In terms of earnings, had we been a stand-alone company in 2013, we would have lost $5 million. In 2014 we made $46 million, and this year we'll make $85 million."
A turnaround like that starts with a company's employees. Early in 2014, TruGreen asked its employees to help define the company's values. More than 800 employees offered ideas. The underlying theme was that you must treat people the way you want to be treated. This plays out in five key areas: service, safety, community, teamwork and integrity. TruGreen launched several new initiatives and contests to help support this concept. The result has been steady improvement in systems and processes, and a dramatic turnaround in company culture.
"We administer an employee engagement survey to all of our associates," Alexander says. "We take the completed surveys and group each employee into one of five levels: love my company and wouldn't think of changing jobs, very happy employees, the typical U.S. worker who's kind of neutral, not for sure, and really wish they worked somewhere else. Historically, about 40% of our employees would be in those top two categories. In 2014, for the first time in our history, we went to 55%. This year we hit 65%. With respect to our branch managers specifically, 50% rated themselves as engaged in 2013. This year it was 87%. There is a very different feeling in the company today."
Clients are feeling it too. Alexander says that in 2014, TruGreen had its highest customer retention number in the company's 42-year history. "We've put a big focus on showing up when we say we will. In 2013 it was roughly 70% of the time. This year it has been 90%."