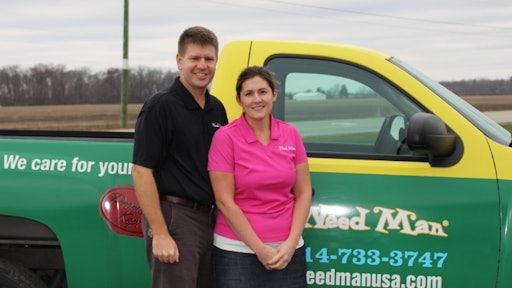 Weed Man USA, a lawn care franchise in North America, recently presented Ohio entrepreneurs Corbin and Audrey Schlatter of Weed Man Columbus North with its highest honor, the Award of Excellence. The award recognizes the Schlatters for symbolizing operational excellence in all aspects of their franchise. It is a significant milestone that can only be achieved through years of meticulous planning and execution.
"Corbin and Audrey are an inspiration to us all as we've watched them grow to get where they are today," said Jennifer Lemcke, COO of Weed Man and Turf Holdings, Inc. "They are a dynamic duo that pushes themselves and everyone on their team to be the best they can be. It's not surprising that they've been able to hit impressive markers like $2 million in net sales and expansion into more territories. I'm proud that Weed Man can say they are a part of our team."
Corbin has been a business owner in the lawn and landscape industry since the age of 19. Through working in the industry, he came to learn about Weed Man. In 2003 he purchased a franchise, diversifying his existing business. He sold his landscaping company in 2005 to focus on growing Weed Man. His wife, Audrey, left the nursing field to join Weed Man in 2015 and their growth has skyrocketed. The couple owns Columbus North, Green County and recently expanded into Dayton, OH.
"We have our team and family to thank for this award. Our family has supported us on our journey toward building a business that we feel reflects our values and that we're truly proud of. It gives us great pleasure to be able to provide for employees' families as well and to see them develop within Weed Man's stellar system," stated Corbin.