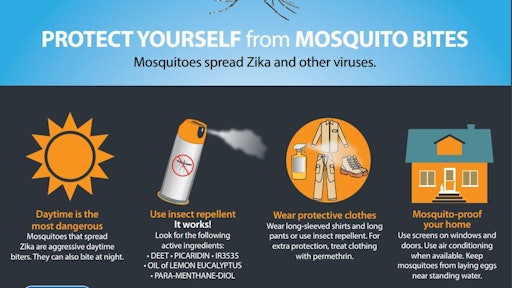 cdc.gov
As reported by WFLA-TV in Tampa, FL, some Florida lawn care and pest control contractors are seeing an uptick in business as a result of mosquito-born Zika Virus fears in the state.
More property owners are looking for licensed professionals to come out and spray turf, trees and shrubs with insecticide in hopes of reducing the likelihood of getting bit by a mosquito. WFLA's report discovered that, although treatments of mosquito-controlling insecticides will not stop the Zika Virus itself, it can control mosquito populations on a property—which in turn will diminish the chances of getting bit by a mosquito that is carrying the disease.
A contractor interviewed said treatments usually last for 30-45 days.
In addition to periodic insecticide treatments, property owners are also encouraged to ensure that no standing water sits on the property, especially around the home itself or business.
A chemist also told WFLA that, in time, mosquitos are likely to adapt and become resistant to insecticide treatments.
In the meantime, hiring a professional to treat for mosquitoes can prove to be an important part of a sound defensive strategy.