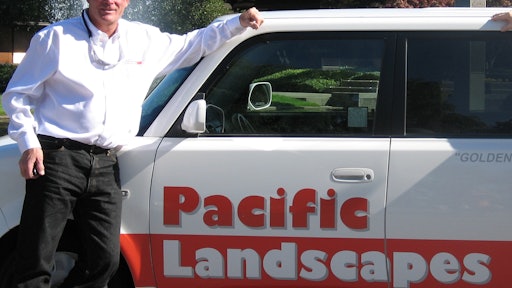 Organic and natural lawn care is nothing new for Pacific Landscapes in Sebastopol, CA. The company has been working on sustainable landscaping and organic soil fertility for years. Darryl Orr, one of the owners, says the company offers its organic soil fertility program to each new client that signs on.
"During the economic downturn, customer interest waned. More recently we are experiencing a positive turnaround and have gained new clients specifically because of their interest in organics," explains Orr. "They account for approximately $200,000 in base maintenance annual revenue. There is a definite market out there for sustainability in landscape services. Currently it is a niche, but it's growing. With an emphasis on educating clients, we plan on accelerating that growth."
Changes in landscaping trends
With California's recent years of drought, plenty of people have resorted to ripping out turf and replacing it with more drought-resistant landscapes. Orr says that's a trend that isn't likely to change. Thus, his company is doing more drought-resistant landscapes than installing new turf.
While that's a big issue facing the green industry, Orr sees a bright side. "On the surface, that sounds like doom and gloom, but we are finding real buried treasure. Our irrigation sales have taken off. Water is too precious to waste, so our irrigation systems need to operate at peak efficiency."
It isn't only the irrigation side of Pacific Landscapes that's seen a benefit.
"Our enhancement sales are also on the rise. When a customer does decide to remove turf, they spend money on replacement landscaping. Much of that new landscaping consists of flowering perennials, ornamental grasses and shrubbery that require more detailed care than the turf that came out," says Orr. "While the customer saves money on water, they may spend more money on landscape maintenance. This also puts an onus on the contractor to educate their employees. Proper care of a diversified landscape requires a skillset that can't be provided by a mow-and-blow operation."
Flourishing in organics
With the drought weighing heavy on homeowners' minds, water conservation has been a top priority. With its soil fertility program, Pacific Landscapes has found that the healthier soil not only promotes healthier turf, but also cuts water usage in half.
Orr explains, "Organic programs promote healthy soil with beneficial microbial activity. Soil compaction is reduced, increasing soil pore space, resulting in the ability to capture and retain more water. Improving soil health also increases the content of organic matter, further adding to the water-retention capacity. Our most successful organic lawn care function has been to perform core aeration treatments followed with applications of high-quality compost. In the last two years, we have applied over 1,000 cubic yards of compost to more than 40 acres of turf generating over $100,000 in extra revenue."
Pacific Landscapes also applies compost tea to turf plantings, capitalizing on the benefits of the mixture to boost biological activity in the soil. It's a lot less labor-intensive than spreading compost, but provides some of the same benefits. "Most of our compost tea applications are for plant health care," Orr says. "We have experienced repeated success managing aphids, leaf spot, rust and powdery mildew by applying compost tea to plant leaf and stem surfaces. This has become a routine practice for our rose plantings."
One issue Orr says they've come across is that the organic herbicides they've tried have not been successful when it comes to keeping weeds back. As a result of the lack of control and the increased cost that came with the products, Pacific Landscapes doesn't typically use them as go-to products.
But that doesn't mean they haven't seen a reduction in the use of chemical herbicides. "For non-turf plantings, we have dramatically reduced herbicide use by maintaining a mulch cover," Orr points out.