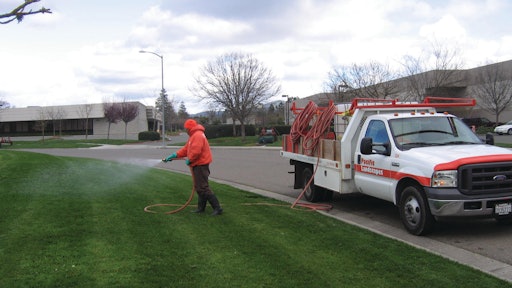 Pacific Landscapes won an award for sustainable maintenance from the California Landscape Contractors Association this past July. The property, an office building in Santa Rosa, CA, was constructed in 2002. Conventional lawn care using synthetic products was employed until 2008. Pacific Landscapes' organic soil fertility management program was then implemented in 2009.
Darryl Orr, co-owner of Pacific Landscapes, says the results show that this "soil health" approach is both good for the environment and highly effective.
Highlights of the program:
Plant-ready, water-soluble nitrogen fertilizers were discontinued in favor of liquid, organic-based fertilizers, fish hydrolysate, and humic and fulvic acids.
Grass-cycling was employed, which is the process of mulching grass clippings back into the turf. This practice helps reduce needed fertilizer inputs while increasing microbial activity in the soil, which further relieves soil compaction.
Turf was treated with applications of liquid calcium (calcium carbonate) and Gypsum (calcium sulfate) in order to raise the soil's calcium level while reducing the level of magnesium. Generally speaking, the desired Ca:Mg ratio is 7:1. At time of application, ratio was 3.2:1. Goal is 5:1 in one year's time.
Turf areas were mechanically aerated with a core aerator each fall, and then followed up with an application of compost. Turf areas were also treated with a soil drench application of the compost tea blended with fish hydrolysate.
Planter bed areas and tree wells were maintained with a layer of arbor mulch (recycled tree waste).
Synthetic pre-emergent herbicides were replaced with corn gluten hydrolysate.
Synthetic insecticides and fungicides were replaced with foliar-applied treatments of compost tea and other biological inoculants.
Results of the program:
Soil Compaction – Using a penetrometer to test soil compaction, most readings exceeded 300 psi within the top 4 inches of depth at the start of the program. Two years later, some test locations still reached 300 psi, but the majority allowed the penetrometer to reach the full 28 inches without exceeding 300 psi. Some locations even allowed for the full 28 inches without exceeding 200 psi, which is the point at which turf root growth becomes prohibited.
Turf Root Depth – An initial survey of turf rooting depth averaged 3 to 4 inches. In two years, depths exceeded 9 inches.
Water Usage – Annual irrigation water usage averaged 4,395 units in 2007 and 2008 (before the soil fertility program was implemented). In 2009 and 2010, usage was sliced in half to 2,201 units.
Nitrogen Inputs – Over the course of two years, turf plantings received 76% fewer nitrogen inputs.
Green Waste – As a result of the grass-cycling program, 215 cubic yards of green debris was diverted from the recycling facility. Furthermore, because 45 fifteen-mile hauling trips were avoided, roughly 70 gallons of fuel was saved.
Stormwater – Stormwater runoff of nitrate nitrogen contaminates was reduced by 150 pounds annually.
Leaching – Leaching of nitrate nitrogen contaminates into underground aquifers was reduced by 15 pounds annually.