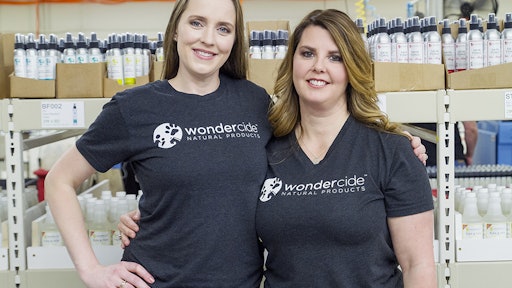 Wondercide founder and CEO Stephanie Boone and business partner and chief marketing officer Laura Alter appeared on ABC's March 18 episode of Shark Tank. The duo was seeking $500,000 in exchange for 5% equity to grow retail distribution of its line of safe and effective pesticide alternatives for pets, people and property. Impressed by the preparation of the team, the success of the business and the effectiveness of the products themselves, Lori Greiner offered Wondercide $500,000 for 3% equity in the company and a 50-cent royalty on every unit sold until repaid, securing a $16.6 million valuation for the company.
Austin, TX-based Wondercide is a Green Certified Business with Gold standard accreditation. It offers a line of natural pest control and holistic care products that are guaranteed "Made in the USA" from formulation to fulfillment. Wondercide's portfolio now includes more than 30 products ranging from soaps and repellents to odor removers and insect controls.
"It was in 2008, when my dog Luna became deathly ill from conventional flea and tick treatment, that I started on this journey to create safe and effective alternatives to pesticides used on pets, families and in homes," says Boone. "It first took several months of research to develop and test the products, which we were able to get to market in 2009."
From that point right up until the March 18 Shark Tank appearance, Wondercide had delivered triple-digit sales growth year-over-year, selling roughly $4 million worth of product over that roughly six-year span. Approximately 80% of sales have happened online via Wondercide's website and Amazon. The other 20% is generated through direct relationships with local pet stores and lawn and garden retailers.
In-house from start to finish
All Wondercide products have been and continue to be developed and manufactured in-house. "We control all of the steps in the process," Boone points out. "When I started out, I wasn't quite sure what I was doing; I didn't have a background in chemistry or biology. But what I did have was access to the internet. I started looking into the products that people were putting on their lawns and animals. I started learning about the active ingredients and the inert ingredients. I started learning how those technologies worked. I learned how they were affecting the neurology of insects. I also learned that these ingredients didn't discriminate when they came into contact with animals or humans."
Around the same time Boone was googling her way to expertise, her grandmother's health was failing. "When she passed away, she left me her cedar chest," Boone tells. "I was literally sitting on that cedar chest, looking at Luna who was lying on the floor having these adverse reactions to the flea and tick control medicine she was on, when I had a light bulb moment. I thought about how for years people have been using cedar to protect their personal belongings and keepsakes. From there I started researching and learning about cedar oil. It's a natural repellent, but there weren't any technologies out there that claimed to control or kill the pest. Then I started thinking about inert ingredients.
"Long story short," Boone continues, "I literally set up shelves in my garage and started ordering all types of oils and inert ingredients and surfactants. I started mixing things together and spraying them on bugs to see what would work. The top three formulas that worked the best were sent off to a couple of different labs. They did some additional testing. The formula that performed the best was the one we went to market with."
Expanding product line
That original formulation is what Wondercide products continue to rely upon today. There are actually two versions: one for people, pets and the home, and a second version for lawn and garden. "Those two formulations are really the core of our pest control line," Boone says. "But we have more than 30 products now that are all innovative in nature. The products came about because people were asking us to help them solve a problem in a safe, innovative way. Also, as my dog Luna aged, there were some technologies we'd developed to help her in her aging years."
On the lawn and garden side, EcoTreat is a natural outdoor pest control concentrate that kills and repels fleas, ticks and hundreds of other pests, while being safe for beneficial insects. The active ingredient is, you guessed it, cedar oil, which works by blocking octopamine, which is necessary to regulate heart rate, movement and metabolism in invertebrates (i.e. insects). When cedar oil is present in the area, pests are repelled. When contacted by cedar oil, pests die.
"EcoTreat is a water-soluble concentrate," Boone adds. "The neat thing is that it eliminates all sorts of grounds pests and subterranean insects, along with flying/biting insects. So everything from mosquitoes, gnats and chiggers to fire ants and even grub worms can be controlled. EcoTreat is a very versatile product.
"The other really important benefit of EcoTreat has to do with the application methods," Boone continues. "You can use EcoTreat in an irrigation system, a mosquito misting system, or in a simple hose-end sprayer." For treatment at 8-ounce dilution, 32 ounces of EcoTreat will treat up to 0.37 acres. EcoTreat is available in three sizes: 16 ounces, 32 ounces or 1 gallon.
Wondercide has been looking into a potential product designed to control weeds. Nothing is imminent. "This is a tricky area," Boone points out. "Most natural weed killers are indiscriminate; they kill the grass too. That's a big part of the challenge. There are weed pre-emergents like corn gluten meal, of course. What we've tested in the past as a post-emergent is acetic acid vinegar. But again, vinegar is non-discriminate. I know that a lot of companies are working on this challenge. Someone with much deeper pockets than ours is probably going to have to try and solve it."
Expanding distribution
For the time being, Wondercide's product line is expansive enough. Now the focus is on distribution. With its recently secured Shark Tank funding courtesy of inventor and entrepreneur Lori Greiner, Wondercide plans to hire its first key sales leader to establish 600 new independent retail accounts nationwide over the next 12 months.
"We have added a strategic focus for 2016 of expanding our retail presence," says Laura Alter, Wondercide's chief marketing officer. "We have already sold products in all 50 states, but 100% of the growth has been organic; we've never had a salesperson in the company. This new hire we pitched to the sharks is an important part of our plan. When a consumer finds out that he or she has a bug problem, they're not really excited about having to wait a couple of days for an internet order to arrive. A local retail outlet is important. That's why retail is the next piece of expansion for us. We need to make sure our products are available as quickly as possible to as many people as possible."
In other words, the growth potential is enormous—which is precisely why Boone and Alter were able to wow the sharks and secure a good deal that will help them to continue growing their business.
"The sharks asked tough questions, but they were never able to stump us," Alter says. "We had answers because there isn't anything we haven't thought through. Also, the sharks were very aware of the strong consumer demand for safe household products that are also effective. Stephanie (Boone) and I were able to instill a level of confidence in the way we do things. Because we are a mission-driven organization, I think that made it easy for them to get behind us. We aren't just selling products, we're helping people live better lives."
"I am beyond proud of what we have been able to accomplish," Boone adds. "To have Lori Greiner join us in our mission to protect pets and families is incredibly gratifying."
Visit the Wondercide Website for more information.