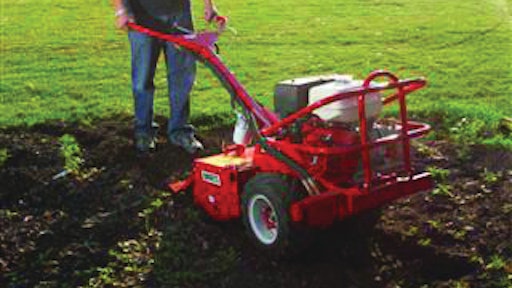 Tilling is a great way to prepare your lawn and garden for plantings. It helps to improve the texture of soil and makes adding things like fertilizer more successful. Whether you are tilling in the spring or fall, operating equipment safely should be priority.
Familiarize yourself with the tiller, and all owners' manuals before operations. Below are some general safety tips to also consider.
Preparing your area
Carefully and thoroughly inspect the area you will be tilling. Remove any stones, sticks, and other foreign objects. Avoid areas where electric or gas lines might be buried. Tiller tines can throw rocks and other objects and cause injury. Keep bystanders, particularly children, away from tillers when in operation.
Safety gear and apparel
Wearing protective clothing helps to reduce the risk of injury.
Wear protective goggles or safety glasses with side shields to protect your eyes from possible objects thrown from the tiller tines.
Wear safety shoes with non-slip soles to improve footing on slippery surfaces. Do not use the machine wearing open-toe shoes or while barefoot.
Do not wear loose clothing or jewelry that can catch in the machine.
Wear long pants and gloves that fit properly without loose cuffs or strings.
Use ear protectors or ear plugs rated for at least 20 dba to protect hearing.
General operation safety
Be sure that anyone using the machine is aware of these general-use safety tips.
Never leave machine unattended with the engine running
Be familiar with all controls and their proper operation before you begin to use the machine. Know how to stop the machine and disengage it quickly in case of emergency.
Never attempt to make adjustments to the tiller while the engine is running unless it is recommended in your operator's manual.
Use caution when tilling near fences, buildings, and underground utilities.
Do not overload the tiller attempting to till soil too deep or at too fast of a rate.
If you hear unusual noises or experience vibrating during operation, stop the engine immediately. Disconnect the spark plug wire and ground the spark plug wire against the engine. Make any required repairs prior to restarting the tiller engine.
Only use attachments and accessories that are approved by the manufacturer.
Avoid the rotating tines and keep away from the tine shield when the engine is running. Keep all guards and shields in place when operating the tiller.
Disconnect the spark plug cap if you need to clean or handle the tines.
Do not move the tiller with the engine running.
Read your safety manual! This is just a quick overview of basic safe operating procedures. As always—read, understand and follow the instructions in your safety instruction manual, along with the various safety symbols and warnings that appear throughout the manual and on the product itself.