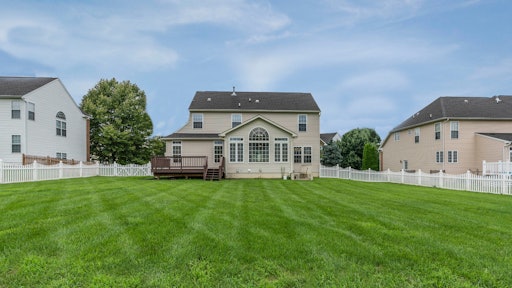 Unsplash
Many homeowners tend to view fall as the end of the lawn-care season. Mowing may continue, but most outdoor activities are winding down, and the grass naturally receives less attention than in the spring and summer. Fall is the perfect time for landscapers to overseed — a practice that can benefit both cool- and warm-season turf.
Overseeding is the planting of grass seed directly into existing turf, without tearing up the turf, or the soil. It's an easy way to fill in bare spots, improve the density of turf, establish improved grass varieties and enhance your lawn's color.
In northern areas with cool-season grasses, fall overseeding can help fill in any thin patches and ensure that the new grass develops a strong root system before winter, creating a more disease- and drought-tolerant lawn. A lawn that is already thick in the spring will also crowd out early weeds before they have a chance to become established.
In southern areas with warm-season lawns, fall overseeding with a cool-season grass provides an obvious aesthetic benefit, as the lawn will remain green through the winter while the warm-season grass is dormant. An actively growing lawn is also more wear-resistant than dormant grass, which may be important to homeowners who use their lawns year-round. For warm-season lawns, you'll also need to create a spring transition plan, which will vary based on the local conditions as well as the density and health of both the underlying warm-season grass and overseeded cool-season grass.
The overseeding process is the same for both types of turf. The following are five tips to get you started:
1. Aerate
Many homeowners are unaware of the benefits of regular aeration — or tend to put it off because renting a core aerator is a hassle. But if the soil is compacted after a summer of heavy use, the lawn may need to be aerated before overseeding. This will help water, nutrients and oxygen penetrate more easily, allowing both the established plants and the new grass you're about to plant to develop stronger roots and survive the winter in a healthier state.
Read Next: Fall Lawn Care At Work
2. Mow the lawn
To ensure that the new grass plants will receive as much sunlight as possible when they start to grow, cut the existing grass extra short, almost to the point of scalping it before overseeding. When the seeds start growing, you will want them to have enough access to sunlight, and taller grass can block much of it.
3. Prep the soil
After mowing, rake the lawn to remove debris and loosen the top layer of soil to allow better contact with the seed.
4. Choose the right grass seed
You'll want to make sure that the grass seed you choose is appropriate not only for the general growing region but for any unusual site-specific considerations such as soil quality, amount of sun, drainage, pest issues, level of traffic and so on. For cool-season lawns, you can use the same seed as the existing grass or add a new variety for increased durability. Warm-season lawns will need to be overseeded with a quick-germinating cool-season variety such as perennial ryegrass. Check the seed label and choose a product with a high germination rate and no weed seed. For best results, use certified seed that was tested within the last 12 months.
5. Water consistently
After you overseed the lawn, it will need to be watered lightly several times a day to keep the soil slightly damp until the seeds germinate. If you are working with a sprinkler system, you may need to help reprogram it for more brief and frequent waterings until the new grass is visible.
Homeowners may think overseeding is just for golf courses and sports fields, but it's a practice that can benefit many kinds of turf. Fall overseeding can help you keep your lawns not only greener but healthier and more resilient — leading to less repair work in the spring.