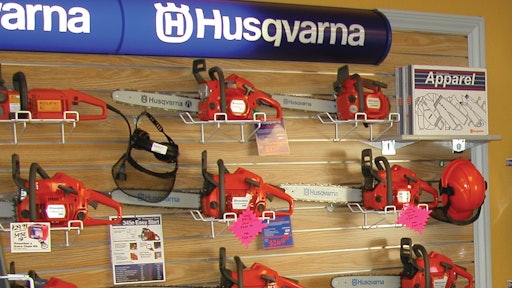 The chainsaw is one of the most popular pieces of power equipment for a variety of reasons. From emergency response operations such as cleaning up storm damage to leisurely cutting firewood, a reliable, high-end chainsaw can make back-breaking chores easy.
Many of today's chainsaws feature a variety of safety features that greatly reduce the risk of operator injury. However, there are a number of things operators must also do in order to reduce that risk.
The following are some basic tips regarding the safe and effective use of chainsaws.
Never operate one-handed. Use a secure, two-handed grip with thumb encircling handle.
Keep your body out of the cutting plane at all times.
Keep hands and arms away from the moving chain.
Keep others away from the area you are cutting.
Don't over-reach or cut above shoulder height.
Don't operate on a ladder—unless you are a trained professional.
Do not operate near power lines or other electric lines.
Keep an eye on the chain. If loose, don't operate and see your servicing dealer.
Turn it off when carrying it around.
The following Personal Protective Equipment will further help to ensure a safe, productive operating experience:
Eye protection eyewear with adequate top and side protection conforming to the ANSI Z87.1.
A safety "hard hat" is highly recommended when felling or working under trees, or when objects can fall on you.
Heavy-duty, non-slip gloves for improved grip, and also for protection against cold and vibration.
Cut-resistant, high-top, safety-tip shoes or boots with non-slip soles.
Clothing should be of sturdy, protective material. It should be snug-fitting to resist snagging, but roomy enough for freedom of movement. Trouser legs should not be flared or cuffed, and should be either tucked into the boot tops.
Safety vests, chainsaw protective leg chaps, or logger's pants of ballistic nylon material are available. It is the operator's responsibility to wear such additional protection if conditions warrant.
Read your safety manual! This is just a quick overview of basic safe operating procedures. As always—read, understand and follow the instructions in your safety instruction manual, along with the various safety symbols and warnings that appear throughout the manual and on the product itself.