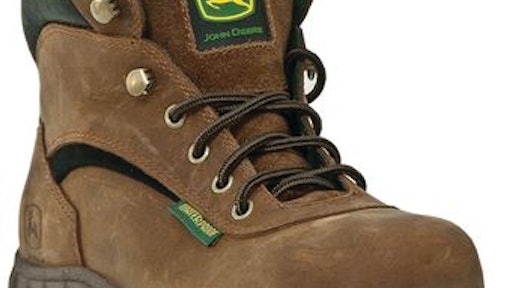 When it comes to personal protective equipment (PPE) for landscape contractors, a lot of attention is paid to eye and ear protection. Foot attire is sometimes an afterthought. But it shouldn't be.
In the spirit of National Safety Month (June), let's take a look at what product experts from Dan Post Boot Company have to say about what makes for a safe, comfortable, durable work boot for landscape and lawn care contractors. Dan Post Boot Company is the maker of John Deere-branded work boots.
Support from a steel shank. John Deere-branded boots feature tempered steel shanks in the soles. This helps to protect and provide support for the arch.
Tempered steel shanks are the base of all work or outdoor footwear, Dan Post experts point out. The shank gives stabilization to walking and working, not to mention support to the foot, leg and upper body. Think of it as a frame of a car; it is what keeps the car stable and gives comfort and support to the ride.
Without a shank there is minimal support, which can put ankles, knees and feet at risk on jobsites with uneven or rough terrain. Think about it, there's not much worse—or unproductive—than a lawn care tech with a limp.
Quality construction to ensure long-lasting, reliable use. John Deere-branded boots feature Goodyear welt construction, what Deere calls the superior method of durable footwear construction.
According to Dan Post experts, the Goodyear welt process has been used in the footwear industry for many years. This technique increases durability as the "welt" or strip of leather is sewn around the bottom edge of the shoe and stitches the sole to the upper portion. The stitching in a Goodyear welt runs around the outside of the sole, rather than under the foot, which maximizes the sole's water resistance.
In other words, Goodyear welt simply increases the durability and weatherproofing of the shoe.
Comfort of the fit. This should be pretty self-explanatory. If you can't tell if a given work boot is comfortable, it probably isn't.
Meets safety standards required for the jobsite. There are several layers to safety with respect to work boots. For instance, Deere-branded boots (with steel toe) meet AASTM I75/C75 standards for protective footwear. They also meet laboratory testing standards for impact and compression.
The boots also meet ASTM F2413-05 standards for electrical hazard protection. They are designed with special heel and sole materials to provide extra protection where accidental contact with electrically charged objects is possible.
You can find John Deere-branded boots like those mentioned above at your local John Deere dealership.
Companies in this article