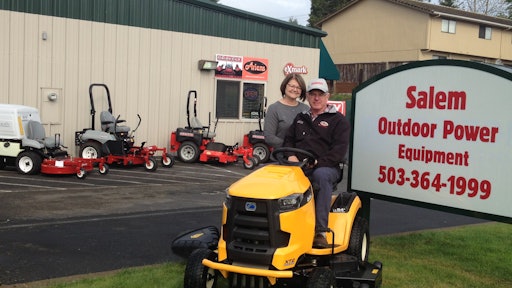 It looks like Fred and Sherry Joyner opened their second outdoor power equipment dealership at just the right time. They say the economy up in Oregon seems to be getting a lot better, and a deluge of March rain caused spring to spring about a month earlier than last year. "I think we have a nice, long season in store," Fred says with a smirk of confidence.
Weather aside, the Joyners have taken steps to further drive sales growth. As stated, they opened their second store, Salem Outdoor Power Equipment in Salem, OR, a little over a year ago. Surprisingly, Sherry points out, the store had a very solid first year and even turned a profit. "It took us four years to show a profit at our original store in Aurora," Sherry adds.
Of course, the Aurora store had to get its legs under it amidst very different circumstances. First, Aurora is a town of less than a thousand, whereas Salem, just 26 miles away, has a population of roughly 120,000. Secondly, Aurora was founded in 2008 when the economy was starting to weaken, whereas Salem opened up during an economic rebound.
Regardless, it's now 2015—and the Joyners are looking to grow both locations. They've recently added the Cub Cadet line to grow their homeowner business, in addition to the Exmark line to grow their landscape contractor business. They also sell Ariens and Gravely mowers, along with Husqvarna, RedMax and Tanaka handheld equipment.
"We're very selective with the products we carry," Sherry points out, in reference to the fact that the dealership offers two commercial mower lines, two consumer mower lines and three handheld lines. "We pick certain models and price points from each line that we know will appeal to our customer base."
A career built on power equipment
The Joyners understand their market very well. Fred owned and operated a lawn maintenance company to work his way through college. That's how he met wife Sherry, an accounting student who helped with bookkeeping and other administrative tasks as the company grew. By 1990 when Fred and Sherry decided to sell the company, they had around 35 employees.
Fred then went to work as a sales rep for Snapper equipment, selling equipment and parts to dealerships in the Pacific Northwest. He did that for several years before taking a similar gig with Ariens Company. "We were paying rent on a facility to house our demo and repo equipment," Sherry tells. The Joyners also maintained a modest equipment and parts inventory to help those smaller dealers who were unable to place large enough orders to get inventory shipped directly from the Ariens factory in Wisconsin.
"Then we got to thinking: Since we're already paying rent on a warehouse-type facility, maybe we should just turn it into a dealership," Sherry says. The Joyners got permission from Ariens Company, found a new building with a better storefront, and opened Aurora Outdoor Power in 2008. They started with just Ariens and Gravely mowers. Soon they added Tanaka handheld equipment, followed by Husqvarna and RedMax. They added Cub Cadet late last year, and just started bringing in Exmark inventory in January.
"I ran the Aurora store by myself, with a full-time technician working for us, for the first seven years while Fred continued to work as a rep for Ariens," Sherry points out. Fred now works full-time in the dealership—which has become essential with the opening of the second location.
Ideal location
"We saw a real need for a dealership like ours in Salem," relates Fred, who knows the area well from his time as a rep for Ariens and Snapper. There are some big dealers and small dealers serving that market, presenting a legitimate opportunity for a mid-size dealership with good products and great service. "A nice piece of property became available, so we bought it," Fred says.
"Salem is also ideally located," Fred continues. "It's not too 'big city' and not too rural. I think the typical dealer, like us, needs that. We're not in that large a market, so we need both homeowner and contractor customers. Also, a town called Albany is about 20 miles to the south, and there isn't a single dealer there. So we can pull customers from quite a wide area."
Ideal customer mix
That's why the Joyners are so excited about the addition of Cub Cadet to their showrooms. That line, much like Husqvarna, is very well-branded. "We're getting more and more people coming in because they see that we sell these brands," Sherry tells. As a matter of fact, had Sherry known that her very first order of Cub Cadet mowers was going to sell as quickly as it did this spring, she says she would have placed a much larger order.
Roughly 80% of the dealership's business comes from homeowners. But that's not to say that landscape contractors are secondary to the dealership's success. Having been landscape contractors themselves, the Joyners understand the unique challenges this type of customer faces, and are prepared to do what it takes to earn a landscaper's business. Now that they have this second store in the much more populated Salem, there is plenty of that business to earn.
"Our landscapers always get priority treatment in our service department," Sherry points out. "We triage everything that comes in; that way we can figure out the problem and get the parts ordered right away before the contractor leaves. I order parts every single day." This allows the Joyners to maintain a considerably smaller parts inventory than many dealers, but still turn repairs around quickly. "It's very rare to have a contractor's machine in our shop for more than two or three days," Sherry adds.
The Joyners also maintain a small fleet of loaners to keep contractor customers mowing during those two or three days. Again, as former landscape contractors themselves, they understand all too well how detrimental downtime can be to a lawn maintenance business.
Minimizing downtime is a message Fred weaves into the estimating classes he teaches. After he'd sold his landscaping business back in 1990, Fred worked a short stint at ChemLawn. He helped develop an estimating training program for the scores of new estimators the company was hiring. The classes he teaches today are based on this program.
Fred conducts classes at both dealership locations. He's also done some classes for the Oregon Landscape Contractors Association, the Southern Oregon Landscape Association, and some area community colleges.
"To be a landscape contractor in Oregon, you must have ongoing credit hours every year to maintain your license," Fred explains. "Oregon is one of the toughest states in which to be a licensed landscape contractor. That is why I teach the classes; so that contractors can earn more credit hours for their license.
"I teach the basic fundamentals of estimating in lawn maintenance, like how to estimate mowing, pruning, bark spreading, etc.," Fred continues. "A lot of the contractors I teach this to understand this business and are actually good estimators. They just lack a formal estimating process. So my classes are designed to help them start looking at estimating in a different way, and put a more consistent process in place.
"Part of good estimating is understanding how your equipment fits in," Fred continues. "I show the contractors in my classes, mathematically, that it makes more sense to have new equipment. In fact, once you consider the tax advantages and productivity gains, it's almost free if you know what you're doing. If I were still in contracting today, I would buy new equipment every couple of years; that way everything would still be under warranty and I could get good money for my used equipment. You have to look at your equipment almost like labor; it costs you so much an hour. So having a newer, more reliable fleet of equipment is really the most important thing."
Having a good, reliable dealer is important too. Fred and Sherry Joyner are hoping that their two stores, Aurora Outdoor Power and Salem Outdoor Power Equipment, continue to earn that label.
"We've been in business—in one way, shape or form—our entire professional life," Sherry relates. "I think that gives us a bit of an edge because we know the challenges our contractor customers face as business owners."