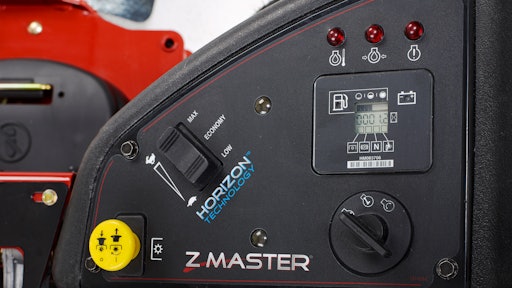 Technology has changed our lives, particularly in how we communicate with one another. Technological advancements are also starting to affect some of the equipment landscape contractors operate. For instance, electronic fuel-injected engine options are now commonplace—especially in the realm of commercial mowers.
Intelligent mowers
The Toro Company has taken the EFI concept one step further with its Horizon Technology found on its Z Master Professional 6000 Series zero-turns. Horizon is an onboard intelligence platform that allows communication between key systems on the mower. This allows operators to choose from three pre-set operating modes, using a simple three-position rocker switch, to maximize fuel efficiency in different mowing conditions. Horizon also monitors engine oil temperature and pressure. Toro subsidiary Exmark offers a similar RED Technology on several of its mowers.
Of course, technological bells and whistles normally come with a price tag. So the question for most contractors is: Do I really want to pay more for this bell or whistle? With respect to Toro's Horizon Technology, one Minnesota contractor says "yes".
"We've been running a 60-inch Z Master with Horizon all season," says Brett Crowe of SPM LLC (Sylvester's Property Management) in St. Paul, MN. "It's been great. We also have two old Deere mowers in our fleet that we need to replace next year. We're leaning toward two more Toros with Horizon, a 60-inch and maybe even a 72."
Crowe says the Horizon technology has proven especially beneficial in more demanding mowing conditions where a larger mower is typically deployed. "Switching between the pre-set operating modes is so easy," Crowe relates. "We do a lot of open-field mowing where we get into thicker grass. We put the mower in Max Mode and it never bogs down—and I've been through grass that's almost 5 feet tall. Horizon helps you get the RPMs you need in the most fuel-efficient way."
Speaking of fuel efficiency, Crowe says that over a few-year span, the extra thousand or so bucks he had to pay for a mower with Horizon will be recovered via reduced fuel costs. Reduced fuel consumption is a big selling point, too, when talking with the commercial clients his company caters to.
At the previous company he'd worked for, Crowe had run Exmark Lazer Z's with the RED Technology. He says he had a similarly pleasant experience with those machines.
Smarter engines on handheld equipment
Stihl's M-Tronic Engine Management System electronically controls ignition timing and fuel metering in any operating condition, factoring in altitude and fuel quality. That's right, no more manual carburetor settings. This system provides users with optimum performance, whether they are just starting to work or resuming after a break. Benefits include reduced fuel consumption, quicker acceleration, and overall better and easier operation.
The M-Tronic System is not sold as a separate package. There may be a minimal price increase for a unit with M-Tronic as compared to one without, but generally speaking, Stihl says that the significant benefits to the end-user balance out the cost.
Stihl will continue to expand its product offerings to include the M-Tronic platform. Currently, M-Tronic is found on the Stihl FS 560 C-EM and FS 460 C-EM brushcutters, along with the following Stihl chainsaws:
MS 241 C-M
MS 261 C-M
MS 261 C-MQ
MS 441 C-MQ
MS 362 C-M
MS 362 C-MQ
MS 362 RC-M
Similarly, Husqvarna says its chainsaws with its AutoTune self-adjusting carburetor allows the saws to work unhindered and efficiently—at all altitudes and temperatures. Again, no time is spent on carburetor adjustments. AutoTune compensates for different fuels, altitude, humidity and temperature, and even a clogged air filter. AutoTune is found on several professional-duty Husqvarna chainsaws, including the 550 XP and 562 XP.
Smarter, fuel-conserving construction equipment
What Ditch Witch calls one of the most technologically driven mini skid steers in its class, the new Ditch Witch SK850 features auto-throttle, which helps to improve fuel efficiency and work flow. The SK850 automatically throttles down after a short period of time when hydraulic functions stop. When the operator engages any hydraulic function again, the machine automatically throttles up to the RPM set point established by the operator.
Other construction-type equipment utilized in landscaping, such as John Deere's 50G and 60G compact excavators, have similar "auto-idling" features that slow engine speed when the control levers are momentarily released, helping to reduce both fuel consumption and noise when the machine isn't in use.
Getting back to the new Ditch Witch SK850, a service interval manager lets the operator establish a desired time period between services. When that period has lapsed, the display will notify the operator who can reset the display once service is performed. Ditch Witch has also included an electronic parking brake on the control panel of the machine for easy operator use. When engaged, the electronic parking brake also disables the ground-drive levers, disallowing any attempt to drive through the parking brake.
Companies in this article