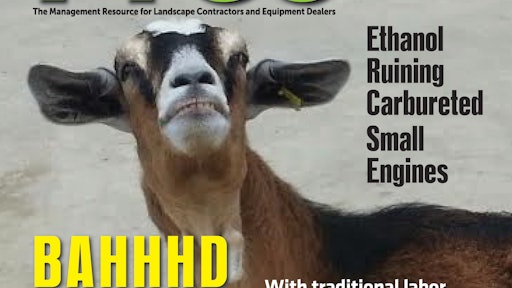 If robots can weld lawnmowers together and shrink-wrap pallets of leaf blowers in a factory, why couldn't they edge sidewalks or blow debris off of driveways out in the field? Truth be told, in these early stages of what some are calling the Era of the Robots, that idea may not be so farfetched anymore.
A few mainstream news stories caught my attention earlier this summer. First, an Aussie has invented a bricklaying robot that can build houses. Second, employees of a small Kansas town have begun using a remote-controlled mower. Third, GPS-guided agriculture tractors are becoming more commonplace, although most still require a driver to be in the operator's seat (largely for safety reasons). But the day is likely coming where no driver will be needed at all.
So who's to say that a robot couldn't lay pavers, mow expansive areas of grass, or overseed or aerate or whatever? After decades of lamenting about the increasingly unreliable, expensive labor pool, maybe this is the direction the industry needs to think about moving in.
Or maybe we can go in the opposite direction and revert back to the production model of the nineteenth century. Hardly a morning goes by these days where a goat mowing-related story doesn't show up in my Google news alerts. From airports and industrial sites to churches and even residential lawns, more people are hopping on the trendy goat-mowing bandwagon.
And trendy it is. Google started renting goats to mow parts of its property several years ago. Now another tech giant, Amazon, is renting out "Goat Grazers" under the Home Services/Yard & Outdoors/Landscaping section of its website. And then there's Chapel Hill, NC-based Rent A Goat. According to the company's website, goats can remove unwanted vegetation without using harmful chemicals or destructive, gasoline-powered machinery. Furthermore, prices are competitive with commercial landscaping services.
OK, now this silly topic is starting to get serious—because Rent A Goat is going right after landscape companies. And they have over 16,000 Facebook fans, so quite a few people seem to be listening.
What's that old saying, if you can't beat 'em, join 'em? Adding a goat to one of your maintenance crews offers several potential business benefits, including:
Don't need to pay it prevailing wages
Not subject to H-2B visa rules
Not affected by ethanol
No grass clippings to deal with
In all seriousness, this was meant to be a lighter-hearted column to break up the stress of the past few busy months. But who knows, maybe the days of robots in landscaping are out there on the horizon. And as I look, I already see a herd of goats chomping away.