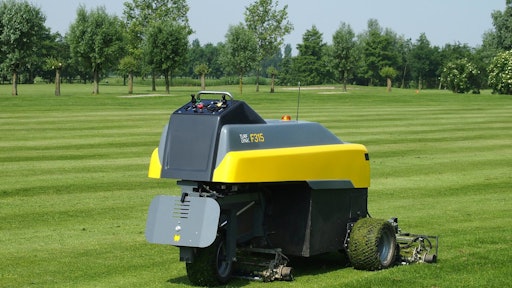 A European company has introduced a driverless, robotic mower capable of cutting a swath that rivals today's biggest commercial zero-turn mowers.
The company, TurfLynx, says it is working hard in the development of robotic solutions for golf courses and sports fields using mobile robotics technology. Its first autonomous mower, the TurfLynx F315 driverless fairway mower, is available with either a 61- or 74-inch cutting deck. It's an all-electric mower with no hydraulics. It can be managed using an app on your computer, tablet or smartphone. Daily reports are automatically generated so you always know what is happening in the field, along with service and maintenance concerns.
Safety is also of concern, TurfLynx points out. Sensors in the mower detect obstacles, enhancing safety.
TurfLynx says this mowing solution is tailored to be cost-effective, quiet and environmentally friendly. The company says you can reduce labor costs by 90% since you only need a human operator to manage the F315 remotely with the app, and then to park the machine at the end of its shift.
The TurfLynx F315 uses mowing units manufactured by Advanced Turf Technology of the United Kingdom.