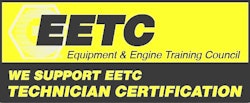 The Equipment & Engine Training Council is accepting applications for its 2016 Paul H. Scholten Memorial Scholarship Program. The program awards individuals pursuing a certificate or degree in power equipment technology at an EETC accredited school. For this coming 2016 school year, 5 scholarships of $1000 each will be awarded. Applicants will be judged on their academic achievement, leadership activities, and student statement. Preference will be given to qualified applicants who exhibit financial need. These scholarships are non-renewable.
Scholarships will be awarded at EETC's annual conference in Kohler, WI, on April 6th. Applicants can apply online through the EETC website, by filling out the form at the bottom of the page, the application deadline is March 22nd.
These scholarships are given in memory and in tribute to Paul H. Scholten, (1940 - 2002) a founding member of the Equipment & Engine Training Council, its Past president, and a fervent advocate for excellence in power equipment service and repair. Even before he helped to organize the EETC, Paul had been actively involved with technician certification and school accreditation and he was instrumental in the development of the four-cycle certification test. Paul Scholten spent his entire professional career with the Kohler Company Engine Division. He retired from Kohler in 2001 as Manager of Engine Service and Technical Publications and served as a consultant to the industry following his retirement. He was a leader and mentor to many of his colleagues; he was very active in his community and in his church. The EETC dedicates these scholarships to Paul in the hope that young people entering the power equipment industry will regard him as a role model for excellence in all of their life's endeavors. 
The EETC is a non-profit association whose goal is to address the shortage of qualified technicians in the outdoor power equipment industry. In May of 1996, with a handful of volunteers, EETC set about the task of building this association. One year later, with more than 100 industry representatives attending its first formal meeting in Dallas, the EETC was introduced. Membership is made up of dedicated industry professionals from manufacturers, distributors, dealers, educational institutions and associations.