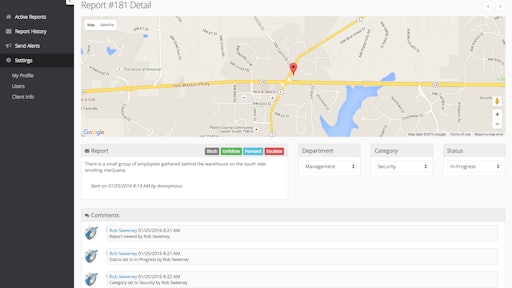 Antiquated "paper and pencil" reporting methods require forms to prepare and submit. This can be inconvenient and bothersome during a busy workday, resulting in various items often going unreported by your crews in the field. Additionally, impromptu requests for information submitted via one-off emails, voicemails or text messages could easily be overlooked, forgotten or lost. To further complicate matters, compiling safety and operational reports takes a lot of effort for decision makers to collate and organize.
There's a new tool that can assist with all of this. Using the proficiency of a mobile app and web-based dashboard, The WorkplaceAware Report Management System simply and powerfully generates reports on anything relevant to safety and operational stability in the workplace.
Easy, instant communication. Employees can instantly submit photos and other information to management, such as when reporting near misses, safety and security observations, accidents, faulty or missing equipment, plant needs and even supply requests. The System then provides employers the opportunity to evaluate safety and operational reports with a level of detail and coordination previously impossible using paper reports. This results in timely interventions that reduce future complications.
All reports submitted through the employer-branded WorkplaceAware mobile app are geo-tagged based on the location of the picture taken. In the moment, when creating a report, employees may not remember to include location details in the text they submit with photos. The WorkplaceAware Report Management System eliminates the extra step of a manager or business owner trying to contact the employee for more information regarding exactly where an incident occurred. Vital minutes of response time can be saved through this automated process within the app.
"WorkplaceAware may be used by employers for any type of workforce-to-employer type of reporting," says Rob Sweeney, CEO of WorkplaceAware. "It's great for documenting a variety of issues that get noticed by a mobile workforce. As an example, the Public Works Department in Platte County, MO, uses it to document issues that arise as part of everyday maintenance by crews throughout the county. These include road and bridge inspections, overgrown brush and flooding reports. These reports deliver immediate information to the Public Works department leadership who, in turn, are able to share the information with other county departments, like the Sheriff, Ambulance & Fire, and Facilities departments."
Streamlined tracking and management. WorkplaceAware helps companies eliminate barriers to the reporting of near misses and operational issues. In addition to simplifying the reporting process, WorkplaceAware also streamlines the tracking and managing of all categories of reports, resulting in faster resolution. Key features include:
Mobile app users may send reports quickly using the iPhone & Android apps. They may view the reports they send in the My Reports section, and may also view alerts sent in the My Alerts section.
Reports include day, time, location (map w/ pin drop), picture and description of issue.
A Comments section documents work flow, including report status changes and actions taken to resolve the issue.
Administrators use the dashboard to assign a department, job name or division, a report category and the status of a report.
The Forward feature lets employers quickly send reports to fellow workers who need the information to take action.
The Escalation feature lets customers instantly send a report to individuals who need to know the information immediately.
The Share feature lets customers copy/paste a link to a report and send it via email to people outside their organization.
The Send Alerts feature lets customers send push notifications to one person, several, entire departments, or to everybody in the organization who uses the mobile app.
Mobile app users may also be suspended if they become unemployed, or they submit improper reports.
The Anonymous reporting feature lets employees send reports without identifying themselves for, perhaps, fear of retribution.
A Block feature is also provided in the event employers wish to block an anonymous report sender from sending any additional anonymous reports. They are still able to send regular reports.
Administrators may create reports using six different filters, then create a report in PDF, or export the information to a .csv file.
WorkplaceAware is easily customized for each customer using categories and departments that define their business.
For mid-size companies on up. The WorkplaceAware Report Management System was first introduced in 2014 and quickly became a relied upon solution by major corporations and mid-size businesses to streamline and improve their reporting processes. A new version of the WorkplaceAware mobile app and web-based dashboard was unveiled in early 2016.
"Companies of any size can benefit from using WorkplaceAware," Sweeney says. "Tiered pricing is found at workplaceaware.com/pricing/. The annual fee for unlimited reports by companies with employees as few as under 50 is only $995. It goes up from there to a maximum annual fee of $2,995 for employers with over 250 employees.
When considering an ROI, a company must first consider the current methods used for reporting issues in the workplace. Paper reporting can be considerably more time-consuming, and also result in issues not being reported due to simple employee forgetfulness or avoidance (because filing is just too inconvenient during the typical hectic workday). Paper reporting can also make it hard to report issues in real-time, resulting in some lag with respect to management follow-up.
"When WorkplaceAware is used to report near misses and safety observations, managers can analyze information, spot trends and take corrective measures as needed," Sweeney explains. "If only one employee accident or injury is averted, that can save the company from the expense associated with a workers' compensation claim, including any paid time off and legal expense. We've learned that the average workers' comp claim can cost an employer around $5,000. If an accident involves OSHA, those fines can amount to a minimum of $10,000 and up. And in October of this year, OSHA fines are set to increase as much as 80%. Using WorkplaceAware to manage safety reports, OSHA may extend a 15% discount to their fines."