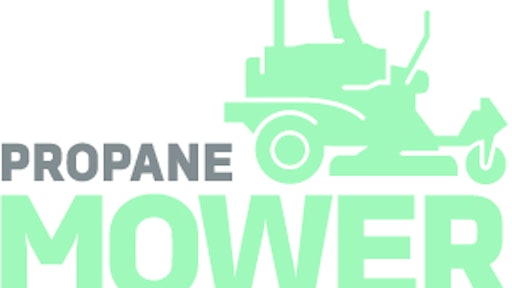 March 15, 2016 — Time is running out for landscape contractors to take advantage of the Propane Mower Incentive Program from the Propane Education & Research Council. PERC officials expect available program funds to expire at the end of April.
The Mower Incentive Program gives a $1,000 rebate to applicants for each commercial propane mower purchase and $500 for each qualified propane conversion kit.
"Since the incentive program was made available again in October of 2015, we've seen a lot of interest throughout the commercial landscape industry," said Jeremy Wishart, deputy director of business development for PERC. "If current application rates hold steady, we expect the program to sunset by the end of April, though we hope to roll it out again in the future."
In 2012, the PERC first offered professional lawn care businesses the $1,000 in financial assistance to help reduce the up-front costs associated with purchasing a new propane mower, or $500 for a qualified conversion. After a hiatus during the summer of 2015, the program was opened again in October, and PERC made available another $1 million in program funds starting Jan. 1, 2016.
Since its inception four years ago, the program has helped more than 3,500 machines operating on propane enter the marketplace.
Visit propane.com/mowerincentive to apply for the program. Contractors wanting to research the financial savings they might incur when switching to propane equipment can use PERC's free Propane Mower Calculator at propanecostcalculator.com.
---
January 22, 2016 — Due to the overwhelmingly positive response from contractors since the PERC Mower Incentive Program returned in October, the Propane Education & Research Council is making available an additional $1 million in council funds for applicants of the program.
"We expect the additional funds to be exhausted by the end of March, so we encourage landscape contractors thinking about making the switch to do so sooner rather than later," says Jeremy Wishart, PERC's deputy director of business development.
Since PERC brought back the Mower Incentive Program in October 2015, more than 200 incentives have been claimed. It is estimated that roughly 70% of those incentives were for new propane-powered mowers, with the other 30% being gas mowers converted to propane
Landscape contractors can apply to receive $1,000 toward the purchase of a new propane-powered mower and $500 toward a qualified conversion by visiting propane.com/mowerincentive.
PERC says propane gives operators the lowest cost of operation of any fuel in the long-term, and these incentive dollars are intended to help offset some of the upfront costs that come with purchasing equipment or converting mowers to operate on propane.
---
December 8, 2015 — The Propane Education & Research Council (PERC) has extended its popular propane incentive program. It's important to note, though, that this rebate program won't be around forever.
"We're running it for a limited amount of time," says Jeremy Wishart, deputy director of business development for PERC. "We're really just trying to stick to a timeline so it will run through March. However, we may extend it a bit just to make it a full six months."
In any event, contractors who are interested in making the switch to propane should act soon before program funding expires. Wishart says there has been a great deal of interest already. He suggests that some of those who have recently applied for incentive rebates are companies that had been planning on making the switch to propane, but were waiting to see if the incentive program would be renewed. That need to wait is now over—at least until spring.
PERC's propane incentive program actually began in 2012. It originally offered $1,000 toward a propane mower and $500 toward an EPA-certified aftermarket conversion. Wishart says they made the decision to double the incentive in October 2014—offering $2,000 toward a propane mower and $1,000 for a qualified conversion. That program ran through March of last year.
"We have had over 3,100 mowers applied for since the program first began in 2012," Wishart points out. "That was in the neighborhood of 1,400 to 1,500 applicants." Each applicant is technically eligible for 25 mowers, but the highest PERC has seen thus far is 10 from a given company.
Wishart says the popularity of the program really took off during the double-incentive period last year. "During those six months, we saw an uptake of propane mowers and conversions. It sort of happened as we got closer to the end of the year; so at the end of December we saw a pretty high swing of applications. We saw another rush of applications when we got to March—even in the last 72 hours that we had the double-incentive program open, it picked up pretty substantially."
While the double-incentive period ended last spring, contractors today can receive $1,000 for a new propane mower, and $500 for a qualified conversion. Again, this is until funds expire—which could very well happen by the end of March.
Propane benefits
PERC highlights benefits of propane as:
Lower operating costs
Fewer emissions
Easy on-site refueling
Reduced fuel spills
Reduced theft
The organization also says that the switch to propane really pays off for landscape companies.
"First and foremost, it really comes down to having the ability to be economically responsible with your company's future," Wishart explains. "Their fuel cost is probably their second highest operating cost. Having the ability to directly affect and directly lower that fuel cost through the utilization of propane vs. gas or diesel is helpful. It's probably the biggest reason contractors should consider propane and figure out if it's right for them.
"Certainly when they're buying new equipment, there are many options for them and many propane retailers standing at the ready to be their propane fuel partners," Wishart continues. "Once contractors do their research on what their options are, they probably need to do a fleet assessment to determine what they need to do in terms of acquiring new mowers. Then they need to look at what their transition process into propane is going to be."
Tennessee contractor makes the switch
The Lawn Butler of Knoxville, TN, has made the transition to propane. They purchased new mowers and ultimately turned their whole fleet into propane over the span of two years. Seth Kehne, president and owner, says that one major perk has been the ease of refueling.
"One thing my employees really like is that we've got a propane truck that comes and fills up our canisters every week. In the morning the guys will go and get their canisters. They'll take one off the mower, that's usually half empty, and put a full one on. They'll also put another full canister on the truck," says Kehne.
"When we first started with propane, I thought it might be a little dangerous. But we have actually found it to be safer than gasoline," Kehne adds.
Kehne has also noticed that maintaining his mower fleet has gotten easier. "When you change the oil, you can really see a difference as far as the color. We haven't had any problems yet so it's probably going a little bit better. But it's still a little early to tell because you don't really have much to do with mowers for the first two or three years. That said, all indications show that it's going to be better."
Kehne explains that PERC's rebate program was an important part of the transition from gasoline. "You do pay more for the mowers in order to get propane, even with the rebate, so the rebate is kind of essential."
Kehne says that The Lawn Butler plans to do a marketing campaign to highlight its new propane mowers and their reduced emissions. For clients who have asked about their mowers, they've given the company positive feedback.
So far Kehne says they're very happy with the switch to propane. "We would like to do it with our trucks too, but the conversion is pretty expensive. We looked at what it would cost for converting trucks, but it's too much for the amount of miles we currently drive."
Companies in this article