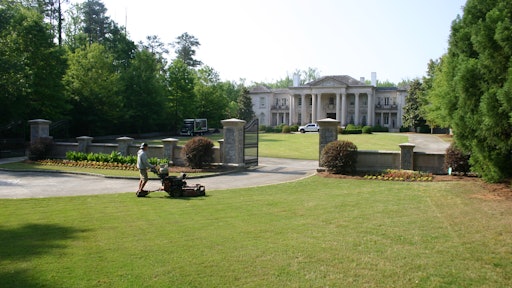 Atlanta-area contractor Chad Smallwood is quick to point out that he's far from perfect. But that's not going to stop him from striving for perfection—particularly where his growing design/install/maintain company is concerned.
Smallwood founded Perfect Turf Landscaping in Dallas, GA, in 2010. "During a LifePlan with Jimmy Starnes of Starnes & Associates, Jimmy told me I had spontaneous faith," Smallwood relates. "I guess I do. I figured that if I could make it in 2010, when the market was still horrible, I should be able to do really well when things got better. I literally had $5.68 in my personal checking account. I had a wife and two young kids. But in my heart I felt like I needed to try building my own company to take control of our future."
Smallwood's experience had prepared him well. Rewind nearly 20 years to his high school days. "My grandpa owned around 30 rental properties," Smallwood tells. "I did the mowing and maintenance. That's where I learned about hard work and attention to detail."
Smallwood later worked for an established design/build company for a couple of years, while also taking some classes on horticulture and landscape management. That's where he learned about landscape design and plant selection. Then he took a job as an estimator/project manager for an excavating company. He did that for several years before the entrepreneurial bug started nipping at him.
"A contact of mine knew I had an entrepreneurial spirit," Smallwood says. "He told me that if I wanted to go out on my own and start a landscaping company, he'd give me a half-million-dollar installation job. It just didn't feel like the right time, though. So I called a friend who had his own design/build company. I told him that if he hired me as an estimator and account manager, I'd bring him this job. He hired me."
An innate salesperson, Smallwood was in his glory helping develop new business for his friend's company. But when he was asked to focus his attention on operations, the excitement quickly dimmed. Smallwood decided it was finally time to strike out on his own in May 2010. His first base of operations was his grandmother's barn. The space was adequate and the rent was low. It worked.
The Buckhead stops here
"Right off the bat I had five or six decent-size installation jobs," Smallwood recalls. "One big project was for my bank. Once completed, we took the directors out golfing. I was paired with a developer in Buckhead, which is considered the Beverly Hills of the South. He told me the landscaping budget for a project he was just starting. It sounded good to me, and I got the job."
From there things started to snowball. While doing that high-profile installation in Buckhead, the builder introduced himself to Smallwood and gave him another job down the street. The roofer asked if Smallwood did maintenance because another client in the neighborhood was not happy with her current provider. "I met with her and her husband, they liked my pricing, and I got the job," Smallwood says.
By 2012 Perfect Turf Landscaping was doing over $300,000 in annual sales. By 2014 revenue jumped to over $900,000. The company is now hurdling the million-dollar mark.
Smallwood is living the dream—at least one of them. "When I was a kid, I either wanted to play baseball for the Atlanta Braves or become a rock star," says Smallwood, who plays guitar and sings. Buckhead is home to numerous celebrities, including ballplayers, entertainers and high-profile CEOs. "I also remember riding in the car with my mom, often driving through Buckhead. I thought, 'If I don't make it as a baseball player or musician, I'd like to be a landscaper in Buckhead.'"
Mission accomplished. Perfect Turf Landscaping has roughly two-dozen maintenance accounts in the affluent district on the north end of Atlanta. The company also gets quite a bit of installation work there, primarily from the same landscape architect Smallwood worked with on that very first job.
When working with a big-name architect and highly affluent customers, Smallwood says the rewards are plenty—as are the demands. "With a landscape architect, you have to do exactly what you said you'd do," Smallwood explains. "You also have to put out fires immediately with no excuses. A lot of times, you simply have to swallow your pride, listen and deliver. Sometimes you do have to stand your ground and explain your position. But you can't make excuses. You have to stay positive and professional, and focus on solving the problem."
Even in a place like Buckhead, where the massive homes are rather spread out and homeowners cherish their privacy, word of mouth still rules. "People in communities like this do not search for landscape contractors online," Smallwood points out. "They talk. They entertain a lot and they talk. When one person finds a reliable contractor that he or she feels comfortable with having on their property, everyone else wants to know who that contractor is."
Building vs. growing
Buckhead represents the lion's share of Perfect Turf Landscaping's account base, though the company also has some high-end clients in surrounding communities. Perfect Turf also maintains a massive resort-type property that requires a six-man crew for two full days. The scope of that account could double in the near future if the property decides to do away with its in-house crew. If it does, Smallwood says he'll dedicate a four-man crew to the property four days a week.
The challenge is making it all profitable—and focusing on what is best for the longer-term future of the company. Right now roughly 40% of revenue comes from maintenance, which includes lawn care services like fertilizing, spraying, aerating and topdressing. Installation work represents 60% of revenue. Smallwood is pretty tied to that one landscape architect, but the strong area economy leaves him confident that the work will not dry up anytime soon. That said, Smallwood also sees an opportunity to dedicate one crew to enhancements. "I think we could easily add a half-million dollars in enhancement revenue by adding a second two-man crew," Smallwood says. Right now he has one 3-man install crew which he leads.
Smallwood's mother, Teresa Millwood, is helping him figure all of this out. A partner in the business, Teresa has a background in accounting and serves as the company's administrative manager. Teresa focuses on paying bills, sending out invoices, monitoring cash flow and preparing the books for the company's accountant. This frees up some of Smallwood's time so he can focus on budgeting, scheduling and strategic planning.
Strategic planning has been commanding more of Smallwood's time than ever. For instance, is having a dedicated four-man maintenance crew on a lower-margin, on-site commercial account even worth it? Would it make more sense to focus on building route density in Buckhead or even shifting that second maintenance crew over to enhancements? "I've also wondered if I should try to get more commercial maintenance accounts," Smallwood says. "I don't know, though. I just don't see us mowing 20 Burger Kings. That's just not what we do."
Good instincts. Perfect Turf Landscaping, as its name suggests, strives to pursue perfection. Thus, it makes sense to pursue clientele who value that and are willing to pay for it. It also makes sense to pursue employees of a similar mindset.
It took several years and nearly three-dozen hires, but Smallwood says he has a solid six- to eight-person team in place now. As the company grows, though, he's looking for people to step up and help take some things off of his plate—namely maintenance operations—so he can focus on business development and quality control on installation jobs.
Perfect Turf Landscaping has standards, systems and policies in place, such as its nine-step maintenance order of operations. "I'm thinking about having that translated into Spanish so all members of each crew can help hold each other accountable, not just my English-speaking employees," Smallwood says.
He's also looking to sit down and redefine his company's mission statement and core values—and make sure his employees understand what those values are and how their performance relates. A lot of that comes down to communication, which is why Smallwood is also looking to have regular meetings with his foremen to address both successes and failures, and ongoing issues and concerns.
Growing to a million in sales has been a lot of work. Growing well beyond will be just as challenging. Smallwood has recently invested in new business software, Landscape Management Network, which should greatly streamline estimating, crew tracking, job costing and invoicing for a reasonable monthly fee. Speaking of monthly fees, Perfect Turf Landscaping just moved into a new facility, saving it thousands of dollars a year in rent.
That's a lot of extra irons in the fire just when the season was already heating up on its own. To say this year has been a bit stressful is an understatement. "I think that the day I get out of this business, whenever that day might come, I'm going to go somewhere with lots of sand," Smallwood says. "I'm going to throw this phone as far out into the water as I can. Then I'm going to swim out and get it—and throw it again!"
For now, though, Smallwood needs to keep that phone at the ready. He has calls from potential new clients he's going to want to answer.