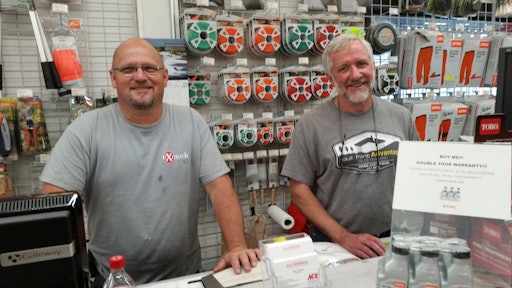 Outdoor power equipment dealers come in many shapes and sizes. Some have impressive facilities with big, beautiful showrooms. Some are just small shops with most of their inventory parked out on the front lawn. If the pricing is fair and the service is stellar, both types of dealers can achieve much success. The common thread is that they each live and breathe outdoor power equipment.
What about other types of businesses that "dabble" in outdoor power? Hardware stores are a good example. In fact, some industry estimates suggest that roughly 10% of outdoor power equipment dealers are hardware stores with power equipment departments. Many of these outlets cater to everyday homeowners with smaller equipment like push mowers, snowthrowers and string trimmers.
Douglasville Ace Hardware in Douglasville, GA, is another story. Since 1973, the staff has truly been the helpful place for home and business owners in this suburb of metro Atlanta. Co-owners Ira 'Bubba' Nation, Billy Johnson and Barry Duke have nearly 110 years of combined experience at Douglasville Ace. Customers depend on them for their advice, experience and service in hardware and power equipment.
These guys don't dabble in outdoor power equipment; they're neck deep in it. Roughly 70% of revenue comes from the outdoor power equipment side of the business. Outdoor power is actually more than just a department at this hardware store—it's in its own building, or should we say buildings. A modest showroom is connected to the hardware store. Then, across a wide sidewalk, a much larger building is used for parts sales, a large parts inventory and the service shop.
"We've had a lot of growth in the past few years," says Barry Duke, co-owner and president who runs the outdoor power equipment operation. "We were so tight on storage space that we decided we needed another warehouse this year. The red tape was a bit of a challenge, but we finally got some concrete poured in early May." If everything else stayed on schedule—including the light landscaping work and, of course, building inspections—Duke expected the new warehouse to be fully operational by August.
Eye on efficiency
The extra storage space provided by the new warehouse will be a big help. When you sell and repair as many zero-turn mowers, lawn tractors and other types of equipment as Douglasville Ace does, your storage space can get packed, requiring someone to have to move other inventory out of the way to get to the equipment you need. "The new warehouse should help us be much more productive," Duke says.
Another key to efficiency is staffing. Douglasville Ace Hardware has a 38-person staff, 14 of whom are part-timers, that works hard to develop systems and processes to keep all sales, parts, hardware and service operations running smoothly. Duke dedicates three full-time and two part-time employees as "shop assistants," helping load, unload and store inventory, set up and clean equipment, and overall maintain an orderly yard, warehouse and service area. This dedication to organization helps his service manager and two full-time, certified technicians stay as productive as possible.
Duke also has two full-time service writers whose roles are integral in keeping customer wait times to a minimum. "These guys handle our warranty paperwork, get in touch with customers when their machines are serviced and ready to be picked up, and also work the service check-in counter every day," Duke says. "We have a very thorough checklist they follow before they send a machine back to the shop. We try not to send anything back to the shop before we determine what needs to be done and what parts are needed, in case anything needs to be special ordered. If a piece of equipment goes back to the shop and sits there for a couple of days before a technician can look at it, and then the technician sees he is going to have to order parts, that delays the turnaround time. We want to avoid that as much as possible. It's not perfect but works pretty well, unless a mower needs a complete teardown to determine what's wrong; then you have to wait."
When parts do have to be special ordered, parts department staff have a clear process for quickly getting those parts to the proper technician as soon as those parts arrive. At Douglasville Ace Hardware, the volume of service repairs is so high that staff must do whatever possible to avoid adding even one more day to the backlog.
Speaking of service backlog—which may run 7-10 days on consumer equipment and 1-3 days on commercial during the spring rush—another process has been developed to help keep a handle on things. When a unit comes in for repair, it is set aside with a yellow ribbon if it is awaiting parts or customer approval. When a unit makes its way into the service queue, is repaired and ready to be picked up by the customer, it then gets a blue ribbon—at which time one of the service writers calls the customer. Sounds simple, but when you have a shop and storage area full of various pieces of equipment, visual aids like this can alleviate a lot of confusion. "After the spring rush, we are able to maintain a much quicker turnaround—many times same or next day," Duke points out.
The lay of the landscaper
Smooth operations and fast service are especially important to dealers like Douglasville Ace Hardware, which caters to a growing base of commercial customers. More than half of total sales come from landscape contractors. Take out the hardware portion of the business, which is homeowner-heavy, and landscapers represent an even bigger share.
The dealership sells Exmark, Toro and Walker commercial mowers, Toro and Cub Cadet consumer mowers, Stihl handheld equipment, and a few smaller lines such as Agri-Fab, Billy Goat and Little Wonder.
"We try to give the commercial contractors good prices, and make sure we have what they need in stock," Duke says. "We also try to get their mower repairs turned around quickly. The biggest part of that is communication. Communication can be one of the most challenging aspects of this business. Getting good communication between the customer, the service writer and the technician isn't always easy. When I get calls from commercial customers, I go back to the shop and ask the technicians for an update. You just have to be responsive, even though it's not always easy."
Being responsive can take on slightly different forms as your customers' needs evolve. Most of Duke's commercial customers are smaller companies that rely on him for service. He also has quite a few customers whose companies have grown over the years.
"When a lawn company gets to three or four crews, we start talking to them about different ways we can help them," Duke explains. "We have some customers we help with setting up and maintaining their own fast-moving parts inventory. We will then make a schedule with them to take an inventory and restock the parts used. This saves our customers the time of driving here for things they most often need like belts, blades, pulleys and filters."
Good commercial dealers like Douglasville Ace Hardware want to do whatever they can to help their customers save time, reduce cost and make a better profit. "Landscapers and dealers alike have many of the same challenges, such as how to maintain a profit while the cost of doing business keeps rising and finding and retaining quality personnel is a challenge," Duke relates. By understanding each other's needs and challenges, and working together to solve them, perhaps everyone can succeed.
Companies in this article