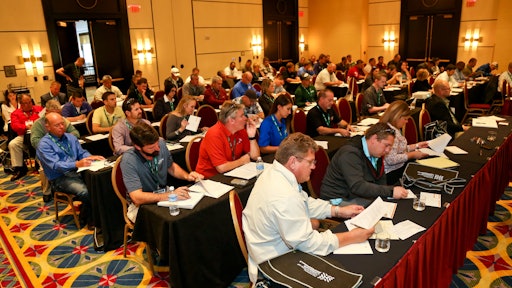 An impressive 40 education sessions will be taking place at this year's Landscapes conference, held October 19-21 in Louisville, KY, alongside the GIE+EXPO. Among them are six mini-keynote addresses, or Power Sessions, that feature well-known personalities from both inside and outside the industry.
Thursday's (Oct. 20) Power lineup includes:
"Inside the C-Suite – Insights Shared by Industry Legends," a panel discussion moderated by Judy Guido, Guido & Associates
"Capturing Leadership Balance," speaker Dan Ariens, Chairman and CEO, The Ariens Group
"Survive & Thrive – Winning in a Rapidly Changing World," speaker Jeff Hoffman, successful entrepreneur and Hollywood film producer.
Not to be outdone, Friday's (Oct. 21) Power lineup features another panel discussion, this one moderated by Marty Grunder entitled, "Town Hall with Industry Giants." Two other important sessions will attract your attention:
"From DC to Silicon Valley: Three Hot Power Trends That Will Impact Your Company Through 2018 and Beyond," speaker columnist and author Gene Marks
"Breaking Through Barriers by Putting People First," speaker Sheldon Yellin, CEO, Belfor.
The Power Sessions all begin at 9:45 a.m. and run until 11:15 am. This will leave plenty of time to attend the afternoon education sessions, walk the GIE+EXPO and Hardscape North America tradeshows, and view their nearly 750 indoor and outdoor exhibits.
Then, on Wednesday and Thursday evenings, plan to take your team to a free concert at Fourth Street Live!
But don't stay out too late. Early risers can enjoy the ever-popular Breakfast with Champions, which begins at 7:30 a.m. both Thursday and Friday at the Downtown Marriott.
If your schedule allows, consider getting to Louisville a few days early. Facility tours of Klausing Group and Henkel Denmark in nearby Lexington, KY, will be held Tuesday, October 18. On Wednesday, don't miss out on a half-dozen morning and afternoon Deep Dive Workshops on topics such as estimating, building teams, developing strategic plans, and winning commercial maintenance accounts. Held at the Downtown Marriott, each workshop is two hours long and will be presented by industry experts.
Landscapes is brought to you by the National Association of Landscape Professionals (NALP). Visit landscapeprofessionals.org for more information.