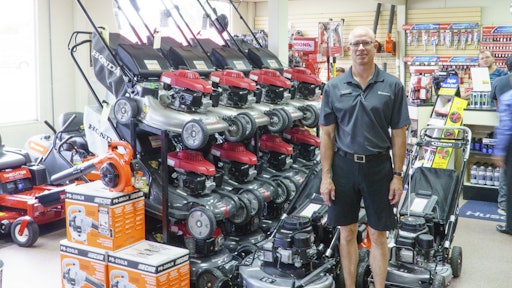 Eric Owens, executive vice president of Expert Yard and Garden, LLC in Arlington, TX, has only been in business five years. Already, he's learned one important lesson. In his words, "It's survival of the fittest."
Owens is not complaining, though. Since 2011, when he purchased a "mom and pop" shop, his revenue has grown from $228,000 that first full year in business to $667,000 last year. He expects to approach, if not exceed, the $1 million mark this year.
Some of the growth, Owens admits, came naturally. "When I purchased the store, Texas was in the middle of a drought and it remained dry for the next couple of years. We've had rain now, and sales have responded." He doesn't give Mother Nature all the credit. A new location, an emphasis on repairs, an innovative approach to customer service, and dodging a bullet or two along the way has helped speed growth.
Early start
At 48, Owens is a late bloomer in the industry, yet his interest in lawnmowers began much earlier. He mowed lawns as a youngster and, at age 13, his dad even showed him how to perform a valve job on a busted mower. Two years later, he convinced a small lawnmower shop to give him a summer job. "The owner couldn't pay me anything," said Owens. "I told him that was OK since I just wanted the experience."
After high school he attended college to become a minister, but eventually changed course. Throughout the making of several career moves, Owens continued to dabble in repairing lawnmowers, buying parts from a small dealership nearby.
One day he asked when the owner was going to sell the shop and was told it was on the market. Within a few months, on September 1 of 2011, the surprised inquirer purchased the business for $60,000 and launched a new career.
"The store had relatively good floor traffic despite being located on a side street," Owens points out. "Within two years, our business had grown to the extent we either had to remodel or move. We relocated to our current location, which is around the corner on a main street. The store has 6,000 square feet of floor space, 2,500 of which is showroom. After the move, we immediately doubled our sales. Location does make a difference."
Owens' store is one of four now serving a large, growing market around Arlington, which, he mentions, is the 50th largest city in the country. Currently, homeowners represent close to 80% of his sales. Landscape contractors bring in the remainder. Interestingly, both favor 21-inch mowers.
"One thing I learned relatively quickly was to sell what sells and not rely totally on what suppliers tell you," Owens emphasizes. "After all, they're not in the store everyday like I am.
"That goes for models just as much as it goes for my main brands Toro, Husqvarna and Honda," Owens continues. "Larger zero-turn mowers just don't sell. Most property lots around here are small. When landscape contractors pull up to an uncharacteristically large site, they would rather mow it with three 21-inch mowers than unload a more expensive zero-turn mower, which might be used only a couple of times a day."
Reputation overhaul
When he purchased the business, Owens said customer service wasn't its strong suit. "I started telling people, 'We can't afford to advertise but we can always afford to be honest.' Good customer service is as simple as treating people like you would like to be treated. It's such a simple concept.
"This doesn't imply that customers are always right," Owens adds. "They're not, and when they're wrong there are ways to convey this message in a nice way."
As Owens points out, though, good customer service goes beyond rhetoric. "One of the first things we did to improve our service reputation was hire a top-notch mechanic, Adam Buck. Formerly in the military, Adam is not only a superb technician, but he also has excellent people skills and communicates well with customers."
The store takes advantage of Buck's expertise in several ways, including offering winter tune-up classes for not only commercial customers but for homeowners, as well.
Owens explains, "For $50, homeowners receive a diagnosis of one mower (worth $37), coffee and cookies, a shirt and service tips. We charge landscapers $200 for a similar class, but they each can bring up to six employees."
During a one-week period, the store will hold three nightly classes and one on Saturday. The instruction sessions generate store traffic and business during a relatively slow period. They also help customers keep their equipment in good running order and out of the service shop during the busy season when backlogs can occur.
This owner's approach to providing good customer service extends to renting a mower to homeowners for $3/day when theirs cannot be repaired in a timely fashion. "They're not the best machines, but they run, get the job done, and keep the customer satisfied," Owens adds. "I've only had one or two kidnapped since we started the program, but that's not really an issue. I can keep the renter's $400 mower for ransom."
Service smart
Already big on service, Owens foresees even more growth opportunity on that side of his business. "We charge $80/hour, but very few people inquire about the price let alone question it," he relates. "If you're fair and fix a machine right, customers will be satisfied.
"When customers come in looking to purchase a mower, I tell them to bring the mower back for service even if they end up buying it elsewhere, because people are sometimes reluctant to do that," Owens adds. That shows you how important service is to the dealership.
In fact, repair work is so important to Owens that his store will service mowers purchased from big box stores or online from Amazon. He's contemplating an increase of his hourly rate and doing more of something the service shop already does, having a set price for certain services like the before-mentioned $37 for a mower diagnosis, or $55 for changing out a carburetor and fuel filter, and flushing the gas tank.
This dealer excels in the service arena. Ask him about starting a second location and he tells a far different story. "Last year, we purchased another small dealership, but it was a mistake," he admits. "I found that I couldn't duplicate myself and we were losing focus, not to mention money.
"If I were 38 instead of 48 like I am today, I might have made another mistake and hung onto the store longer and lost more money," Owens continues. "As it was, we lost around $40,000 before shutting it down within six months. Actually, that's a relatively inexpensive learning experience compared to what it could have been. Now I realize what needs to be done to successfully open a second location. First and foremost it's having a team and systems in place and ready to go when the doors open."
Having a second location someday is not completely out of the question—if the right opportunity arises. In the meantime, Owens is looking to hire another full-time mechanic and grow his service business. He figures reaching the $1.5 to $1.7 million mark in sales is within reach before outgrowing his current location.
"I lease the storefront, but I want to own something someday," he remarks. "I love doing what I do. Yes, there are some frustrations, but I also enjoy the challenges that come with them."
The biggest challenge in any competitive business is survival. For Expert Yard and Garden, that above all else means being the fittest when it comes to providing customer service.