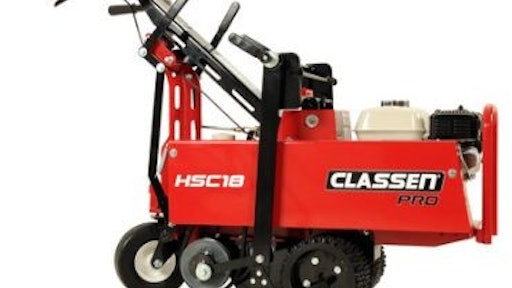 As a landscape professional, you own all the necessary tools and machines required to work efficiently and expertly. But what do you do when a tool breaks down and you need to replace it immediately? Or what if a job requires a specialized piece of equipment that you don't own, and don't wish to buy—then what? For those challenging situations and many others, it makes sense to consider renting.
Tool rental dealers typically cater to do-it-yourself homeowners, but most home improvement centers have a surprisingly large and diverse selection of professional-grade landscaping tools available for rent by the day, week or month. Here, we'll take a detailed look at the six most popular lawn-care tools, which you can rent whenever that need arises.
Sod Cutters
Removing sod to expand or establish flowerbeds and walkways can be a real pain—unless you use a self-propelled sod cutter. The 18-inch model shown has a 5.5-hp engine and hydrostatic-drive transmission that permits you to adjust the cutting speed to the ground conditions and the individual user. With a transport speed of 3.5 mph, it's one of the fastest on the market. Rent it for about $100 per day.
Aerators
There's no denying that aerating the soil is a key step to growing and maintaining lush, green lawns. Next time your aerator is in the repair shop or out on another job, rent one for less than $90 per day. The 18-inch self-propelled power aerator shown here is super-maneuverable and compact enough to fit through 30-inch-wide gates. It's ideal for use in tight spots where larger aerators can't fit.
Power Rakes
A thick, dense mat of dead and decaying grass clippings, rhizomes, leaves, stems and roots can suffocate an otherwise healthy lawn. While it's true some thatch is beneficial, too much blocks air, water and nutrients from soaking into the soil. That's where power raking comes into play. Use a power rake to de-thatch and revitalize a stagnant lawn and promote healthier, greener grass. The 20-inch power rake shown above has 28 heat-treated flail blades that can be spaced between 11/16" and 1-3/8" apart. It rents for about $67 per day.
Bed Shapers
Cutting crisp, neat edges along lawns and flowerbeds by hand is a painstakingly slow and tedious chore. However, if you rent a walk-behind bed shaper you'll be able to cut up to 100 feet of edging per minute, including both straight and serpentine edges. The self-propelled model shown here has a hydrostatic transmission, adjustable 1/2-inch to 4 1/2-inch cutting depth, and 24-inch turning radius. It rents for less than $90 per day.
Overseeders
Rent a self-propelled overseeder when you need to quickly overseed an existing lawn or seed a new lawn. The model shown has a front seed drop and 26 heat-treated blades that are sharpened on both ends for double the blade life. This particular model converts to a turf rake or vertical sod cutter. It rents for less than $90 per day.
Backpack Blowers
You can never own too many blowers, but sooner or later you'll have more leaf-blowing jobs than leaf blowers. That's when renting makes sense. The rental departments at most home-improvement centers carry a wide range of blowers, from lightweight handheld blowers to large, powerful walk-behind models. The most popular model by far, however, is the gas-powered backpack blower. Rent one for around $38 per day.