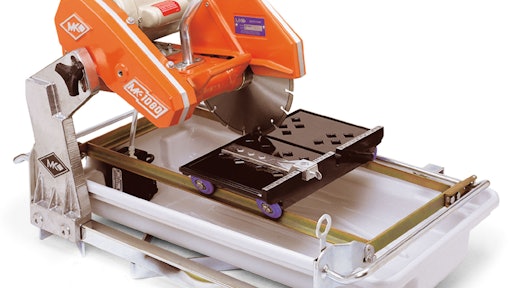 Landscaping professionals pride themselves on being prepared for every challenge. That includes having all the necessary tools and equipment to tackle any job. However, even the largest contracting firms can't own every single landscaping tool. Sooner or later you'll need a tool that you just don't own. When that happens, renting is a smart option.
There are several instances when renting makes sense: Perhaps a tool is in the repair shop, or it broke down on the job and you need an immediate, but temporary, replacement. Or, consider renting if a job requires a specialized piece of equipment that you never had any reason to own, such as a stump grinder. Renting also provides an affordable, risk-free way to test new landscaping tools and machines before buying them. Regardless of the reason, renting is a viable alternative for any landscaping business, small or large, and tool renting has never been easier.
Most home improvement centers have a rental department that carries dozens of industrial-grade landscaping tools, machines and heavy equipment. From backpack blowers and chainsaws to backhoes and dump trailers, if you need it, it's likely available for rent. For more information on tool rentals, you can see a complete guide here.
Listed below are descriptions of seven indispensable landscaping tools you can rent. Remember, this is just a small sampling of the many items available for rent by the day, week or month.
1. Sod Cutter
Sod cutters are one of the most popular rental items, yet often neglected by many landscapers. Sod cutters provide a quick and easy way to remove sod to expand or establish flowerbeds and create walkways and patios. For instance, an 18-inch model equipped with a 5.5-hp engine and hydrostatic-drive transmission allows the operator to tailor the cutting speed to the ground conditions. It also has one of the fastest transport speeds on the market at 3.5 mph. Other features include a single-lever blade-depth mechanism, handle isolation mounts that reduce vibration, adjustable reverse speed for quickly maneuvering out of tight spots, and rear swivel casters that simplify curved cuts and securely lock for straight runs. Sod cutters typically rent for about $100 per day.
2. Hydraulic Auger
When you need to quickly dig large, deep holes, rent a hydraulic power auger. For instance, a towable model can be easy to transport and can be operated by one person. It has a variable-speed, 9-hp engine and accepts augers up to 18 inches in diameter. The low-profile, compact design eliminates the need for telescoping booms and axles. Its three-position handlebar allows the user to stand to either side or at one end. If the auger twists itself around a rock or root, shift into reverse to free it from the hole. And, unlike some augers, this one can drill very close to walls or fences. Hydraulic augers rent for about $100 per day.
3. Bed Shaper
Bed shapers are one of the most popular rental items, yet often neglected by many landscapers. Nonetheless, there's no doubt about it—cutting crisp, neat edges along lawns and flowerbeds by hand is a slow, laborious chore. Best-case scenario: A skilled landscaper can cut four to six feet of edging per minute. But, if you rent a walk-behind bed shaper, you'll easily be able to cut 100 feet of edging per minute. That includes both straight and complex S-shaped edges. The self-propelled bed shaper shown here has a hydrostatic transmission, adjustable 1/2 to 4.5-inch cutting depth, and 24-inch turning radius with the blade engaged. It rents for less than $90 per day.
4. Overseeder
When you need a quick, precise method of overseeding an existing lawn or seeding a new lawn, rent a walk-behind overseeder. They represent another popular item for landscaping that many landscapers still don't think about renting. The self-propelled machine shown here has a front seed drop that ensures follow-up soil coverage for better seed germination. Its 26 heat-treated blades are spaced 1.5 inches apart and sharpened on both ends for double the blade life. This particular model easily converts to a turf rake or vertical cutter. It rents for about $90 per day.
5. Hydraulic Trencher
When you need to excavate deep, narrow trenches, consider renting a power trencher. It's the perfect tool to use when laying irrigation lines, cables or drainage pipes. The compact model shown here can quickly dig a 3-inch-wide trench up to 18 inches deep. It features a load-sensing hydraulic valve that adjusts the wheel speed to the load on the digging chain. When the load increases, the valve sends less oil to the drive motor, and the wheel speed automatically slows down. When the load on the chain decreases, the opposite occurs: The valve sends more oil and the wheel drive speeds up. The benefit of the sensing valve is that the load on the engine remains constant, regardless of the cutting depth or soil conditions. As a result, the operator doesn't have to constantly adjust the wheel speed for optimum performance. Trenchers rent for about $100 to $150 per day, depending on the model.
6. Cable Installer
You may not need to bury cable all that often, but when you do, save a ton of time and trouble by renting a gas-powered cable installer. This compact, walk-behind machine automatically digs the trench, buries the cable and backfills the trench in one smooth motion. It's most often used to install cable for low-voltage landscaping lighting and invisible dog fences. The model shown here has a 6.5-hp engine and carbide-tipped blades that easily slices through roots, clay and compacted soil. It rents for about $95 per day and can cut a 3.5-inch-deep trench at the speed of approximately 100 feet every five minutes.
7. Paver Saw
Although not considered a traditional landscaping tool, this portable electric saw is indispensable when using bricks and pavers to build walks, patios, walls and other hardscapes. The saw provides an easy, accurate way to cut hard bricks and concrete pavers. Its 10-inch blade cuts up to 3.75 inches deep. Other features include a high-torque 1.5-hp Baldor industrial-duty motor, water pump, rip guide and easy-glide cutting table. The paver saw shown here rents for $75 per day.