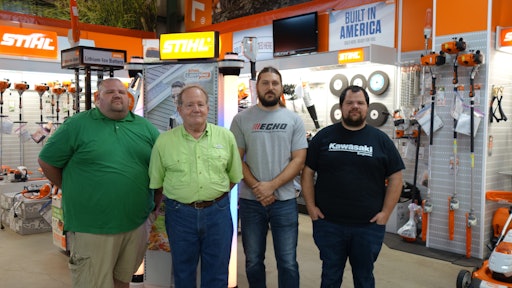 K&D Rent All & Hardware in Baton Rouge, LA, has had its best fall/winter/spring ever. Everything has been looking up: sales, service, and even a new storage facility to help accommodate the dealership's growing pains.
As is often the case in this industry, natural disaster creates business opportunity. There are also risks, though. A matter-of-fact southern dealer once put it this way: I'm one good hurricane away from retiring, but one nasty drought away from bankruptcy. Of course, nobody wants to see devastation and despair in their community. But when disaster strikes, it's often the local power equipment dealer that helps the community get back on its feet.
This has been the case down in Baton Rouge, LA. "The flooding last August was incredible," says Ernie Butitta, owner of K&D Rent All & Hardware. "A lot of property was severely damaged, if not destroyed. That includes a wide variety of outdoor power equipment. Zero-turn mowers were left completely submerged. Our shop staff has kept extremely busy over the past several months in trying to 'unflood' as much of this equipment as possible for customers. In some cases, we haven't been able to. But then we sell them something new to replace it."
Fortunately for K&D, not to mention its customers, securing inventory during this unexpected period of increased demand has not been a problem. "We're very lucky in that we work with really great distributors … the best," Butitta says.
It certainly helps that K&D has grown to become a pretty important customer to these distributors. The flood-inspired business boom of this past fall has carried right through to spring, where advantageously warm early-season temps have helped to propel business even further. That said, K&D's growth and overall evolution has been in the making for years.
Now we're an OPE store
K&D Rent All & Hardware was just that in its early years: a rental center and hardware store. Founded in 1966, the current owner, Ernie Butitta, was just a high schooler working part-time. He then adopted the dealership lifestyle and went full-time in 1969.
"We started off as purely a rental center," Butitta tells. "Interestingly, we had success in renting Lawn-Boy push mowers. Then we became a major area hardware store. Eventually we got into selling walk-behind mowers and handheld equipment to homeowners, and then commercial-duty handheld equipment. What I call 'big iron' is something we've gotten into more recently. Now commercial riding mowers are a huge part of our business. The rental and hardware sides are down to almost nothing. These days we are nearly 100% outdoor power equipment."
Roughly 35% of sales come from commercial landscapers. The lion's share, 60%, comes from consumers. Municipal and institutional (i.e. college) customers account for the rest.
K&D prides itself on the variety of products and brands it carries, which include Big Dog, Exmark and Snapper Pro commercial mowers; Snapper consumer riding mowers; Honda and Masport push mowers; Echo, Shindaiwa and Stihl handheld equipment; along with a couple of shortlines, Billy Goat and Echo Bear Cat.
A new riding mower line has been added this season: Spartan. "It has really been amazing to see the response right out of the gate," Butitta says. "The mowers look great, and different, with their dark gray color. These mowers look racy. In some ways they almost look like an RTV.
"The main thing is that I think it's as state-of-the-art a mower as we've seen in a long time," Butitta continues. "It has so many unique features. Contractors really take an interest when they see it in our showroom. I sold two right away. Now we'll see how they hold up this season."
Consumers want to be wowed
If the Spartan mowers don't hold up, or any product for that matter, Butitta is going to hear about it. "I'm still on the sales floor about half of the day," he relates. "So I hear and see a lot of things."
One trend Butitta is seeing is that landscape contractors, while generally quite brand loyal, are always receptive to something newer and/or better. That's a big reason why the Spartan mower has garnered so much attention during its first few months in the store. "The bottom line, though," Butitta adds, "is that if you properly service them, they'll usually stay with you."
Another trend is that homeowner customers are coming back to the independent servicing dealer. "This is something we've actually been seeing and feeling over the past five years or so," Butitta points out. "If the independent dealer can make itself known, it can start getting some new customers from the box stores. Just about every other customer that has never been in our store before says they are tired of buying a string trimmer that only lasts a year. Consumers are looking for better quality, and they're looking to buy from stores that back up what they sell."
Two other trends Butitta has recognized go hand in hand. First, there is a growing female market for outdoor power equipment—and this customer would prefer to operate battery-powered equipment, generally speaking. So secondly, battery equipment is on the cusp of really taking off.
"Stihl, for example, has invested a lot in its battery offering," Butitta says. "They now have models geared for homeowners, professionals, and everybody in between. I've found that with contractors, though, it's still a bit of a challenge because they are concerned about runtime. I did sell a Stihl cut-off saw to a plumber who was doing some work at a hospital. He needed something that could perform but was much quieter."
An emerging market for battery power is utility crews. "One of the best kept secrets in the industry is the concept of a battery-powered chainsaw," Butitta says. "More and more utility crews around here are using them to remove tree limbs, mainly because they are easier to use and the crews don't have to worry about bringing gasoline with them."
Now back to the growing female market. "I remember back in the day when Black & Decker first introduced its DustBuster," Butitta says. "It was different at first, but all of a sudden it seemed like everybody had one. I can see the same thing happening with the battery-powered handheld blower. That tool is great for blowing out the garage, the patio and the carport—all of those applications that take 15-20 minutes. At around $130, this is a great little tool."
Plan for your success
Stihl's Lightning Battery System product series, among other Stihl products, is being showcased in K&D's brand new Stihl merchandising display this year. It's one of the many facility improvements scheduled to take place over the next several years.
"I had resisted OEM wall displays for a long time," Butitta points out. "We always did our own thing and it seemed to work very well. We did do smaller OEM-based items like counters and small sections of wall displays. But that was about it."
Butitta's opinion was finally swayed this year, thanks to a little incentive. His distributor, Stihl Southwest, conducted a contest where its dealers could submit their story and why they deserved to be gifted a merchandising display. "I talked about how we had done well over the years and were growing, and that it was because of our strong partnership with Stihl Southwest," Butitta says. "I shared how I now wondered if this Stihl display was something we should finally do, because maybe it represents what is going to be needed to help us get to the next level."
So far, it's looking like that could be the case. "It is absolutely awesome, especially the huge banners hanging from the ceiling," Butitta says. "When you're standing in the showroom and look up at those banners, you just go 'whoa!' What I like about the banners is that they make us different from every other Stihl dealer around here."
Another new improvement for this season is a new storage area. "We've added a 120-foot-long by 20-foot-wide section to the back of the building," Butitta says. "We can get a lot of mowers back there, so it's going to help a lot."
K&D has actually needed the extra storage space for some time. "You just have to get your priorities straight and plan for these improvements," Butitta says.
There are a few more plans on his radar. "We want to build another building for our service department," Butitta says. "And eventually we're going to make use of some property out back to turn a building into a nice warehouse. We'll see, but at least we have a map. It's important because in today's world, if you can't service, you are out."
Speaking of having a plan, Butitta has always planned to retire on September 30 of this year. "Well, that ain't gonna' happen," he says with a sigh. But it's going to happen sooner than later—and he knows who is going to take the reins from him.
Butitta, who is known around the dealership as "Old Ernie", is in the process of developing a plan to turn the business over to his two sons, Ernie (known as Ernie B) and Nick, along with his longtime employee and "adopted" son, Jacob Callegan.
"These guys have had a lot to do with our success, as have all of our employees, which includes six full-time technicians, one part-timer and a full-time office manager," Butitta says. "This is not Old Ernie's Power Equipment Store."
The three successors, all in their mid-30s, have vast experience in all operational areas of the dealership. Now they are undergoing more training on the financial management side—a part of the business that none would call their cup of tea.
"It's so much fun to sell and work on equipment," Butitta says. "But that's not all there is. A lot still has to happen after that customer walks out the door with the piece of equipment they bought. Ernie B, Nick and Jacob are learning that. Plus, even after I do pass ownership to them, I told them I'd stay around in whatever capacity for as long as I'm needed."