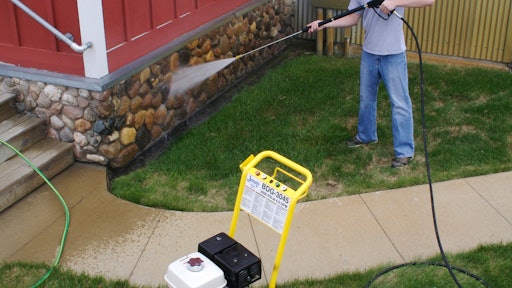 Jenny Products
As landscape pros decide on which pressure washers to rent or buy for the first time, they tend to seek out options that have very high pounds per square inch (PSIs). Unfortunately, in doing so, they often overlook pressure washers' gallons per minute (GPMs), which are critical characteristics, too.
Landscape contractors should think about what they intend to clean and what they want to remove. In other words, they need to know what they are using their pressure washers for and how long they expect to use them.
For instance, some manufacturers provide pressure washers that are created for light-, medium-, heavy- and industrial-duty cleaning applications. Light-duty applications are particularly ideal for customers that require the least amount of pressure and time possible, while industrial-duty applications are especially suitable for customers that need the highest pressure and longest timeframes.
"A light-duty pressure washer is an ideal choice for the 'do-it-yourselfers' to use around a home or workshop," says Kevin Anstoetter, rental division manager, Mi-T-M Corp. "It is perfect to use for about two to five hours per week and can be used to clean decks, gutters, patio furniture, siding and vehicles."
On the other hand, medium-duty pressure washers are normally used on commercial properties, in order to remove light stains, mildew and mold from hard surfaces.
"Meanwhile, a heavy-duty or industrial-duty pressure washer is best for 20 to 30 (or more) hours of usage per week," he adds. "These types of washers are especially used for concrete and brickwork, equipment cleaning, large deck and surface restoration, paint preparation and tough mold and mildew removal."
Additionally, pressure washer users should keep in mind which types of soils they're attempting to flush away.
According to Nate Abrahams, senior sales training specialist, Karcher North America, if users only need to flush away light dirt, any pressure is completely fine, but if they have to flush away heavy soil loads, they should utilize high-GPM machines (4 GPMs or more) instead, as higher-GPM machines will flush away heavy soil loads that smaller units won't.
Anstoetter adds that landscapers must also consider their prospective pressure washer's cleaning units.
"Cleaning units can be determined by multiplying a pressure washer's GPM and PSI," he explains. "Simply put, the higher the cleaning units, the faster customers can clean."
Hot or cold? Electric or engine powered?
Aside from focusing on these measurements, Dan Leiss, president, Jenny Products, believes it's important for landscapers to "start with the basics," as they need to determine whether they need hot- or cold-water units. From there, they should think about where they intend to use their pressure washers.
"Both hot- and cold-water pressure washers are available with electric motors or gas-powered engines. Electric motors are generally used indoors, while gas-powered engines are typically used outdoors," Leiss says.
Water pressure, of course, should also be considered. After all, the primary purpose of pressure is to help users break the bond between the contaminant they're encountering and the surface they're trying to clean. If pressure is too low, users won't be able to break that bond without using detergents or hot water. In contrast, if pressure is higher than users need, dirt will blow around more than it should, and surfaces may even be damaged.
Once the washer's pressure has broken the bond between a contaminant and a surface, users must wash the contaminant away. To ensure the contaminant washes away as efficiently as possible, users need to have a very high water flow, which they'll acquire with a high-volume unit. They must also remember another significant factor: horsepower, as it will determine how much pressure and volume a pressure washer can produce.
"As an example, a 3,000-PSI, 4-GPM unit requires at least an 11-hp gas engine to achieve high outputs," Leiss says. "If users have a unit with less than 11 hp, it will deliver less pressure and volume than its pump's rating."
Regarding the primary differences between hot- and cold-water pressure washers, Leiss adds that cold-water units are the most popular, as they're not only compact and cost effective, but they're able to successfully conduct a wide range of cleaning tasks, too. Normally, cold-water units are the most suitable for washing away dirt and mud, which covers several applications.
However, as users attempt to remove grease or grime, they won't have clean surfaces while using cold-water pressure washers. Instead, substances will only be pushed around.
"For grease, grime and oil, a hot-water pressure washer is typically a better choice, as hot water will actually cut through grease and loosen it from the surface," Leiss says. "Once the bond between the grease and the surface has been broken, it can then be washed away."
If speed is critical (and it usually is), hot-water pressure washers will also clean 40 percent to 60 percent faster than cold-water units that are the same size, according to Abrahams.
"The performance of either a hot- or cold-water pressure washer can be enhanced by using cleaning chemicals though," Leiss says. "The right detergent will help the cleaning process go more smoothly."
In the meantime, the selection between an engine-powered pressure washer and an electric offering is primarily tied to a user's mobility. If a user is going to clean in the same spot all the time, an electric pressure washer is suitable—if there is enough voltage available to run a high-performance machine, that is.
"High-performance industrial machines require 230 volts and 30 amps of power or more, depending on their sizes," Abrahams says. "If users don't have this power available, they'll need to use engine-driven machines, as they don't require any external power sources, enabling them to be used anywhere outside as long as water sources are available."
However, users must also remember that engine-driven pressure washers need well-ventilated spaces, due to exhaust and fumes, whereas electric-powered options can be used indoors or outdoors, leading to more possibilities.
Editor's Note: This article was originally published in the April 2023 issue of Rental magazine, Green Industry Pros' sister publication.