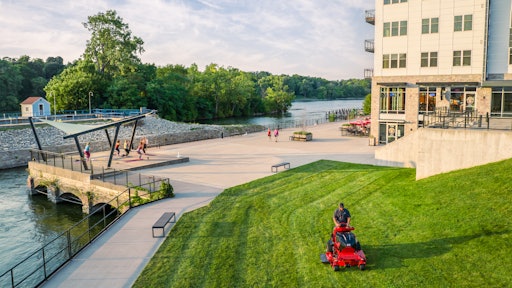 Gravely Commercial
Purchasing a new zero-turn mower (ZTR)—or a fleet of them—is no small decision.
"Landscapers are always looking for equipment solutions that will make their lives and the lives of their crews easier, quicker and more productive," says Jared Nuessen, marketing manager, Toro. "It's important to keep in mind the type of properties your crew typically maintains throughout a season and purchase equipment that's best suited for those jobs."
Nuessen, and Grant Wilson, product director for Gravely Commercial, lay out what landscape pros need to know before tackling that big decision and what they can do to remain a cut above the rest.
Items to consider
Timing
The replacement cycle for zero-turn mowers depends on how landscapers operate their business, according to Wilson.
"There are some contractors who don't want to do any maintenance, so they may replace their machines on a quicker cycle, but there are a lot of landscapers who are OK doing repair work," Wilson says. "We've seen people who change out their machines every two years when they get to 1,000 hours, and we've seen machines that have run for up to 5,000 hours."
Wilson notes that springtime is a good time to look out for sales and promotions for purchasing ZTRs.
Power source
As technology has improved, landscape pros now have the option between gas- and battery-powered equipment.
"Take a look at the powertrain first—will gas or battery power best meet the needs of your operation?" Nuessen says. "Professional landscape contractors don't have to sacrifice power or performance with a battery-powered mower, and it may be the better option for their crew."
Wilson says while electric options are more expensive upfront, there is a quick return on investment.
"Customers can test the machines they're thinking about," Wilson says.
Landscape contractors should also keep in mind what type of maintenance they expect to perform.
"The less maintenance that contractors have to perform on a machine means the more productive they are in the field," Nuessen says. "With the emergence of battery power in the professional landscaping space, we've essentially eliminated all the regular maintenance associated with a traditional engine, increasing productivity and helping boost contractors' bottom lines."
No matter what type of mower a landscape pro chooses, however, Wilson stresses that preventive maintenance is crucial to the longevity of any machine.
"Make sure you're scheduling out maintenance ahead of time to prevent downtime or machine failure," Wilson says.
Reliability and cut quality
Of course, landscape contractors will also want to purchase a ZTR that is reliable and that produces a high cut quality.
"Time is money, and downtime costs you money," Wilson says. "Look for companies that have top-notch support and that are willing to stand behind their customers."
Wilson notes that dealer support is key.
"If you don't have a strong dealer supporting you, a small thing can become a big thing," Wilson says. "Shop around and make sure the dealer you're buying from is the right dealer."
He recommends researching the dealers' turnaround time, parts inventory and how many units of a particular machine they've sold.
"When you buy the machine, you're not just buying the machine—you're also signing up for a partnership with your dealer for as long as you own that machine," Wilson says.
Another factor that can come to mind is cut quality.
"The jobs that landscapers are doing when they're cutting grass are very visible to everybody, and we want everybody to leave thinking 'hey, that's a really good job' and something they can be proud of when they leave," Wilson says.
Style of mower
When choosing between zero-turn models, landscape pros will also want to consider if a stand-on or ride-on ZTR makes sense for their crews.
"We've seen a noticeable bump in overall popularity of stand-on mowers in the landscape contractor equipment marketplace," Nuessen says. "Many contractors enjoy the increased visibility, ability to get on and off the machine easily, traction and stability on slopes that stand-on mowers can provide. Furthermore, contractors can potentially fit more equipment on their trailers by leveraging the smaller overall footprint of a stand-on machine."
Wilson agrees.
"From a safety standpoint, if the machine starts to slide, the operator can easily get off, and it's a lot safer," Wilson says.
Application
Another key to considering what zero-turn mower to purchase is the jobsite or application where crews will be mowing.
For residential areas, landscapers may want a mower with a smaller cutting deck to maneuver around obstacles easily, and if noise is a concern, contractors should consider battery-powered units to help their crews meet noise ordinances and extend the mowing timeframe, Nuessen says.
For crews tackling bigger commercial properties, Nuessen says companies may want to consider a ZTR with a larger cutting deck, and for contractors that need to be especially flexible and nimble with just one machine, they may want to consider a mower that features attachments.
Crew training
Because crew members will be the one operating the ZTRs all day, it's important to ensure they're taken into consideration, too.
"Go demo a lot of different pieces of equipment," Wilson says. "We want that end user to have the best piece of equipment to make his life as easy and as painless as possible."
It's also critical to ensure crews are properly trained on the machines once they've been purchased.
"It's really important that your operators understand how to run the machinery correctly, not only from a safety standpoint, but if they can treat that machine like it's your own, it's going to last a lot longer than if you get someone who is abusive or hard on machinery," Wilson says. "Training goes a long way in helping make sure you get the life out of the machine and that it performs the way you want it to."
Other considerations
To sum it up and further help zero in on their options, landscapers can ask the following questions:
How many acres does the crew mow?
What type of terrain do they encounter?
Are there any jobsite obstacles?
Is the equipment easily onboarded with crews?
Do they need the mower to perform multiple jobs for attachments?
What does the warranty look like?
What type of power source does the mower include? Is it a well-supported brand?
What will the overall cost of operation be three to five years down the line?
What have other landscape pros had to say about the mower?
"During the research process, keep a running list of what each different ZTR unit you're considering offers and compare it with the questions and considerations above," Nuessen says. "Does it meet your crew's needs? Will you be able to easily maneuver it on all of your jobsites? Will it stand up to the wear and tear of a long, busy season?"
Wilson notes that a lot of research can be done online before starting the purchasing process.
"We're living in the age of the internet, so a lot of customers are not going into the dealer to do their research, but rather they're doing it online beforehand," Wilson says. "Some of them are even making those decisions before they even see the machine. A lot of them have become a lot more educated in knowing what they want before they even walk in the dealer's door."