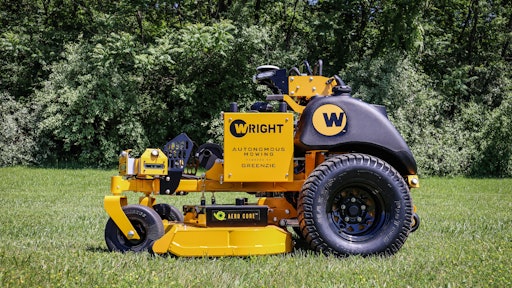 Greenzie
The development in the robotic mowing segment over the last five to 10 years has been tremendous.
"The benefits are there, and we have to lean into the fact that robotics are coming," says Gabe Foo, vice president of growth at URS Robot. "It's helping people grow their business, address labor issues and it's better for the environment. Landscapers should be careful not to stick their head in the sand and think that it's not coming."
Experts explain why many landscape pros are choosing to roll with robotics and provide insight into what they can expect for the future of this technology.
What's new
One major update in the robotic mowing space, according to Billy Otteman, director of marketing at Scythe, has more to do with the people operating them than the mowers.
"People across the industry are way more interested in adoption," Otteman says. "In robotics, we have a lot of customers who want to see what autonomy can do for their business. The openness within the last year has been quite dramatic."
A lot of effort has also been geared toward improving the navigation of the robots, according to Benjamin Houssa, vice president of robotics at Echo.
"Systematic pattern mowing is becoming the main trends against random units," says Houssa.
Wireless solutions are becoming more popular as well, according to Houssa and Foo.
"With wireless solutions, you can create a digital property, store that map in the cloud, drop the robots and they'll mow in pattern stripes," Foo says. "Wire is a bad deal because it always breaks later. Rodents eat wire, wires degrade and there's a lot of ongoing maintenance."
Houssa agrees.
"For example, our real-time kinematic technology allows 1-inch accuracy positioning, which is necessary to perform this systematic navigation and wireless," Houssa says.
Increased battery capacity is another update in the robotic sphere, Otteman says.
"As battery technology evolves, the products get more powerful, and more landscape contractors are interested in it," Otteman says. "For a long time, similar to electric cars, there was hesitation or a stigma around electric equipment that it wasn't as powerful or couldn't perform as well, but our battery capacity has been advancing quickly, and now our machines can mow for more than eight hours on a single overnight charge."
Otteman adds that the battery capacity of robotic mowers will only continue to improve over time.
While many companies have taken the approach of manufacturing their own robotic mowers, Greenzie puts autonomous systems on mowers that already exist, says Charles Quinn, CEO and co-founder of Greenzie.
"One of the biggest things that's driven down our cost is the accuracy of the GPS," Quinn says. "That technology combined with software—which is the critical thing we do—can get very accurate straight lines, and you can even get striping."
Quinn adds that all of those elements combined are helping to address the ongoing labor shortage and make landscape pros more efficient overall.
"Our main goal is to address the labor shortage and make your current crews more productive, more effective and safer," Quinn says. "It's also about reduced labor and fuel costs. That's the name of the game."
For landscape companies still hesitant about adopting the new technology, Otteman recommends trying the technology before knocking it.
"I want to continue to emphasize the advancements that have been made over the last year and a half, and as that evolves, resistance will fade," Otteman says. "There's also an assumed complexity about the products and the difficulty that comes with integrating it into their operations, but if you put the right people in place to help deploy the robots ... we've had operators who have really loved the technology."
Benefits of robotic mowers:
Robotic mowers can help make landscape professionals' lives easier in a variety of ways. Here are a few:
Daily mowing means lusher and healthier lawns
No emissions and quiet operation mean the machines are environmentally friendly.
Robotic mowers on slopes cut down on safety hazards for operators.
Robotic mowers can be used as a recruiting and retention tool because crews become interested in the new technology and realize that it can be used to save them physical labor.
When robots are used to mow, crews can pay attention to smaller detailed tasks such as trimming and edging.