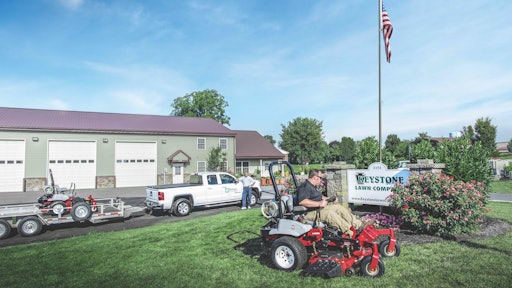 PERC
For decades, contractors have relied on propane as a clean alternative energy source to power mowers. As a reliable and cost-effective option, propane mowers have helped reduce emissions in communities all around the nation, but some contractors may not realize they can take those benefits one step further by also implementing propane into their vehicle fleet.
From coast to coast, businesses, school districts and community organizations rely on propane autogas—the name for propane when used in a vehicle—for a clean and affordable ride. For landscape contractors, propane autogas vehicles can provide real value to bottom lines for many of the same reasons as propane mowers, including reduced fuel costs, increased reliability and convenience and reduced emissions, which can help with employee retention and customer growth.
A cost-effective energy source
Getting started with propane is easy and affordable. While the initial cost to upgrade to propane mowers or vehicles is slightly higher than gasoline or diesel, contractors quickly make up the difference—and then some—thanks to propane's low fuel and maintenance costs. A 60-inch zero-turn electric mower costs $40,000 or more. That same unit operating on propane costs around $15,000. For light-duty vehicles, the cost for an electric truck is nearly twice the cost of gasoline. Comparatively, a propane autogas unit is about $6,000 more than gasoline.
When it comes to refueling mowers, contractors can expect to pay up to 40 percent less in fuel costs for propane compared to gasoline or diesel. The cost savings are even further reduced with propane autogas, where fleet owners can expect to save as much as 50 percent. Not to mention, the price of propane traditionally falls between the prices of natural gas and oil, which greatly limits market price fluctuations compared to the more pronounced price swings of gasoline and diesel, or even electric charging based on demand from the grid. That cost consistency can be a major advantage in planning budgets.
The cost to set up propane refueling infrastructure is also extremely affordable. In most cases, propane suppliers will provide the infrastructure equipment to a fleet at no cost in exchange for a mutually beneficial fuel contract.
Dependable and convenient to get the job done
One major advantage for businesses that use propane is the convenience and reliability of working with the clean energy source. Propane can go the distance to reliably provide energy all day long. Propane mowers use either two 33.5-pound cylinders in tandem or a 43.5-pound cylinder. On average, operators can get through seven hours of mowing with one 43.5-pound cylinder, and as many as 10 hours with mowers that use dual 33.5-pound cylinders. Extra cylinders can be carried on a truck or trailer, as well. Due to the ease of switching out empty fuel cylinders, propane-fueled mowers can operate more continuously than gasoline-fueled or electric-powered equipment, which require more time to refuel or recharge. As for propane autogas vehicles, users find they have a range of up to 400 miles on a single refuel, allowing contractors to complete any routes they may have in a given day. Plus, the time it takes to refuel the vehicles is comparable to gasoline or diesel and a fraction of the time it takes to recharge an electric vehicle.
The on-site refueling infrastructure provides an additional level of convenience. Propane suppliers can work with contractors to customize their refueling setup and install the station at their facility. This allows contractors to operate their equipment all day and return to base after their shift to refuel without having to find a gasoline or diesel station on their routes.
Reduced emissions for employee retention and customer growth
It's no secret that many businesses are struggling to hire and retain employees in the landscaping industry. By implementing clean energy solutions, businesses can work to improve retention by offering employees a cleaner, healthier workday.
Propane-fueled mowers are safer to use during pollution advisory periods than gasoline-fueled mowers because they emit significantly fewer ground-level ozone precursors and particulate matter (pollutants considered the most harmful to human health). Propane-powered mowers also reduce nitrogen oxide (NOx) emissions by 19 percent, and sulfur oxide (SOx) emissions by 16 percent compared to gasoline mowers. Similarly, light-duty propane autogas vehicles emit up to 36 percent fewer nitrogen oxide (NOx) emissions and emit virtually zero particulate matter emissions compared to diesel. These emissions are known triggers for issues like asthma, bronchitis, and other respiratory problems, according to the environmental protection agency.
Propane can also benefit the environment by reducing greenhouse gas emissions by up to 17 percent in mower fleets compared to gasoline and by up to 22 percent compared to light-duty gasoline vehicles. As sustainable and environmentally friendly services continue to grow, using propane can help contractors reach new, green-minded customers.
By incorporating propane mowers and vehicles into their fleets, landscape contractors can quickly experience business efficiencies that give them an advantage from their competitors.