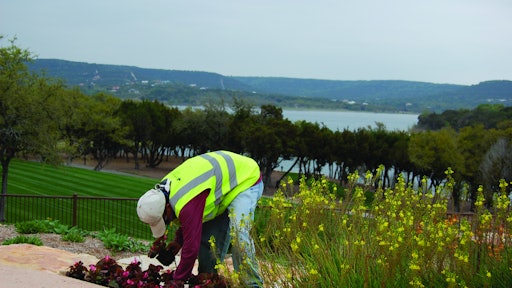 The owners of your company invest in the safest, most highly productive equipment they can find. Then they invest in safety training, tools and gear for their workers. Then they pay an arm and a leg (not literally we hope) for workers' comp insurance. Here's how you can pay them back: Start laying the law down with your crew!
Every reputable landscape company conducts weekly (if not daily) safety meetings at the shop before crews dispatch for the day. Crews are told how to dress on jobsites, what safety gear to wear, how to safely operate equipment, and so on. Companies spend a considerable amount of time conveying this safety message to employees. Companies can also be subject to OSHA fines when not in compliance with OSHA regulations.
Why is it, then, that when PRO Magazine editors make their way out onto jobsites, more than half of the time there are blatant safety violations at seemingly every turn?
There could be several specific reasons, of course, but each ties back to one of two main flaws in a company's safety culture:
- Safety meetings and training are "go through the motions" events
- Foremen are not ensuring that the safety message being preached back at the shop is being executed in the field.
"The early morning or tailgate meetings can be an effective method to get the message to a company's employees," says John Keeler, STIHL Inc.'s national training manager. "And with the support and reinforcement of the owners or management, along with formal training sessions, good results can be achieved."
Safety Essentials
The following safety items should be worn at all times, regardless of which type of power equipment you're running:
- ANSI-approved safety glasses
- Hearing protection
- Boots or other protective footwear
- Any other protective gear that may be required by OSHA for the location where you are working
"Additionally, you never want to wear short pants—no matter how hot it is," Keeler says. Gloves are also good to wear because they not only help protect the hands and wrists, but also help absorb vibration and make operating equipment more comfortable." Long pants and hand protection are increasingly important when it comes to the operation of handheld equipment such as line trimmers, hedgetrimmers and debris blowers.
Tree Care Essentials
With chain saws and pole pruners, a whole new layer of safety comes into play. "When operating this type of equipment, where you're often cutting things overhead, you need an appropriately rated helmet," Keeler says. "Preferably you want a helmet system with a face shield on it. And you need to wear protective glasses even with the shield. Then, you also need a heavier form of footwear, such as a steel-toed boot. And when you're operating a chain saw, you always need a pair of chain saw protective pants, or chaps for ground crews."
Hardscape Essentials
If your company has a hardscape division where employees are operating concrete abrasive cut-off machines, safety goes even one step further. "When you're grinding concrete, you're dealing with a lot of dust," Keeler says. "You have to worry about employees contracting a disease called silicosis. We advise operators to, at minimum, always wear a dust respirator that's approved for the material they're cutting, but ideally you should operate these tools with a wet-cutting attachment to better control the amount of airborne particles." Another benefit of utilizing wet cutting is the lubrication it provides to the wheel which can result in reduced kickback energy.
Lawn Care Essentials
If your company has a lawn care division where employees are applying fertilizers and chemicals, it's important to provide appropriate respirators since chemicals are airborne. Gloves and a long sleeve shirt are important for that same reason. If spraying overhead, wear a broad-brimmed hat to help protect the operator's head.
Safe & Respectful Operation
There's more to jobsite safety than hardhats and safety glasses. Foremen must also monitor equipment use to ensure safe and respectful operation.
The instruction manual for a given piece of equipment is a great place to start; this will provide the basic do's and don'ts that should be drilled into the minds of employees. For instance, never alter any piece of equipment, which could compromise various safety features; i.e. disabling guards on line trimmers or discharge chute guards on mowers, folding down ROPS on mowers, etc.
Be aware of your surroundings when operating equipment. For instance:
- Don't blow dirt and debris toward parked cars.
- Don't line trim with someone right next to you.
- If you're discharging grass clippings, stop the mower when a pedestrian is walking down the sidewalk in your vicinity.
- Don't edge with a line trimmer, as the guard no longer provides the protection for which it is intended and often results in throwing gravel and other debris all over, possibly damaging property or causing harm to individuals.
Aside from monitoring safe and courteous use of equipment, the foreman must also do the following:
Lead by example. "A foreman can never be caught without all of his safety gear on," Keeler points out. "And of course, he must operate equipment safely at all times."
Break old habits. "The Green Industry is at a transition point," Keeler says. "We've gone from rakes and high school kids to a professional industry with highly skilled workers. I believe we are in the final phase of this transition." In other words, employees you've had a while need to forget about their working habits of the past. It's your job as crew chief to help them break those habits and embrace the new and safer way of doing things.
Correct problems immediately. Breaking bad habits is best achieved through immediate and continuous intervention. "If one of your crew members is cited making a mistake, stop him or her immediately and correct them," Keeler advises. "Jotting down a note on a piece of paper, and then waiting until next week's safety meeting to address the problem with the employee isn't effective or safe." Safety meetings, in theory, are indeed effective—and critical to a company's overall safety culture. But what matters even more is how the crew chief accepts the responsibility of making sure the safety message preached back at the shop is executed in the field.
Companies in this article