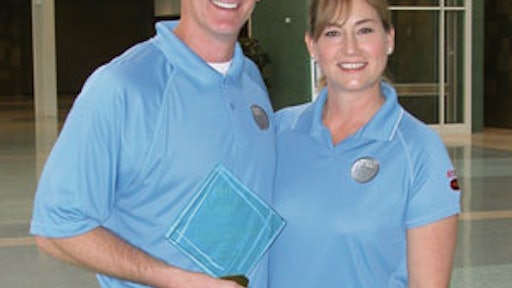 Many successful landscape contractors share a similar story. They start out mowing a few yards, add a few more customers one season, then a few more the next. Soon they begin branching into other services. Robbins Landscaping did just the reverse—and they're sure glad they did because revenue, cash flow, profits and customer satisfaction have all increased as a result.
Founded in 1989 and full-time in the business since 1994, Robbins Landscaping has a rich history of providing landscape design and installation services in and around Richmond, VA. In 2003, after fielding requests from customers and encouragement from business adviser Tony Bass, owner Doug Robbins decided to expand his service offering to include lawn maintenance. Using satisfied clients from past installation projects, Robbins has quickly grown his "property management" division to roughly $450,000 a year. Installation services continue to generate more than a million.
THE EXPERT ON EVERYTHING
One of the main reasons Robbins decided to branch into maintenance was to create a department that would generate recurring revenue. He knew he could do it without having to put together an elaborate, expensive marketing plan. With a substantial list of existing install clients, maintenance business was there for the taking if the professionalism the company had been projecting since 1989 could be matched by a newly created maintenance department.
Right off the bat, Robbins drafted a 13-point guarantee to put prospects at ease. The guarantee touches on things such as employee training, crew appearance and timeliness, equipment and truck appearance and quality, property inspections and workmanship, billing procedures and more.
The guarantee also says Robbins Landscaping will be prepared to provide a wide range of services from landscape and irrigation design to follow-up installation and maintenance. That's why Robbins prefers to call his maintenance division his "property management" division.
Robbins Landscaping's complete landscape management package includes mowing, edging, weeding, shrub care, trash removal and clean-up, mulch, fertilization and integrated pest management, floriculture, and just about anything else a valued client might ask for.
"We want the client to view us as the expert who can handle just about anything on the exterior of their property, even if it's siding or waterproofing," Robbins explains. "Customers appreciate us being a one-stop shop. In some instances, we use sub-contractors. But the goal is to provide an easier time for our customers and keep other landscape companies away from an account."
Robbins runs all lawn care services through his property management division. Irrigation, because it's still pretty new to the company, currently goes through the design/build division. "We do perform some irrigation repairs, but sub-out installation work," Robbins points out.
RETAINING CLIENTS IS ONGOING
As thorough as Robbins and his staff are about everything else they do, it should come as no surprise that they carefully scrutinize the subcontractors they partner with. Those subcontractors must deliver to the same high level Robbins Landscaping strives to maintain. In design/build, a business largely driven by word of mouth, customer satisfaction is everything. Robbins has found the same to be true in maintenance—or should we say, property management.
Customers are surveyed after every install job to determine if expectations have been met. "Our current overall customer satisfaction rating stands at 98%," Robbins says.
To gauge satisfaction with the property management division, monthly invoices also include three questions for the customer:
1. Are you happy with the service you're getting?
2. Do you have any questions about the service you're getting?
3. Do you have any special projects in mind we could help with?
"Our property management division manager is pretty hands-on," Robbins adds. "He stays in touch with clients and is very accessible. We have about 100 properties right now, and 90-95% bring us back year after year. When we do lose a customer, it's usually not performance-related."
Communication is the key to retention. "Sometimes it's as simple as a phone call from the account manager just to see how things have been going, or the team leader taking time to say 'hi' to the client while on the property," Robbins points out. Robbins Landscaping also sends out a bi-monthly newsletter containing helpful information and special offers.
Consistency is a second key. "It's important that the same guys show up every time," Robbins says. "You have to be professional. We have beautiful Super Lawn Trucks, clean equipment, and crews that wear uniforms and hats."
Part of the Robbins 13-point guarantee says employees will treat clients with respect and integrity—and will do what they promise. To keep everyone motivated and focused on this ultimate goal, Robbins works hard to get the best out of his people.
"We have staff meetings every Tuesday," Robbins says. "We share the comments and compliments we've gotten from clients with our crews, because they're the ones helping make it happen. It's important to tell your people when they're doing a good job."
To help retain employees and maintain consistency, Robbins offers incentives to employees who've been with the company for at least one year. "Of course," he adds, "some employees are going to do what they're going to do. But our incentive program does help us hang onto people."
BETTER JOBS, BETTER CUSTOMERS
Adding a property management division five years ago has also helped Robbins Landscaping hang onto their best customers. Plus, it's led to more installation business.
"Before, when we were 100% installation, we did a job and we were gone," Robbins tells. "Now that we're doing maintenance and mulch on an ongoing basis, the customer immediately thinks of us when considering an update to their patio, for instance. We've definitely gotten better install jobs since adding maintenance in 2003. Nice homes where we're doing maintenance and lawn care often end up asking for hardscapes and retaining walls, intensive tree care and elaborate plantings."
As stated at the company's website (robbinscaping.com), "The professionals at Robbins Landscaping strive to create outdoor living spaces that respond to (the client's) individual needs and values." Now that they're also maintaining those living spaces with an equal degree of professionalism, growth has driven this company to purchase a new facility to accommodate future expansion.
"In the past, a lot of our installation work came from home builders," Robbins relates. "These days, our property management accounts are feeding us a lot of our install work." Given everything going on with the housing market, that's a pretty good place to be.
Robbins Landscaping Inc.
Richmond, VA
robbinscaping.com
Owner: Doug Robbins
Year founded: 1989, full-time since 1994
Business breakdown: 70% installation and irrigation, 30% maintenance and lawn care
Customer Breakdown: 90% residential, 10% commercial
Employees: 12 year round, 16 peak season
Key Managers: Tom Stuart - lead designer, Chris Edwards - property management leader, Kathryn Jacoby - office manager
Fleet includes (1) Caterpillar skid steer, (1) Toro Dingo Power System, (2) Exmark zero-turns, (4) Toro walk-behinds, (2) Little Wonder walk-behind blowers, (8) Shindaiwa backpack blowers, (8) Shindaiwa string trimmers, (1) Husqvarna chainsaw, (3) GMC Super Lawn Trucks, (2) Ford F-350 pickups, (1) Ford F-150 pickup, (1) Dodge Durango, (1) dump trailer, (4) utility trailers