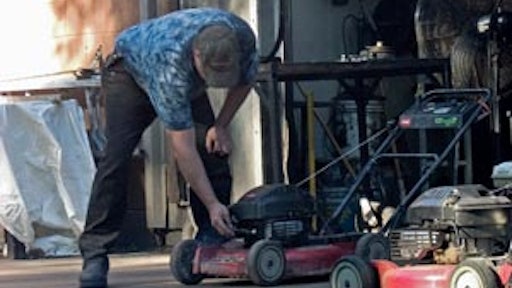 Determining the profitability of your service department is not as simple as "billed labor minus technician wages." A plethora of hidden, indirect costs, if left unmanaged, can drain shop profits and leave you seeing red. Below is a summary of the top hidden shop costs as compiled by the "Yard & Garden Service Department Think Tank."
Vehicle Expenses
Some dealers report that maintenance, repair and supplies for your service vehicle fleet can add upwards of 2.25% to the cost of running the service department.
To help keep a handle on vehicle expenses, coordinate fleet rates to control gas and maintenance costs. Ensure proper use of the fleet to avoid unnecessary wear and tear. And maintain all items on a regular basis to cut down on more costly repairs down the road.
Shop Supplies
Items used on repairs that are not inventoried in the parts system or captured on a repair order can sometimes add as much as 2% to the cost of a repair. These consumables include oil and gas, nuts and bolts, paint, penetrating fluid, cleaning supplies, etc.
Dealers need to ensure that all items are accounted for and listed on the repair ticket in order to bill the proper amount of supplies to the customer. In some circumstances a percentage is used, in which case it's crucial to make sure that the percentage actually covers the real cost. Some dealers will charge an additional 1.5% or 2% of the work order, but never charge more than $15.
It's also important to make it clear to shop employees that these supplies add cost to the department. Strongly discourage the wasteful and/or personal use of supplies. Some dealers even go as far as installing a locked cabinet in the shop with a request system for checking out consumable supplies.
Pick-up & Delivery
Pick-up and delivery often adds 2-4% to shop cost. The solution? Charge for it. The cost of performing this service is either rolled up into repair rates or charged individually. An easy system for the customer to understand is best. But performing this service for free is a real profit drain.
Weak Warranty
The time involved in performing warranty service often includes receiving the unit, diagnosis, filling out the customer invoice and warranty claim, ordering parts, storing the unit before and after repair, contacting the customer when the unit is done and returning the unit to the customer.
One dealer says that meeting the expectations of customers—both end-users and mass merchants—while avoiding unpaid labor can be a tough proposition when it comes to certain suppliers.
"One of our commercial mower manufacturers won't pay any pick-up or delivery charges," the dealer says. "How can we ask a high-end homeowner customer to pay pick-up and delivery when he paid you $6,000 or $8,000 for a 'durable' commercial mower that just broke down in his back yard?" This dealer estimates that circumstances such as this can add up to 5-10% of gross labor.
Low-Profit Equipment, Low-Profit Repairs
Running more inexpensive, "disposable-type" equipment through the shop presents the challenge of 1) recovering all associated costs so the repair is profitable, and 2) keeping the customer happy so he or she comes back.
One dealer estimates that roughly 5% of the jobs running through his service department fall into this category. "We try to train the customer that our time and experience has a value," the dealer relates. You have to charge your labor rate. In some instances, help the customer understand that he might be better off buying a higher-end product from you than having the current machine repaired.
Benefits & Insurance
The rising cost of insurance, especially employee health insurance, is taking its toll on many small businesses. The service department must pay its fare share of this sizeable dealership expense. Be sure to shop carriers so you can settle on the best plan for your business and employees.
Worker's comp insurance is another large expense. Stay on top of your insurance agent to make sure your business is classified correctly, while also taking into account your history of safe work practices and the size of your annual payroll. If these things are misrepresented, you could be paying a much higher premium than you need to be.
Most importantly, your labor rate must be based on your cost of doing business. If your labor rate is not high enough to enable you to cover all overhead expenses (including insurance and benefits) and still turn a profit, you may want to consider raising your rate.
Waste Disposal
Make sure you're adding an environmental charge to handle the disposal of waste items. Some dealers charge a minimum of $5 per repair order and increase that amount depending on the size of the order. A good rule of thumb for some dealers is 10% of billed labor.
Poor Shop Layout
Messy, cluttered shops are not only unsafe, but also slow technicians down. Having to spend several minutes locating a special tool when it should've taken several seconds is a drain on billable time. Consider installing lockers or some other type of cabinets in the shop or parts department for special tools such as drills and grinders. Every time one of these tools is used it must be signed out. A log should also be kept for each specialty tool so replacements can be ordered when necessary.
At MAE Power Equipment in Mission, TX, each workbench has its own air supply. There are two parts washers available with an air hose, as well. The blade grinder is centrally located and a grinder with a cut-off wheel is in another remote location.
Poorly Equipped Technicians
The negative effects of working without adequate tools will vary by the task at hand. For instance, there's going to be a big difference in the time spent removing a spindle with a basic hand wrench compared to using an air-powered impact wrench. A lift is another important piece of equipment that helps technicians function more efficiently.
Any hand tool or specialized piece of equipment that can help technicians save time may prove to be a worthy investment for both the technician and your dealership. The same can be said for the greatest tool of all: information. Service bulletins come regularly. Make sure technicians are made aware of the changes immediately so they don't waste time trying to reinvent the wheel.
Training Costs
Sending technicians to service schools, while often necessary, can also be costly. One dealer says service schools cost him upwards of 15 man-days per year.
Some dealers have expressed concern that many of the service schools they attend have lost their value. "The same story is told every year and it's more of a product sales school than a technical meeting," says one dealer. "If they're going to read to me out of a manual or off a PowerPoint presentation, mail me the manual or e-mail me the presentation; I can read," another dealer says.
To help control costs, one dealer suggests sending the service manager to the school, who can then bring the information back to the dealership to share with the technicians. However, when deeper training is truly necessary, it's hard to get around sending all of the techs who the information applies to.
Some manufacturers have made great strides in the way of Internet- and CD- or DVD-based training. Take advantage of those tools to reduce cost and bring training right to your dealership.
Misdiagnosis, Comebacks/Reworks
The faster repairs are turned around, the more repairs you can put through your shop, leading to more revenue from billed labor. Technicians working on a commission system are especially mindful of this. But as the old saying goes: Haste makes waste—or at least has the potential to.
Ordering the wrong parts, or parts that aren't even needed, can be costly. Additionally, some dealers say comebacks, as a result of misdiagnosis or sloppy work, can add another 1% to the service department's cost. Establish quality control checks to ensure that the customer's problem was addressed and the solution to the problem is accurate. Consider checking oil, filter and gas in front of the customer in order to "cut to the chase" if a full tune-up is needed.
If other problems emerge during the repair process, it's important to alert the customer before the repair is completed, which also opens up the opportunity for add-on sales.
Waiting for Parts
Technicians standing around waiting for parts directly affects productivity, which ultimately affects shop profitability. Make sure parts people arrive early in the morning to receive and process parts. Consider having a designated parts person for the service department. Parts for routine maintenance jobs should be picked and ready before the tech starts the job.
If your parts counter person is properly trained, he or she will be able to answer basic customer questions, and possibly return machines to customers without having to bother the techs, who should keep working.
Computers in the shop (or even service bays) enable technicians to create pick tickets without having to walk to another area of the dealership. Some dealers have "parts runners" who then bring the parts to the techs so the techs, especially the higher-paid ones, can stay in their bays turning wrenches.
coffee, cigarettes & cell phones
When you consider that one minute of technician time is worth about $1.50 in labor and parts sales, it's easy to see how the wise utilization of time is critical. Examples of poor tech time management are:
Starting to work, which means all the coffee drinking and yapping about the previous night's activities stop at 8 a.m. so wrenches can start turning
Not pre-loading the shop the night before, including the pre-pulling of parts when possible
Extended breaks and much too frequent smoke breaks
Use of cell phones
Chatting it up with tool vendors and distributor reps
While a clean and orderly shop is essential to safety and productivity, cleanup times can also be a time killer if not managed closely.
It's a delicate balance. You want your dealership to be a fun place to work, and you don't want to come off as too much of a dictator. But this down time is paid for by shop profits, so it must be made clear to shop personnel that it cannot be abused. And you must enforce it.
No Motivation to Really Perform
The best way to manage time is to measure it precisely and post the use of it for all to see. Dealership owners and service managers need to be focused on efficiency: payroll hours vs. hours billed to customers. For most dealerships, a goal of 100% efficiency is unrealistic. A good target is 70-80%. Generally speaking, a minimum of 45-50% is needed just for the service department to pay its share of overhead and break even.
Some dealers like to pay techs a flat wage, or maybe a percentage of the hourly shop rate. But here's a given: When technicians reach their weekly earnings goal, sufficient to support a pre-determined lifestyle, they often stop working. They need motivation. And they need to be on a motivational plan.
There has to be an additional reward for additional performance. Straight clock-hour pay plans send the message that any performance is OK; it's more about attendance than performance. Share the daily cost of running the business with the technicians, along with the daily income that's generated. It's not about getting rich. It's about survival and the profit necessary to sustain a well-equipped shop that's able to take good care of its employees. Techs don't see it this way until someone, namely the dealership's owner, takes the time to explain how the business functions.
When an outdoor power equipment retailer builds a profitable service department that's capable of providing better wages and benefits, skilled (and certified) technicians will knock on their door. Service department labor rate is seldom challenged when the maintenance and repair work is completed in a clean and well-equipped shop by skilled technicians who are professional in manner and style.