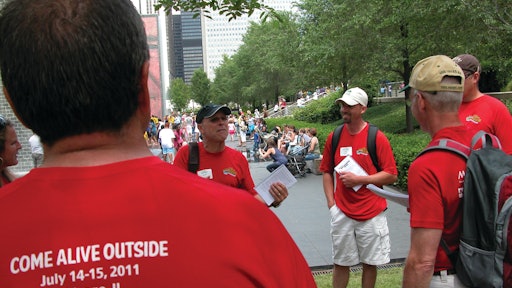 Roughly 80 people from 38 landscape companies and seven sponsoring "smart companies" attended the first-ever Come Alive Outside training event in Chicago on July 14-15. The event sought to challenge contractors to view the services they provide—and the way they sell those services—in a different way.
"I am here to stay inspired," said Sam Zeitoun of Olive Grove Landscaping in Carol Stream, IL. "Things are getting better, and now we are trying to find ways to stand apart from our competitors. We want to sell an experience, not just pavers and plants. That's what Come Alive Outside is all about for me."
The Come Alive Outside event was presented by JP Horizons. Smart companies included Belgard Hardscapes, Douglas Dynamics (Blizzard/Fisher/Western snow equipment), Include Software, John Deere, Mauget, Modeco Systems and Nature Safe. Green Industry PRO magazine was the official media sponsor.
Contractors visited five historic outdoor living spaces in Chicago's Millennium Park to capture how downtown Chicago has "come alive outside" through the use of landscaping. The lessons can be applied by any landscape company in order to energize employees, define a marketing message and grow sales.
Following are highlights from the Come Alive Outside think tank's findings.
Energize (your employees)
Outline your vision of educating and inspiring consumers to improve their quality of life by spending more time outside. The added bonus is that more people wanting to spend more time outside creates more business opportunities for your company.
Make sure employees understand that they are helping create something better. They are not just planting trees or pruning shrubs; they are helping advance a movement that can benefit society as a whole.
Continually work to build this awareness among employees. Hold company meetings and events outside. Share photos and/or videos of completed projects and client testimonials with all employees, making each sharing an important company event. Show how your projects are making a positive difference in people's lives.
Define (your marketing message)
First and foremost, coming alive outside is about bringing people together. It's about stepping back from life's daily stresses to relax and heal. For adults, it may also be about reconnecting with their childhood and/or creating fun, safe environments for their children and/or grandchildren.
It's important to shift from a strategy of selling "things" such as designs, water features or paver patios to a strategy of selling unique experiences. By marketing the concept that you can create a unique oasis for every single customer, you can make a personal connection with a customer, encouraging them to buy from you.
Grow (your sales)
Make the Come Alive Outside slogan part of everything you do—business cards, proposals/estimates, invoices, website, etc. Consider renaming your sales reps and/or designers "Come Alive Outside Specialists." Consider training your receptionist to incorporate the Come Alive Outside slogan into her greeting.
When initially pitching the Come Alive Outside concept to prospective clients, a good primary target could be health care facilities and LEED-certified buildings. They may be especially receptive to this potential movement.
Customize and personalize proposals and presentations. For example, "Jack's Backyard Oasis" will strike a nerve on a more personal level. Furthermore, building awareness that outdoor living spaces can be highly customized will vastly expand your potential market.
Finally, remember to sell the "why" as opposed to simply the "what." You will likely have to institute some extensive sales training in order to make this happen on a consistent basis. But the potential results could prove to be well worth it.