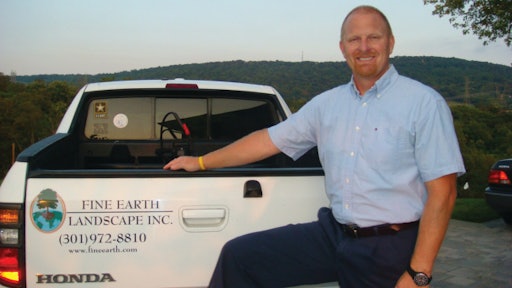 Q: Long before you became president and co-owner of Fine Earth Landscape you were simply working on a crew. Did you have aspirations early on to advance into the leadership of the company?
When I first got into the industry I had just left the military from active duty. I had a family with a young son that I needed to care for. Back in those days, I just needed a job. However, the college education I had been getting while on active duty paid off. I had been taking business courses, which together with my military work ethic gave me an upper hand. I knew I didn't want to be working in the field the rest of my life, and could see that there was opportunity if I just worked hard and was given a chance.
Q: What did the current ownership do in order to "get you ready" for a role in management?
I became a foreman in eight months and held that position for about four years. Then I became production manager. That role quickly evolved when some sales staff left the company. I began selling commercial segmental retaining walls for the next few years while also taking horticulture classes. I eventually broke into residential design/sales.
I was then promoted to vice president a couple of years later—and was asked to become a partner one year after that. I was given the opportunity to live the American dream by a person who simply believed in me and thought I had what it took to be successful.
Q: Was there anything you took the initiative on to better your knowledge base and skill set as a manager?
I finished my college education and earned a horticulture degree. I got involved with my local association and networked with the many brilliant minds in the DC metro area. I even got involved at the board level and served as the association president in 2002. Eventually I became involved with PLANET on their certification council and served as its chair for three years. I have always felt that the real way to learn is from those who have done it or are currently setting the pace.
Q: Is "promoting from within" a strategy you have continued to endorse as president of the company?
Since I have taken over as president of our firm, we have promoted all but one of our foremen from within. We've also promoted a foreman to production management, a foreman to sales, a production manager to maintenance management, a foreman to maintenance management, and the list goes on. The best way to keep employees is to train them and promote them from within.
Q: What are you doing to help develop leaders in your company?
We constantly provide money to send them to training seminars, safety conferences, etc. Our sales teams develop those leaders of tomorrow through constant oversight and excellent management skills. I like to think we are the leanest company in the business through direct management from our sales people instead of management through production.
Q: What role does your Landscape Industry Certified Manager credential play in your ability to attract, develop and inspire quality personnel within your company?
Being a Landscape Industry Manager has set the precedent that we strive to be better than all of the rest. We want our employees to know that we are educated, experienced, trained and professional, and that we strive to do things right through our business practices as well as our project implementation.
Companies in this article