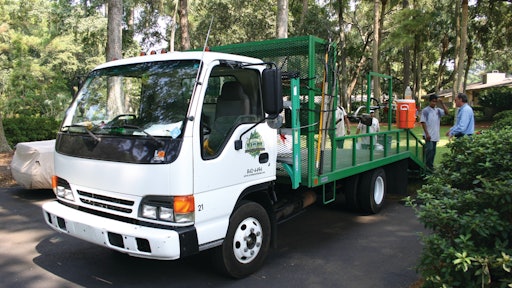 The landscaping industry has been relatively flat since 2007. Thus, many contractors have had a hard time growing sales. Others have simply been afraid to, according to industry analyst Tony Bass of Super Lawn Technologies.
1. Fear and uncertainty
"Many contractors, especially those doing over $2 million in annual sales, haven't been eager to really push growth," Bass says. "They've learned this issue about cash. When you plan for 20% growth in a single year, and you have a 10% net margin, you break even from a cash flow standpoint. That's not fun, so contractors are being much more conservative, planning for 5% or maybe 10% growth."
Uncertainty over the health care mandate has also put some companies on a more conservative footing. "If you get up to that 50-employee level, you could be looking at a substantial increase in your overhead," Bass points out. "That's something you need to be able to account for in your budgeting and pricing."
Smaller contractors are also being more conservative. The primary issue is credit. Some are having a hard time obtaining it. But in most instances, the contractor is simply unwilling to finance a bunch of additional equipment. "Guys have been really afraid of taking on debt," Bass says.
As challenging as the past few years have been, things are expected to start improving—and to a certain degree have already begun to. Contractors should start thinking about growth again, devising strategies to capitalize on emerging opportunities.
2. Demographic shift
The second big trend has nothing to do with the economy, the weather or the construction business. It has to do with a shift in population. Roughly a quarter of the population is now over the age of 55. That percentage will continue to grow over the next decade. According to Bass, this is creating a burgeoning market for lawn maintenance contractors.
"These older consumers are the most likely to buy repetitive home maintenance services," Bass points out. "There are retirement communities growing all over the country. They will need to hire contractors. Additionally, retirees tend to cling to their homes as long as possible to maintain their self identity, but they're going to need help with maintaining the grounds."
3. Now it's about business
Back in the 1980s, '90s and even 2000s, new landscape companies were typically started by individuals with a passion for agronomy. That's still true today, but not to the same degree.
"Larger and more organized companies are emerging at a much faster rate today," Bass says. "This industry is reaching maturity in its policies and processes, which is evidenced by the number of franchises in existence today. So gone are the days where someone passionate about turfgrass goes out and starts a thriving landscaping business.
"Many of today's start-ups are displaced executives. These guys understand planning, forecasting and procedures. They're also aggressive when it comes to training, education, and acquiring the necessary tools to grow sales and profits."
4. Embracing automation
One of those necessary tools is automation. Leading contractors are taking advantage of technologies like GPS, mobile time tracking software, customer relationship management software, 3D design software, social media, smartphones and iPads, and the list goes on.
"Contractors have come a long way with respect to technology, but still are not where they need to be," Bass says. "Start thinking like someone who is trying to manufacture an automobile with robotics. I'm talking about repetitive processes that don't require human interaction."
For example, a free online tool at tungle.me simplifies the process of scheduling appointments and meetings with people both inside and outside of your organization. For example, let's say you're trying to set up a meeting with a client or potential client. Between the back and forth of emails, texts or voice mails, a lot of time can be wasted in trying to establish a meeting time. Furthermore, the likelihood of a miscommunication is fairly high. Tungle.me allows multiple parties to share calendars so they can quickly select an appropriate meeting time.
"Now think about this," Bass continues. "What if you recorded a video introducing yourself, thanking the client for the opportunity? What if you could set it up so that as soon as the meeting was confirmed, a link to that video would be emailed to the client? Well, with the automation tools available today, this is possible."
5. Expanding your role to general contractor
Think about all of the different types of contractors out there today. The plumber, electrician, roofer, satellite TV guy, and so on. Where does the lawn maintenance contractor fit in?
First of all, he's on a property far more often than any of the other contractors. Thus, the lawn maintenance contractor is in the best position to develop a real relationship with the client.
"There is an amazing opportunity to get in front of that customer week after week with a big smile, amazing work ethic, and clearly branded vehicle and uniform," Bass explains. "If you take the time to have a meaningful conversation, you can learn some important things about how to better serve that client."
A client might tell you that they could use a little help with other work around the property. "I see landscape contractors that are expanding their services everywhere I go," Bass relates. In many instances, they are using sub-contractors to do the work. That's just fine. "It's perfectly legal and ethical to make money off of sub-contractors," Bass reminds. So don't forget about this strategy. "Landscape contractors are uniquely positioned to become more of a general contractor on a property," Bass says.
EDITOR'S NOTE: Two entire chapters of Bass' new book, "The E-Myth Landscape Contractor," discuss the subject of using subcontractors. Visit this link to check it out, and you'll even be able to download chapter 2 for free, "Stories of Landscapers - Past, Present, and Future."
6. Do common things in an uncommon way
Finally, the lawn and landscaping business is not new. It's a saturated market where many companies look a lot alike. Thus, growth-minded companies must find a way to do common things in an uncommon way.
"Think of McDonald's," Bass says. "They took something simple like hamburgers and fries, and did something remarkable with them."
Landscape contractors can do the same thing. How do you approach water management? Just about everybody knows what smart controllers are and how valuable they can be. But just a few percent of the irrigation controllers in existence today are smart controllers. What kind of opportunity does that create for you?
What about lawn care? Are you doing what everybody has always done, catching grass clippings and putting down fertilizer every couple of months? What could you do differently that provides value to the client but is still agronomically sound?
Start thinking about that, along with these six game-changing trends, as you begin strategizing for the future. Business might not boom like it did 15 years ago, but prosperity is definitely on the horizon.