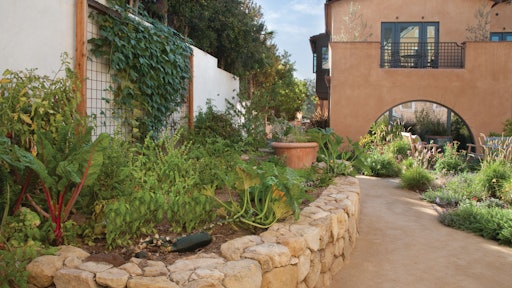 Photo by Holly Lepere Photography
The concepts of "green building" and "sustainability" started touching the landscaping business nearly a decade ago. Today those concepts are fully entrenched in the industry. More contractors are adopting the use of sustainable products and practices. Even those that aren't have at least developed more of an awareness.
It's definitely been an arduous work in progress, though. Originally created in 1998, LEED soon began taking several landscaping-related components into consideration, such as water efficiency in irrigation and stormwater management. Then, in the 2005-2006 timeframe, a new proposed rating system called the Sustainable Sites Initiative (SITES) emerged. SITES was created to promote sustainable land development and management practices that can apply to sites both with and without buildings.
In June 2012, Green Industry PRO magazine offered an update on SITES. SITES had just wrapped up its two-year pilot project phase. Administrators were in the process of revising the program to better account for regional climatic changes and landscapes that do not contain buildings.
In September 2012, SITES announced that eight of the 150 pilot projects had attained certification. Some of the sustainable-landscaping practices these projects utilized were:
Use of salvaged materials to use in gardens, etc.
Cisterns, bioswales and a rain gardens to collect rainwater
Green roofs that reduce energy costs and slow stormwater runoff
Low-maintenance lawns that do not require weekly mowing, additional irrigation or fertilizer
Improved soil health resulting from organic additions and percolation
Gardens that include drought-tolerant and/or edible plants
Permeable hardscapes
Those are just a few examples. For more ideas, let's take a look back at a series of articles which appeared in 2010 editions of Green Industry PRO.
Designing Sustainable Landscapes
Sustainable Landscape Construction
Sustainable Landscape Maintenance