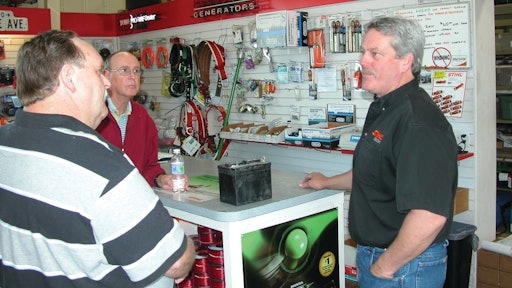 Today's Baby Boomers are a marketer's dream come true. But if you want a share of the $3 trillion that this market has as disposable income, slick ads and catchy jingles will only take you so far. To really appeal to this market of over 78 million people, you need to go beyond traditional marketing and consider the Boomers' real needs. When you make taking care of Boomers' needs your top marketing objective, you will not only sell more products and services, but you'll also build a loyal customer base that will help your dealership grow.
So what are the Boomers' real needs? Since many Boomers are in a time of transition (doting parent to empty nester, member of the workforce to retiree, etc.) their lives often involve transitioning to a new life stage or cycle. For this group, upcoming retirement is now an issue. Health changes are occurring. They're taking care of aging parents. They require money to fund a new lifestyle or pay for a child's college education. Being a grandparent also suddenly becomes a focus. No matter what the situation, many are shifting from an "achievement" mindset to "quality of life" values and concerns. Some outdoor power equipment dealers are starting to realize how lucrative the Boomer market can be and are creating marketing campaigns that target two of the many needs that Boomers have: that of transitioning into the "new" retirement, and of connecting and identifying with similar people.
No matter what industry you're in, whether it's outdoor power equipment retail, construction, health care, insurance, banking, media, or any other business or occupation, the best way to market to Boomers is to focus on serving their needs. To help you do so, following are the five C's of Boomers' real needs.
1. Community
Belonging to a definable group is very important to Boomers, because they're often losing an identity in other areas of their life. For example, now that the kids are grown and out of the house, they're no longer the "soccer mom."
With retirement looming, they're no longer the "over-achieving executive." That's why they want a place where they can connect with others who share their values and beliefs. And while the value of community is important in everyone's life, if you're marketing to Boomers, you need to use words and concepts that create a sense of belonging to a group of like-minded people. Consider such things as preferred shopper or savings clubs. The more you appeal to the idea of joining a group of active people, who share similar interests or business goals, the more Boomers will take notice of what you have to offer.
2. Connections
As a marketer, you need to know your audience and speak their words. The same concept applies when marketing to Boomers. Use words and phrases that resonate with them and their needs. Some words/phrases to consider include:
• Active
• Balanced life
• Choices
• Club
• Connection
• Experienced
• Future
• Growth
• Health
• Independent
• Mature
• New
• Not too late
• Options
• Passion
• Reinvent
• Start now
• Time for self
• Well being
• Wise
For example, if you carry a brand that has been around a long time, but has recently come out with a new product, try to market it in a way that appeals to wisdom of the old and the excitement of the new.
3. Contribution
Boomers need to feel a sense of contribution to a greater cause—a feeling that their life matters to someone or to a group. When we're in our 20s and 30s, jobs and parenting roles often fill that contribution need. But remember, Boomers are in transition and may be losing some of those roles. So show Boomers how your product or service can help them make a difference. For example, promote equipment that is environmentally friendly, either by the use of new technology, or alternative fuels. In addition to environmentally friendly equipment, remind commercial and consumer customers that with the use of your products, they are creating a visually appealing landscape. Think of the big picture and how your business, products or services enable customers to feel like they're making a difference.
4. Creativity
Boomers grew up with the sixties mentality of "Don't tell me what to do; let me choose." Today, Boomers respond well to choices, menus, options, samples, etc. They want to create their own packages to meet their needs. They are bursting with new ideas and new ways of looking at old problems, and they won't settle for being pushed into pre-defined categories or choices. To get them to choose your product or service, make sure they have plenty of options to define or customize their purchase from you.
A great way to give them a lot of options is through offering several product warranty and equipment service packages. The customer can then choose which package works best to suit their business and equipment needs. In addition, offer flexibility in choices when it comes to pickup and delivery of equipment.
When you give Boomers choices and a chance to leave their creative mark on your offering, they'll eagerly become a loyal customer.
5. Time for a change
In the sixties, Boomers changed the way people looked at life. In the eighties, they changed the way people looked at work. Today, they're changing the way companies will look at marketing. In outdoor power equipment retail, if you focus on the five C's of Boomers' real needs, you can reap the rewards of selling to this demographic. Remember, Boomers, like all people, respond better when marketing messages are tailored specifically to them. "Speak" to this $3 trillion market and watch your dealership's profits soar.
Karla Freeman, licensed clinical social worker, is a leading voice for the Boomer generation. Her popular and practical book, "Creating Magic in Midlife: 101 Questions and Answers to Reinvent Your Work, Relationships, and Life!" is a guide for living a full and joyful second half.