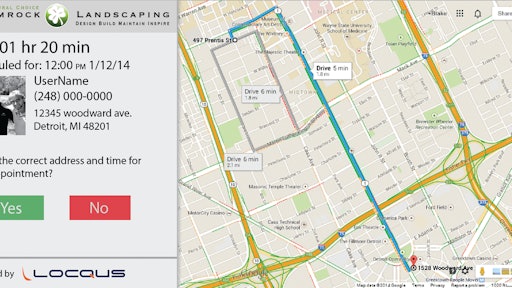 After dealing with many of the challenges landscaping companies face—including theft—landscaper Paul Proctor created Locqus, a free service that helps businesses manage sales, jobs, billing and employees—in the field.
"I run my own landscaping company, and was inspired to create an easier way to manage and track assets after a couple of my trucks were stolen," said Proctor, co-founder of Locqus. "Real-time access to the locations of landscaping crews is just the beginning. We have a complete suite of tools to manage the entire landscaping sector from payment processing, quoting and customer management."
Locqus provides landscaping companies with geo-location management, credit card processing functionality, task and job management, scheduling, digitally run time clocks, and en-route alerts for customers. Businesses can simplify payments for jobs by linking invoicing and payments in Locqus and eliminating the need for double entry with credit card payments.
Locqus also makes it easy to share pictures and specifics of lawns or landscaping jobs, increasing productivity while keeping the entire team in-the-loop on job statuses and work orders. Locqus is a multi-platform solution (iPhone, Android and web app).
Companies in this article