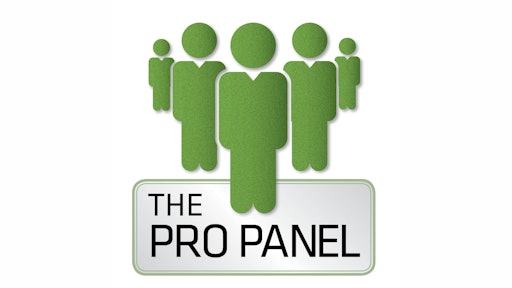 This issue's Pro Panelists offer insights into: 1) how to hire people who will be a good fit for your company, and 2) how to assimilate them into your organization so they perform at a high standard and stick with you.
It starts with job descriptions
"My experience has been that companies with excessive employee turnover usually lack a solid recruiting and hiring strategy up front," relates industry management consultant Gary Goldman. "Having a plan starts with having job descriptions in place for all positions within your company, and an understanding of the types of people you want to fill those positions."
Tom De Lany, CEO of All Commercial Landscape Services (ACLS) in Fresno, CA, agrees, with this caveat. "You can never be assured that the person you hire will ultimately fit in." His company tries to move the needle in the right direction with clearly defined job descriptions that spell out responsibilities and performance standards. To do anything less, he emphasizes, is flying blind.
"The processes we now have in place have eliminated most bad choices," De Lany goes onto say. "Even then, every so often we hire an individual who just doesn't fit in. In that case, the sooner that individual leaves the better off the company is."
For Michael Bellantoni, president of Bellantoni Landscape in White Plains, NY, finding a good fit starts with selecting a candidate who 1) may be a bit overqualified for the position, and 2) is willing to learn how to work "the Bellantoni way."
"One thing we like to do is fill a position with someone who can grow the position," says Bellantoni. "We also look for people who, if they have experience within the industry, are willing to learn a different approach. Our company wants to stay ahead of the wave and always looks for ways to implement new procedures and techniques. Doing so helps to differentiate us from the competition. Matching new people with our approach to conducting business is an important step toward assimilating them into our company."
Goldman, a former landscape contractor, notes that having criteria in place for different job categories helps match a job candidate to the position. "Know the type of person you want for a specific job vacancy," he explains. "But be flexible when it comes to job experience. Some of our best employees came with little or no industry experience, and we essentially trained them for the position."
The interview
The Pro Panelists advise using a team approach for interviewing candidates, especially those applying for management and sales positions. Before selling his business and becoming a consultant, Goldman's company employed approximately 100 associates.
"A member of our management team usually conducted the first interview, allocating points for each criteria established for the position," Goldman relates. "Depending on the position, a second interview with other team members might include a lunch or even a dinner. The idea would be to get candidates out of the office and reduce some of the tension associated with the interview process. To help wrap their minds around what some of their responsibilities would entail, a look at a few of our properties was often on the agenda, as well.
"We instructed our interviewers to downplay personality traits and focus instead on candidates' previous experiences, what they bring to the table, and job criteria such as attention to detail, organization skills, horticulture knowledge, and so forth," Goldman adds.
ACLS also employs upwards of 100 associates. "During the Great Recession, applicants were lining up for a single job posting," De Lany recalls. "Today, the climate is different. Still, being centrally located near the Fresno airport gives our company great visibility, which we take advantage of with hiring banners. We also post openings on Craigslist, Monster, and other job search engines."
For crew members or Level 1 workers, De Lany's company recently implemented an employee referral program. If a referral stays through a 90-day probation period, the employee who made the referral receives $100.
"Usually, these new hires have several years of industry experience under their belt," adds De Lany. "Our company has to be more selective and follow a more rigorous team approach with management-level candidates, something we still do despite a tighter job market."
Once on board
"There's no question, our growth over the years has been based in large part on hiring good people and assimilating them as part of our team," says De Lany. "The money has to be there, too, but money isn't everything."
His company's track record to hire and retain employees is part of a bigger picture, creating a culture predicated on teamwork. "We celebrate our successes together and pass along client accolades to crew members," De Lany notes. "Company picnics become a team-building exercise, and our safety program sends the message that we care about all our employees."
Bellantoni's new employees get the safety message in a hurry since reading the company's safety manual is a requisite during orientation. "Our safety manual is as big as our employee manual," explains Bellantoni. "During orientation, employees are expected to read both and familiarize themselves with our company's policies and procedures. Depending on the position, they may shadow a company veteran for a few days."
"Avoid overwhelming new employees," adds Goldman. "Give them additional responsibilities bit by bit." He emphasizes how important those first few months on the job are. "Make sure a company veteran accompanies them at first and assign a mentor. The mentor will check in from time to time, answer questions and provide feedback. The assimilation process never ends. It involves communication, ongoing training, and scheduled reviews."
Helpful hints
The Pro Panelists would likely argue that providing career advancement and ongoing education opportunities are among other important incentives for engendering employee loyalty. So, too, is being proud of the company—one that delivers high-quality service, has a good reputation within the community, and offers a physically attractive place to work.
De Lany doubles back to that all important theme of having team players. "We encourage our employees to look out for one another and discourage finger pointing," he says. "Having a team-oriented workplace helps new employees assimilate into their new environment, and provides an added incentive for them to be part of our company for the long haul."
It's all part of the company culture, De Lany adds, and it starts at the very top.