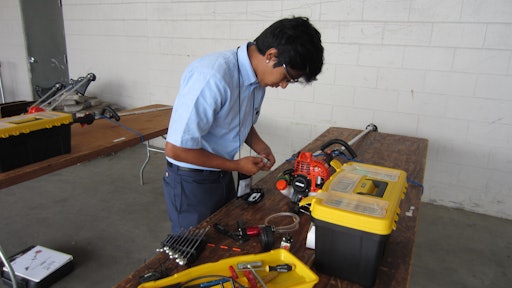 Equipment & Engine Training Council
SkillsUSA is a career and technical student organization that provides high school and college students with certification and education in technical, skilled and service occupations. The goal of SkillsUSA is to create workers that are skilled in their particular trade.
The Power Equipment competition is a partnership between the Equipment & Engine Training Council (EETC), manufacturers, distributors and educators. Students who take part in SkillsUSA are given the tools to be successful in a dealership service department by learning how to repair and work on equipment, through core competencies and approved curriculum that is provided through the EETC and its manufacturer members.
"The mission of SkillsUSA is to teach the soft skills, and the schools incorporate our curriculum into their programs. The schools teach The Power Equipment Technology curriculum with industry support provided by Briggs & Stratton, Kohler, Echo and many other manufacturers providing the needed training materials," says David Worden, the program director for the SkillsUSA Championships. "That's the advantage of an EETC-accredited school or a Skills member school; they can become certified technicians that can say 'I'm qualified in these competencies and this gives me the edge towards advancement'. They have a better background, better work effort and a better work ethic."
Tom Billigen, customer education training manager for Briggs & Stratton, operates as the committee chair for SkillsUSA. He oversees the national event for the Power Equipment Technology program.
"Really what they're going to get from the program is that they will be able to work on the latest and greatest in technology within the industry regarding outdoor power equipment. Not only are they being tested, they get to demonstrate their practical ability on a wide range of tasks. When taking a test you sometimes learn about something you have never worked on before, giving them a feel for what's out there. Their advisors are basically their instructors that help them get there, whom also are learning about 'here's where the industry's going', 'here's where we need to particularly gear our training program towards' and newer technologies that are showing up in the small engine world. So really they're gaining the best possible view of what they would be heading into in a job scenario in current day," explains Billigen.
Working closely with EETC
EETC is a non-profit association aimed at increasing the amount of qualified technicians for the outdoor power equipment industry. EETC was formed in 1996 and hosted their first formal meeting in 1997.  They have continued to provide education and resources that can be used directly in classrooms or online. Their updated website features a career center, new membership categories and online registration.
Worden, who has worked in a number of different aspects of the program and is one of the founding members of the EETC, works very closely with the organization when executing the program. "We know the association and what they do, and the only way that the industry gets good, solid, qualified technicians is to become members or be involved in local Skills programs," says Worden.
EETC is a large part of the program, and they even provide training and educational material for the instructors that are teaching the students. Jerry Koenig, an EETC-certified technician, leads an EETC-accredited program and has been teaching students for 22 years. Koenig helps his students get involved in the industry to develop a better sense of professionalism and pride for the industry—something that is reflected in the overall message of both SkillsUSA and EETC.
"My goal is to have all my students certified in 2- and 4-stroke engines by end of their training. The EETC has been awesome in supporting schools by providing equipment donation opportunities and overall improved industry support. Without the EETC involvement, the Skills USA national contest would not be what it is today," says Koenig.
Process of the Program
"There are 12 stations at the SkillsUSA National competition, one of the stations being a test. So each student is tested and then rotates through each of the 12 stations," says Erik Sides, who has been the executive director of EETC for the past three years.
In preparation for the program, teachers instruct students on core competencies that EETC and manufacturers have identified as being vital to the industry as a qualified technician. 
"I begin with the basics of engine operating principals, then lead into fuel systems, then basic electrical, completing the first year with ignition systems. I incorporate customer service as part of the program to get students acclimated to working with the public and the customer service process. Students select my program of study based on my recruitment strategies and presentations during their 10th grade year. Once students sign up for my program, they stay with me for a full two years for three hours a day," explains Koenig.
"The program really tests their knowledge and if they can actually put it to use. So it's pretty cool to watch these students work; you can sometimes tell if they're in their element or not. It's pretty impressive," says Tom Billigen.
The 12 stations each offer a different timed task for the student to complete. Students will work on everything from handheld products to running engines and equipment. Students have been prepping for situations just like this in their classes at school.
The Friday after the competition, there is a debriefing meeting and luncheon that is sponsored by EETC and managed by Billigen.
"At the end of the program, we host a lunch and give a rundown of what that year's program was about. During it, we get feedback from the students and the teachers," says Erik Sides.
"We'll also have several speakers there, one of whom is Erik, where he explains the role of EETC and the importance of using all the different tools and options that are offered to instructors. We also have other educational committee folks attend; they are instructors from colleges' facilities from all around the U.S. They had students competing in other competitions, but they're also involved with the power equipment industry so they help support the power equipment competition during the week," says Billigen.
Turning out successful service technicians
"In the early years, students would beg to get involved with the competitions, but as of late it's been a limited number who want to commit due to getting program-related employment early on in their training ... But as of late, I have been able to market the program as a 'gold medal winning program' which is starting to spark more interest in competing, and the fact that those who have competed were successful has helped," says Jerry Koenig.
SkillsUSA is an effective tool in keeping students engaged. David Worden says that the students who participate tend to stay involved with the program, because of how it changed their lives.
"98% of all students who are Skills members finish school, get a degree and get a career in their pathway, whereas the average dropout rate is 78% and we're at 98%. The kids who are taking Skills learn the business aspect along with the current technical aspect, and are more qualified," says Worden.