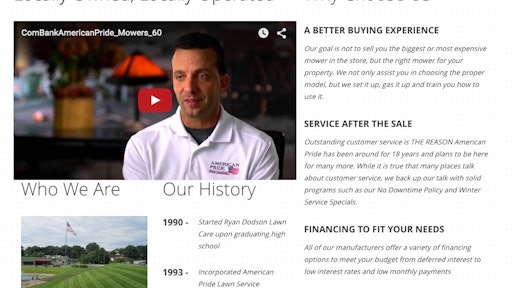 American Pride Power Equipment, Inc. in Zanesville, OH, has hit the mark on internet marketing. They have an impressive Facebook following, with customers actively reviewing their experiences and well over 2,000 likes to the page. Videos like their Club Cadet ZForce zero-turn mower demonstration have racked up over 26,000 views.
American Pride Power Equipment owner, Ryan Dodson, says that they use the videos as an effective tool to show the performance of mowers. He doesn't add anything fancy, as way of video, because just filming the Cub Cadet ZForce mower on a slope was effective enough.
"I just use my phone and I'm not good at video. But we sold no less than two-dozen mowers from that video because they saw the performance," explains Dodson. "We use videos to prove to potential customers our products will fit their needs."
As opposed to saying social media presence—Dodson refers to it as a social media strategy. They use their Facebook to not only express their dealership and voice support for the community, but they also use it as a way to offer special deals to customers.
"It's not enough to just create a Facebook page and post the occasional photo. Your social media strategy should reveal the image and culture of your dealership. Potential customers that visit your page should feel that your dealership is the best place to purchase their next mower."
Dodson says that they made the choice to invest $10 a day during the spring to promote their website to gain extra exposure.
"So far in 2015 we have invested $1,040 which has generated over 5,400 clicks to our website. Pretty nice ROI when all it takes is one or two of those clicks to break even on that investment."
Another investment that Dodson made the decision to make was updating their website, americanpridepower.com. They rolled out the new design this spring. He's seen an amazing response, and says that while taking on a website renovation may seem costly, it was well worth the investment. Dodson has already seen a return on that investment, saying that the website paid for itself in the first two months that he released it.
"More and more people do their research online before visiting your store, and you want to make sure your website is as welcoming as your physical location," explains Dodson. "The new website has been tremendous. A local guy who I actually grew up with and lived down the street designed it. Well, he hooked us up. I know shopping online is growing every year, but I have to attribute most of that to the new website. We're able to put our pricing flyers up—you can see the regular sale price as well as our sales prices, and you can see the servicing price."