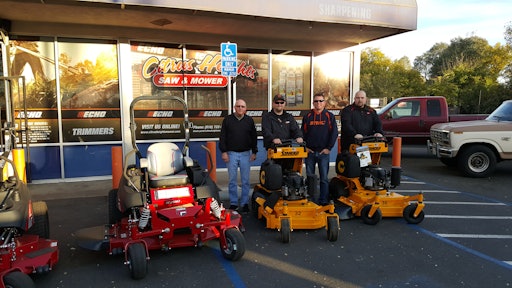 Citrus Heights Saw & Mower in Citrus Heights, CA, which is a city in Sacramento County, has been a family business for 50 years. Gary Cook's father opened it in 1965. Since the business opened, it has continued to change with the city around it.
"It wasn't very large at the time. Our area and the Sacramento area grew and has created a lot of business. The business has been passed on to me. My dad still owns the business, but he's 80 years old so he doesn't come in anymore. I have my nephew and my son working here with me too," says Cook.
Cook explains he's no stranger to how tough the business can be. Citrus Heights Saw & Mower has four big box stores within three miles of its location. "That makes it tough, but we still have good product so I think that customers really like that," says Cook.
California drought, changing business
It's no secret that California landscaping businesses are facing problems with the drought. With all the hype surrounding water ordinances, rebates for removing turfgrass and homeowners switching to drought-resistant landscapes, there's been an impact on the green industry.
"We're not selling a lot of lawnmowers. Right now we're selling a lot of handheld products. We have a lot of loyal customers and we have a lot of trees in Sacramento, so a lot of the companies are doing different things than cutting grass," says Cook. "Most of the homeowners, and even the commercial properties, have trees and shrubs that need to be pruned. It hasn't been as bad as I thought it was going to be."
Cook says that even contractors are losing customers, but they're staying busy with other projects besides lawn care. Cook says that his contractors are taking on hardscaping projects, such as patios and outdoor installations. Cook also thinks that many people in his area are opting to not go to drought-resistant landscaping.
"I think people like grass and that they're still using sod. I think people are going to probably re-sod their yards once we get some water. I don't think anyone is tearing it out. They're just letting it go and they'll re-seed next year—or at least that's what our customers are telling us," says Cook.
With stories about the drought splashed across many major media outlets, Cook feels that people are paying more attention to the hype—rather than getting the actual facts of the water restrictions and changes.
"It's really unfortunate because the media is really telling the public that they can't water. We're able to water three days a week—as long as there's no runoff—and I don't think that people are taking advantage of that. They're so afraid that they're going to waste water."
Cook is looking towards the future in regards to watershed. "In 2016 they say that we should get huge amounts of rain and a large snowpack in January, February and March."
Keeping loyal customers
Citrus Heights has a mix of customers. Cook says that it's pretty even between commercial and residential.
An essential part of keeping customers loyal is through providing them with great service. The shop sharpens lawnmower blades while the customers wait. Customers can also bring in their chainsaws to have a new chain installed—which is all done while they wait and at no labor charge.
"I would say that number one, our shop has great customer service and product knowledge of equipment and parts. Having a good relationship with all of our customers is very important."
If customers need a part that day and it isn't currently in stock, the service technicians try to find it from a piece of used equipment.
Expanding
Citrus Heights Saw & Mower continues to change its business. It has added new products, including introducing Wright Mowers in 2015. "We just wanted to bring in another product that is affordable and commercial-grade," explains Cook.
Cook had been selling a couple other mower lines for years. But he says the Wright lineup offers an excellent balance of price point and quality that resonates well in his market.
The dealership doesn't just sell locally either. Citrus Heights sells mowers to other cities in California—areas around 200 miles away. Those mowers are purchased predominately by movement organizations including use for prisons and use with the California Department of Transportation (Caltrans).
"We have had Caltrans for a long time; they have a store outlet in Placer County and it's pretty close to our store. So they've been coming here for 35 years. They continue to buy from us, and they've told their other facilities so we've expanded to those as well," says Cook.
As for their equipment being purchased by California prisons, it wasn't directly related to the dealership's work with Caltrans. Over the years Citrus Heights has gained popularity through word of mouth.
Another way they've increased their business offering is through selling parts online. Cook says that it's also a way that makes a customer's experience easier. "We've been doing that for three years now. A lot of businesses are doing that now and it's been very successful. It's aimed more towards the homeowner. They can order the parts online and we can ship it directly to them so they don't have to come in."